Date/Time
Date(s) - Sunday, March 18, 2018 - Saturday, April 14, 2018
9:00 am - 5:00 pm
Students in the 28-day Brazil Complete Cob Workshop will learn all aspects of building a Cob structure from Foundation to Roof with daily lectures and hands-on practice. We will build the 15 to 20m2 (depending on number of students) communal kitchen for the brand new PaparaYba Ecovillage, an intentional community located in the southern part of the State of Bahía, between the forest and the ocean, 5km west of the closest town, Serra Grande, in the municipality of Uruçúca.
The PaparaYba Ecovillage is located on 20 hectares of lush forested land called

 the Environmental Protection Area Itacaré-Serra Grande, at the edge of the State Park of the Serra de Condurú.  It is crossed by the River Tijuipe and a smaller stream and is a short drive to the long white sand surf beaches of Ilhéus to the south (45km) and Itacaré to the north (30km). The community consists of 14 nucleus units made up of 37 individuals (singles, couples and families with children). The land is mostly lush green tropical vegetation and harbors many protected indigenous animal and plant species. 
Salvador, the closest large city, is 5 hours to the North by car. This area of Brazil is the most African and boasts exciting folklore traditions like the dance called Forró as well as Capoeira, Afro-Brazilian Percussion and of course Samba. Our hosts are preparing all kinds of optional weekend activities and excursions for discovering the rich culture of Bahia (additional fee).
PaparaYba Ecovillage is only in the beginning stages of construction. It is a center for Sustainability Education, welcoming new paradigms and living as a model of integration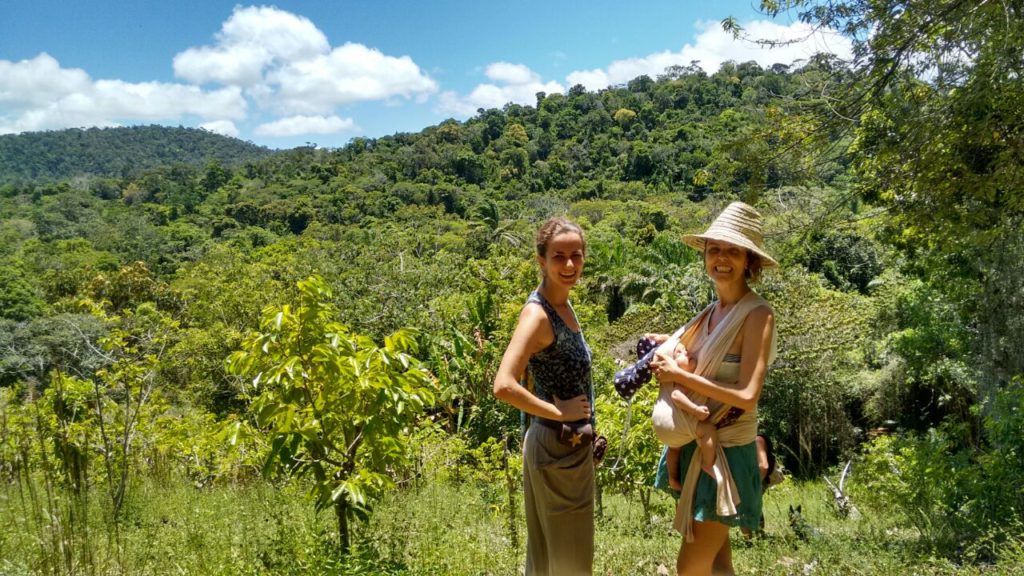 and unity in diversity.  PaparaYba hosts many cutting-edge workshops and trainings focused on intentional community living: Dragon Dreaming, Sociocracy, Gaia Education courses, Schumacher College trainings, Permaculture Design Courses, Agroforestry, Bioconstruction trainings, Theta Dreaming, Reiki, Massage, Art of Hosting, Non-Violent Communication and Family Constellation.
We will be building their first communal building. Five members of the community will be taking the workshop as students as will other local and non-local Brazilians, including builders and masons. The workshop capacity is 20 students, half of which will be from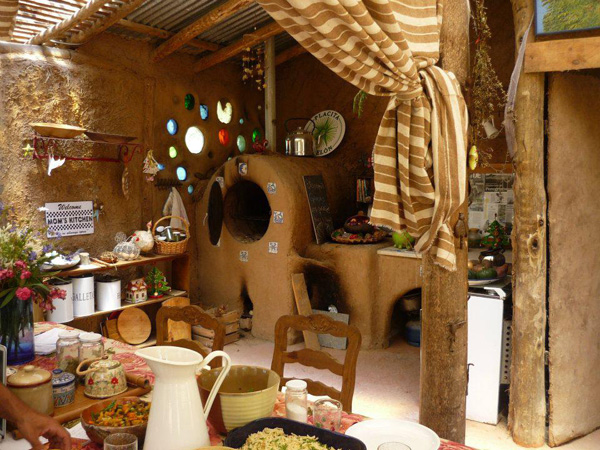 outside of Brazil.The general design of the kitchen built by the workshop students will be decided on by the community to fulfill their specific needs, however student input and implementation of the details (shelves, niches, furniture, hook implements, sculpting, decor, window styles, etc…) will form part of the workshop.
Students who complete the four-week Course/Training will receive the CruzinCobGlobal "Advanced Cobber Certificate of Completion" for Foundation, Cob Walls (which includes Door, Windows, Shelves, Art, Electrical & Plumbing), Floor, Plaster & Roof. This prepares them for the role of Cob Assistant in Building Workshops (for Oven Workshops they will need to first take one) and Cob Building Intern on Building Projects. Please see Students Menu on the website for more details on pursuing a Cob Building career with CruzinCobGlobal.  See more photos below in the Gallery.

GENERAL WORKSHOP DESCRIPTION
The 28-day Complete Cob Building Workshop consists of 20 days of instruction in the form of theory and construction for 4 hours in the morning and 3 hours in the afternoon. Students arrive on Sunday and settle in, meet the members of the community, the other students, and visit the area. Meals will begin with dinner on Sunday. The Course Orientation will take place on Sunday after dinner and Instruction begins on Monday morning. We will learn and build from Monday through Friday and have the weekends off for exploring the area independently, going on group excursions organized by the community members (some have an additional fee), resting, studying and, if desired, continuing to build at your own pace. Please note that weekend meals are not included but students are welcome to prepare their own meals in the kitchen.  A list of possible weekend activites and excursions is noted below. The last Friday (April 13th) we will have a big celebration dinner followed by a presentation of Certificates and a Brazilian festa of course! Saturday morning we will have a Closing Circle after Breakfast.

Morning (4 hours) and afternoon (3 hours) sessions each have a 15-minute snack break. Lunch break lasts 2 hours which includes about 1 hour of rest time before the afternoon session begins, with a 60 minute lecture/discussion time (on most days), followed by construction. After class there is a 90-minute break before dinner, which may include an optional yin yoga or other winding down practice organized by the students. One evening a week after dinner will be scheduled for showing slides, videos, and having Course-related discussions and Q & A. Other evenings are free and/or organized for other extracurricular activities which will be chosen by the group.
WEEKLY SCHEDULE
The Course starts with the Foundation work during Week 1. In Weeks 2 & 3 we build the Cob walls, which include a door, opening and fixed windows, shelves, niches, bottle windows, artistic inserts, deadmen (it's a term!), furniture, inserting sink & plumbing, electrical, sculpting and the roof connection structure. We will also build the first 12" (gravel, insulation and rough cob) of floor. In Week 4 we will apply two coats of earthen plaster on the walls (the second one depends on time), build the roof and apply the second coat of floor on the last day. Since the final floor coat and sealing needs to happen when all the rest of the building is finished and takes 5 days (1 coat per day) to allow each coat to dry in between, only students who want to stay past the end date to help will complete these last steps.
DAILY SCHEDULE
The 28-day Complete Cob Workshop begins on Sunday evening March 18th with Dinner and ends on Saturday April 14th (4 weeks later) with Lunch. Students also have the opportunity to stay after the Course and help with any final finish work if needed (additional coat on floor, oiling and waxing floor, French drain, gutters, inserting door and opening windows into frames, putting in appliances and fixtures). You will need to confirm your agreement with Host.
The daily schedule will be:
7:30-8:30 Breakfast
8:45-12:45 Class
1:00-2:30 Lunch & Rest
2:30-5:30 Class
5:30-7:00 Rest/Yoga
7:00-8:00 Dinner
8:00-9:00 Slides/Videos/Discussion (once a week)
DETAILED COURSE CONTENTS
Students will learn every phase of building a cob building from foundation through the roof in lectures/theory. In addition to the lectures, slideshows and videos will be shown to support and enhance their understanding of cob materials, cob building, design, geography, budgeting, business options, CCG career path and legal issues.
Our hands-on practice will include:
digging foundation trench

pouring gravel and inserting drainage pipe (if applicable) building foundation stemwall

analyzing soils and materials

making test bricks

deciding on correct mixture

deciding on best location

making cob w/ partner and solo

building with cob

preparing and inserting the door

preparing and inserting fixed and opening windows
preparing and inserting shelves

inserting bottle windows and other objects
inserting electrical wiring and plumbing in walls
sculpting

preparing and applying earthen plasters (2 coats)
pouring an earthen floor (2 layers)

preparing walls for roof connection

building roof frame

building roof covering

making small-scale cob designs of future projects
In addition to Cob Building practices, the Course material also includes:
legal issues/permits
cost analysis
creating a cob business (building/teaching)
assisting, interning and teaching with CruzinCobGlobal
REQUIREMENTS AND IMPORTANT INFORMATION REGARDING PHYSICAL WORK
CruzinCobGlobal's Cob Building workshops are an intense and demanding building experience.  The goal of our month-long Complete Cob Workshop is to complete a whole structure including the roof covering by the last Friday of the workshop.  This is quite an accomplishment and when completed, give students alot of pride and confidence in building on their own after the workshop.  The Monday through Friday schedule is rigorous and meant to train students in experiencing what it takes to build a cob building in a reasonable amount of time.  We also have a great time bonding, playing music, doing Yoga, and relaxing after class time.  Students can use weekends to rest, recuperate and enjoy getting to know the location. We accept all levels and abilities and students are never required to go beyond what they feel comfortable with.  There are always other activities besides mixing and building which are needed to build the house (getting materials, trimming, screening material, cutting straw, sculpting, plaster, etc) and students learn alot by watching.
Students will need to come prepared for active physical work from Day 1. This includes:
Work clothes appropriate for the country and climate we are in (long pants for Muslim countries)
Slip-on flip-flops
Lightweight rubber gloves (like gardening gloves)
Good moisturizer (clay is drying and dehydrating!)
Hat/Sunscreen
Water Bottle
 Notebook/Pen/Camera
Students are required to read "The Hand-Sculpted House" before the workshop begins and any other book they find, as well as watching videos on YouTube, especially the ones posted on CruzinCobGlobal's website under Cob Stories as well as in the Gallery to get an idea of what is expected. Please bring your book(s).
Students must tend to their own personal needs, drink alot of water, rest when needed and exert themselves at a steady pace. Students who cannot do the strenuous physical work should let us know before the workshop begins so we can adjust appropriately. It is totally OK to come for the lecture/ theory part, and then help the building part in less physically demanding ways, ie cutting straw, sifting for plaster, hammering nails into frames or shelves, sculpting, plastering, cutting bottles. There is alot to do besides making and building with cob that are integral to the building process.

Finally, please bring a watch or use your phone to be prompt and ready for each part of the Course including meals. Feel free to share your dietary needs with CCG or the Host and bring your essential snacks and foods, pillow and whatever you NEED to be comfortable and happy. Feel free to also bring slides, videos, movies and books to share, as well as a sample of your soil to test.
MEALS & ACCOMODATIONS
Students will receive 3 delicious vegetarian meals a day Monday through Friday, made with the freshest local organic produce and products as much as possible. Camping is free on site and there will also be a beautiful rented Communal House walking distance to the site which students can stay in for a reasonable fee depending on if they take a private room, double room or communal space on a mattress on the floor. The cost of the Communal House accomodations is $150 for a private room, $100 per person for a double room and $75 per person for a mattress in the living room.  The House has all the amenities students will need.
Students can also choose to stay with a local family for a reasonable fee for the month or a local hotel with a discounted rate for the month.  We will be posting more precise cost information on these additional accomodations soon!

 TRANSPORT & VISA

Students can fly into Salvador (Bahia) or Ilhéus Airports. From Ilhéus Airport (40 km away) we will arrange group transport to the workshop site for an additional fee which will depend on how many students we will be transporting. We can offer this on Saturday and Sunday (students wanting to arrive on Saturday need to verify first with hosts and will need to pay for meals or possibly perform work trade). From Salvador you will need to take a bus to Ilhéus or Serra Grande. You can also take a bus from Rio or São Paulo if you will be travelling from the South. The bus website is:
https://www.aguiabranca.com.br/Horarios/2246/2128/01052017-05052017/salvador/ilheus

Transport back to the Ilhéus airport will also be arranged by hosts for a fee.
The sooner you buy your ticket the cheaper it will be!!! Also use your frequent flyer miles!!!
A visa is required of all U.S. citizens at this time. European visitors are mostly exempt but please check the Brazilian Embassy or Consulate website to confirm what is needed to enter Brazil for the month.  One website you can use is: https://brazil.travisa.com/
EXTRACURRICULAR ACTIVITIES
On weekends students will have ALOT of great options if they want to visit the area. Please check out http://www.serragrande.net/ for tourism information in the general area of Serra Grande and the vicinity and http://www.parquedoconduru.org/index.php/atrativos-e-as-atividades for information on the activities in the State Park of the Serra do Condurú nearby.  Here is an idea of what is offered during the local festivals.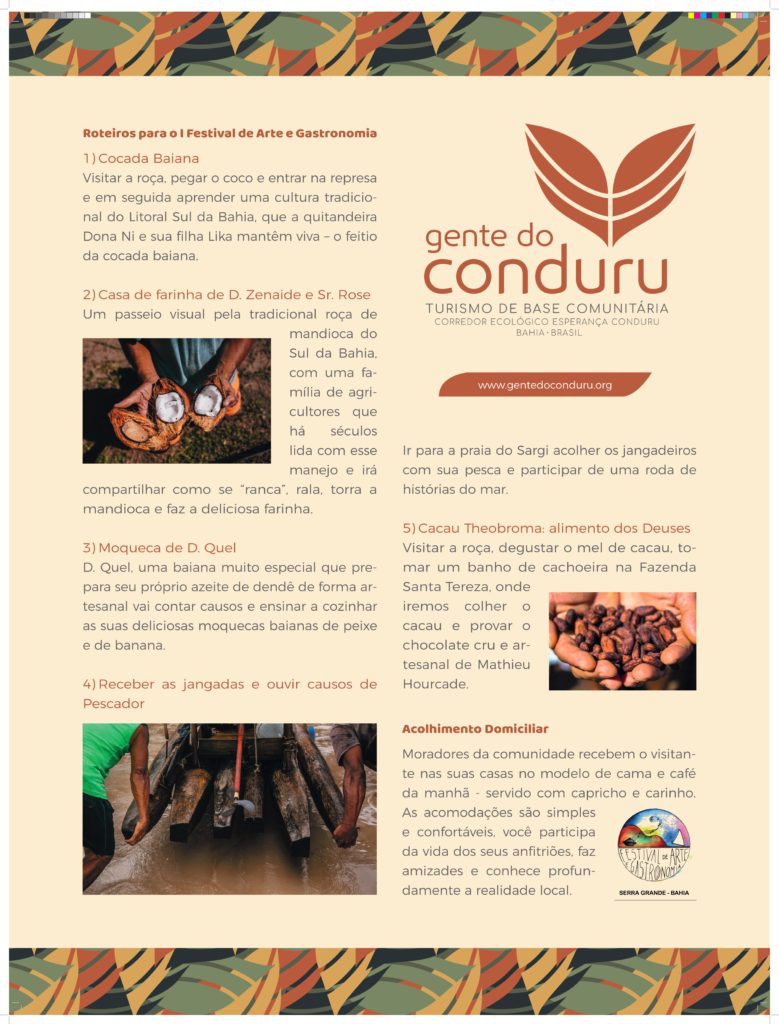 See more photos of the area below in the Gallery!
The cost for the 28-day Complete Cob Workshop tuition, camping and 3 meals a day on Monday through Friday is USD$1800.  Final payment due date is February 18, 2018.

Friends and family that come together will each receive 10% off of the full tuition, which comes to $150 . Youth 12-18 will receive a 20% discount off of tuition and children under 12 receive a 50% discount off tuition if they come with an adult. These discounts are off of the full tuition of USD$1500.  Discounts are not cumulative so whatever is the largest discount at the time you sign up will be accepted.

Any former students who have taken a month-long Complete Cob Workshop may attend as assistants paying only for food ($400).  Former students who have taken shorter cob courses will get to assist for the length of time of the course they have taken and will pay for the extra learning days and for food. Please make sure you contact Claudine first to make sure there is space.
Students can hold their spot with a non-refundable deposit of 50%. It is a good idea to make a deposit or a full payment as soon as you are sure you are coming as this class is limited to 10 non-Brazilians residents.
One work trade position is open in the kitchen working 40 hours per week (2 hours per day) for a $400 discount. Please inquire with Claudine.
Payment in full is due by February 18, 2018
Maximum class size: 20 (10 Brazilians and 10 non-Brazilians)
Students can pay online using Paypal (3% processing fee for US residents unless you pay with a bank transfer, and 5% fee for international students is included in the Paypal Button link below), Venmo (no fee but for US residents only), Transferwise (Europeans) or a Bank Deposit in the US. Please contact claudine@cruzincobglobal.org for more information, to register for the course and for payment questions.
For Venmo please send payment to claudinedesiree@gmail.com.
For Paypal you can click on the button below (processing fees have been included).
To pay in Euros, please make transfer to:
Claudine Desiree
SWIFT/BIC: DEKTDE7GXXX

IBAN #: DE84 7001 1110 6050 1914 84
To make a bank transfer or deposit in the US:
Bank of America
SWIFT:BOAUS3N
Routing #: 121000358
Acct #: 0696210719
***PARA OS RESIDENTES NATIVOS BRASILEIROS***
Os estudantes brasilieros morando no Brasil podem fazer Contribuição Consciente entre R$3900 à R$6500.  Esse preço inclue a tuição para o Curso de 4 semanas (2da a 6ta) e as 3 refeições (2da a 6ta).  Os estudantes podem campar grátis no terreno do Ecovila PaparaYbá ou dormir numa Casa Comunal com os outros estudantes.  Também podem alugar cuarto com gente local ou ficar num hotel com preço reduzido. O pofesor fala o português e toda a informação vai ser presentada nas duas linguas.  Esse Curso prepara o estudante para o Certificado Avanzado de Construção Cob e da a oportunidade de ser Asistente num curso futuro e de começar a construir casas de Cob profisionalmente.  Essa técnica ja è popular na Inglaterra, Francia, Alemanha, Nova Zelandia, nos Estados Unidos e Canadá. Ja è legal nesses paises europeus e na Nova Zelandia. Nos Estados Unidos o Cob è de mais em mais comúm e também vai ser legal nos próximos anos. Agora se pode construir lá só com assinatura dum ingenheiro ou arquiteto.
INSTRUCTOR
Claudine Désirée, founder and director of CCG, learned how to cob with Michael Smith in 2003 in northern CA and has been building and teaching ever since completing her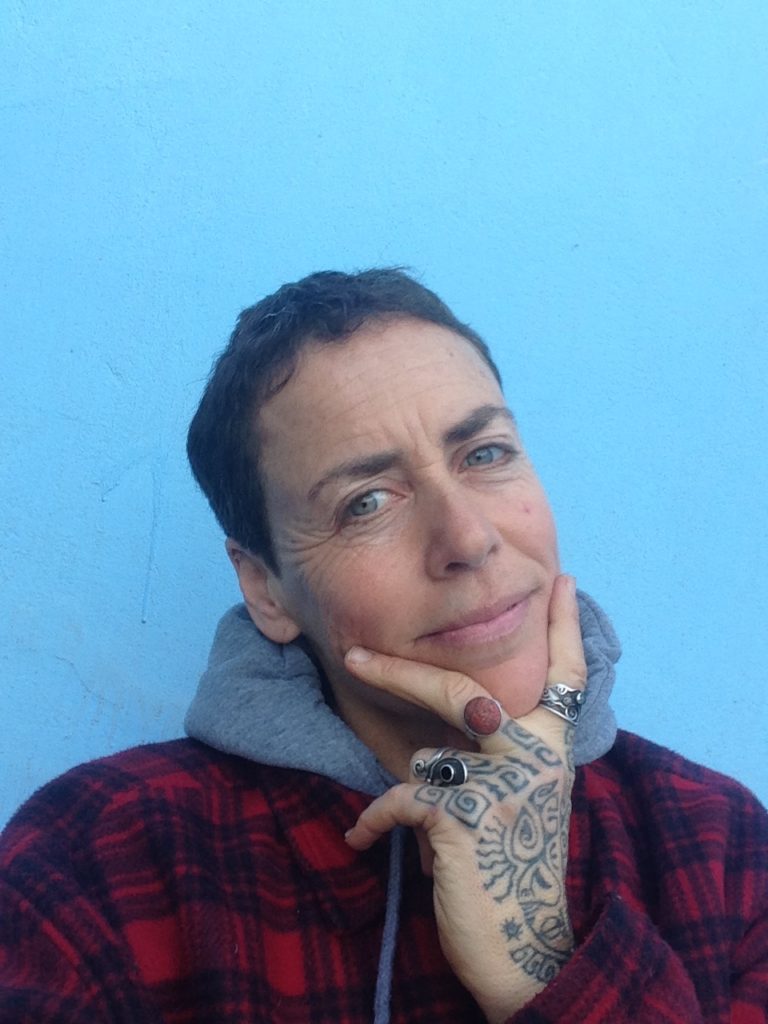 first project, her legal 200 ft2 studio, in her backyard. She was one of the first people to legalize a cob building on the west coast of the US, where the building code laws are the most stringent due to high earthquake risk.
In 2008, she created SunflowerCobBuilding which became CruzinCob and then, in April 2015, evolved into CruzinCobGlobal, the international cob workshop business she runs from wherever she happens to be on her bike on the Planet. To date she and her team has taught close to 100 workshops, 20 of which have been part of CCG's new international circuit since the Spring of 2015 in the following countries: Spain & the Canaries, Senegal, Cabo Verde, France, Morocco, Portugal, including the Azores, and Santa Cruz, CA. Upcoming workshops include three month-long trainings in Texas, Brazil and Colombia.
CRUZINCOBGLOBAL.ORG
Our vision is two-fold. First, we seek to expand the global awareness, understanding and practical experience of Earthen "Cob" Construction as a safe, healthy, ecological, economical, strong and durable building technique everywhere on the Planet. Secondly CCG seeks to contribute to the reduction in concrete-based construction and cement production thereby increasing the well-being of all Life and our Planet Home.
Our mission is to collaborate with individuals and communities around the Planet in organizing and holding Cob Building workshops in which we lead an international/intercultural group of 10-15 students in the construction of all (foundation, walls and roof) or part (just walls) of a small structure (10-15m2 or 110-165ft2) in a period of 10-28 days. The standard workshop is 10m2 in 2 weeks. We also teach 3-4 day Cob Oven workshops as a shorter and easier option.
Location: Ecovila PaparaYba