Date/Time
Date(s) - Sunday, October 7, 2018 - Sunday, October 14, 2018
9:00 am - 5:00 pm
PROJECT & LOCATION
This wonderful location in Pineto, Italy on the Adriatic Coast and only 5 minutes from the beach will be the site for our next Cob Oven Workshop in Europe! As an added bonus students will get to experience a Bread-Making Laboratory with Claudio, an expert traditional baker who only uses artisan sourdough starters.  He will lead the group in preparing the bread to be baked in the new oven on the last day to celebrate!
The workshop will take place on the Agricamping Cilli organic farm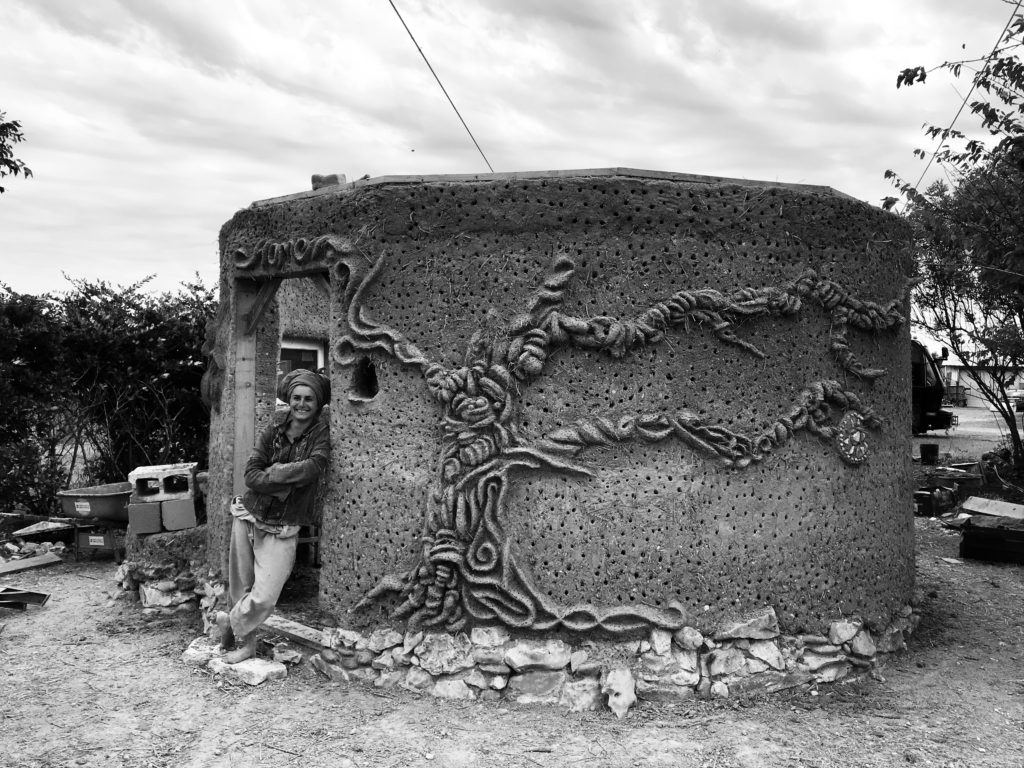 and homestead.  Our host Elena, a cobber, yogini, acroyogini, farmer and amazing artist,  will receive students in the various trailers and campers or in their personal tents for the 7 days of the workshop.  She will be preparing 3 delicious Italian meals a day, as we learn all about the amazing material of COB and work together to build a beautiful community-sized oven with benches, a table and whatever else there is time for.   Students will learn and build the oven and benches from foundation to sculpting and plaster.  You will leave prepared to build your own outdoor eating area and teach others these new popular skills!
WORKSHOP DESCRIPTION & DAILY SCHEDULE
The workshop begins on Sunday, October 7th, 2018 with dinner and an Introduction to the week and the building site.  The curriculum will include an introduction to cob, analyzing soils, making test bricks, deciding on your mix, making cob, building with cob, building an oven, sculpting and art and making and applying plaster.
The daily schedule will be:
6:30-7:30 Yoga & Meditation (Optional)

7:30-8:30 Breakfast
8:45-12:45 Class
1:00-2:30 Lunch & Rest
2:30-5:30 Class
6:00-7:00 Acroyoga/Yoga (Optional)

7:00-8:00 Dinner
8:00-9:00 Slides/Videos/Discussion (2 nights)
Students will need to come prepared for active physical work from Day 1. This includes:
Work clothes appropriate for the country and climate we are in
Slip-on flip-flops
Lightweight rubber gloves (like gardening gloves) for very dry skins
Good moisturizer (clay is drying and dehydrating!)
Hat/Sunscreen
Water Bottle
 Notebook/Pen/Camera
Finally, please bring a watch or use your phone to be prompt and ready for each part of the Course including meals. Feel free to share your dietary needs with CCG or the Host and bring your essential snacks and foods, pillow and whatever you NEED to be comfortable and happy. Feel free to also bring slides, videos, movies and books to share, as well as a sample of your soil to test.
TRANSPORT & VISA

The closest international airport you can fly into is Rome Fiumicino.From there you can take a bus to Pescara, the closest large city.  There are few bus companies going to Pescara: ProntoBus, Di Carlo, Arpa, and Di Renzo. ProntoBus usually is the cheapest. Our host Elena can pick people up in Pescara or they can get a train from Pescara to Pineto (15 minute ride).   
The closest GoogleMap location is the Cilli Beach Cafe and Bar: https://www.google.it/maps/place/Eucaliptus+Beach+da+Cilli,+via+ss+adriatica+16,+64025+Pineto+TE/@42.589899,14.084139,17z/data=!4m2!3m1!1s0x1331bd38dfd96017:0x63f6ff497ef465bd .  This is a 5-minute walk from the farm where the workshop will take place.  The beach bar and farm are both owned by the Cilli family!

US citizens will need a visa for Europe and can stay for 3 months.  The cheapest airlines from the US to Europe are NorwegianAir, IcelandAir, JetBlue and others.  RyanAir is one of the cheapo ones for Europeans.  Please contact Elena if you have questions on logistics.
EXTRACURRICULAR ACTIVITIES

The beach nearby is the greatest attraction. There is also a medieval town only 15 minutes away and mountains for hiking and climbing about 1 1/2 hours away.  However there will not be much downtime during the week of the workshop besides in the afternoon.
Elena is an avid yogini and acroyogini and will offer some optional sessions as will our teaching staff and any other motivated students.
TEACHERS
Krystal Alexander  from St. Louis, Missouri and Beatriz Muñóz from Valencia, (see Team description) Spain will be the instructors for this Course.  Both of them have taken several cob workshops with CruzinCobGlobal and have worked on cob projects including several ovens in different countries and with different teams and will be collaborating on leading a large cob building project in Colorado this summer!  They are very excited to lead their first workshop for CruzinCobGlobal and even more excited to be doing so in Italy on their co-cobber friend Elena's land!!!!  Elena also trained with CCG in October 2017 in Texas though this will be her first oven!  The instructors will be supported by the CCG curriculum and structure.  You will have a wonderful experience with this team!
FEES & PAYMENT
This 7-day workshop has 3 rate options depending on when you make your payment and how much you pay at once:
The Very Early Bird Rate of 400€ is due in full by June 1, 2018
The Early Bird Rate of 450€ is due in full by August 1, 2018
The Standard Rate of 500€ is due by October 1, 2018
If you would like to put a deposit down to hold your spot we ask for 50%.  This deposit is on-refundable so please make sure you definitely will be doing the Course.  The final balance payment for the Standard Rate is due by October 1, 2018.  The final balance payments for the Very Early Bird and Early Bird rates are due by the dates stated above.
Payments can be made on Transferwise.com using this link: transferwise.com/u/claudined using Euros or USD. US residents or students with US bank accounts can use Venmo, Paypal or make a direct bank deposit.  Please contact Claudine for payment info and to register.  Thanks!
GALLERY
More details soon…..
Location: Agricamping Cilli