Date/Time
Date(s) - Sunday, September 5, 2021 - Sunday, October 31, 2021
9:00 am - 6:00 pm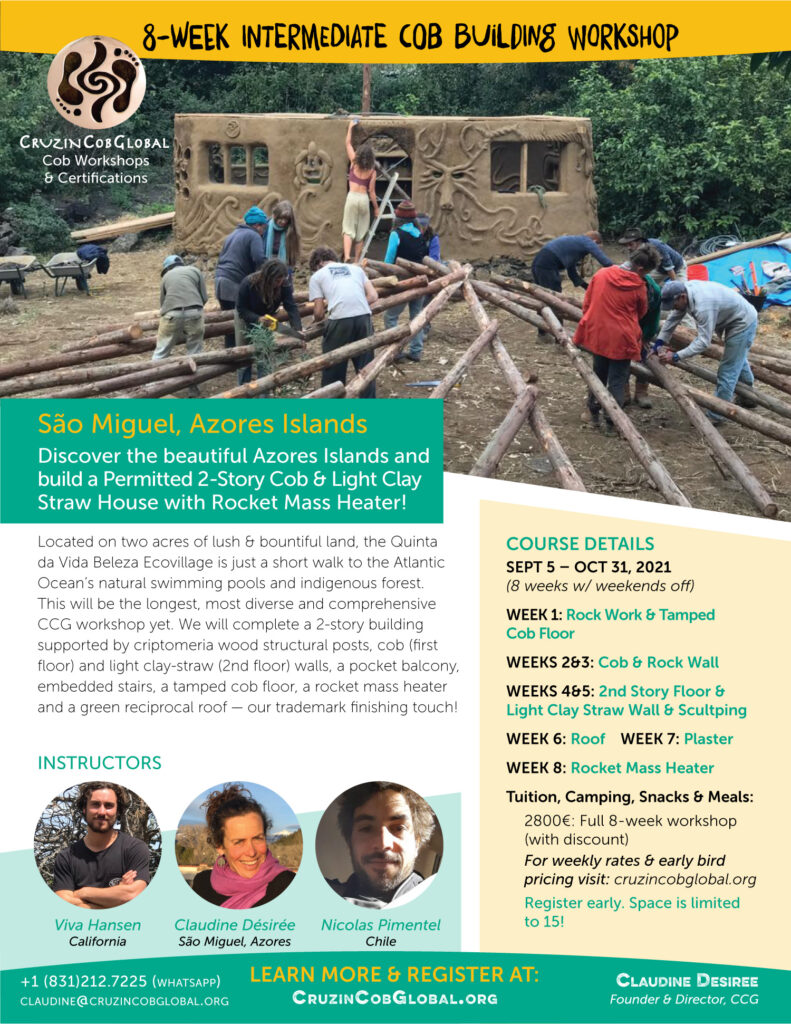 LOCATION & HOST
Discover the beautiful Azores islands on São Miguel, the largest and most diverse of all the 9 islands where Claudine Désirée, director of CruzinCobGlobal and Host of the workshop/training, bought a few acres of land near the ocean and forest to create the lovely Quinta da Vida Beleza, full of bananas, guavas, chickens, vegetable
gardens, outdoor bathtubs and showers, compost toilets, an outdoor kitchen & eating area all set in a relaxing and lush volcanic green stonescape.

A usual day in the Azores…sun, sprinkles & rainbows! The Azorean island of São Miguel is a true paradise. Every time I walk, bike or drive around I am in awe of the peaceful and gentle beauty.  The island is the first and main stopping
point for visitors of the Azores and, in my opinion, is the most beautiful, and interesting to explore.  It is 62km/40 miles long and 16km/10 miles wide at its widest point. It is shaped like a caterpillar with the crown chakra at the northwesternmost point and Lagoa, where I live, at the heart chakra.
The island has a variety of microclimates and micro regions which make it seem alot bigger. The Nordeste (Northeast) seems like another world with its big forests and cliffs and intense greenscape.
The middle of the island is where the "action" is  with the best and most accessible surf beaches, markets, and cultural life, centered on Ponta Delgada, the capital, as well as Lagoa, Vila Franca and Ribeira Grande.  Ponta Delgada is the capital of the island and the main hub for the whole Autonomous Region.  Its population is 50,000, about 1/2 of the whole island, and, like any other European city, has many places to eat, hear live music, shop and people watch.  However each part of the island is special in its own way.
Quinta da Vida Beleza (Beauty Life Farm) is located in Atalhada, a section of Lagoa, about 8km/5miles east from the center of Ponta Delgada.  It's an easy bike ride along the coast with a nice bike path covering alot of the way.  The Quinta or Farm is located in a "rustic" area surrounded by other farms, yet also only a 5-minute walk to the ocean and natural oceanic swimming pools.  It is also a short bike or car ride to the Natural Swimming Pools of Lagoa, Santa Cruz Beach and, my favorites, Praia das Milicias and Pópulo, 2 fine black sand beaches with great swimming and surfing only 3km away.  There is a big native forest right behind the Quinta for walking and exploring full of red and black volcanic rock, a Volcanic/Seismological Observatory close by and, on weekends, students can rent a car (for as low as 2€ or less a day in the low season!) to visit different parts of the island like the 3 different hot springs, the highest peak, caves, iridescent green and blue volcanic crater lakes, two important botanical gardens, amazing vistas, villages, beaches, hikes, and waterfalls. People who are into scuba diving, sailing, whale and dolphin excursions and even visiting Santa Maria, the closest island, will have time to do so as well.
The Quinta is 2 acres of lightly undulating land covered with a diversity of local weeds, an area of banana forest where the chickens live, endless indigenous mini-guava trees of different species, kumquats, native orange limes and a sweeter relative of the passion fruit called "granadilha".  It is totally enclosed with traditional lava rock walls and very private.  A central higher area with eucalyptus and criptomeria forest on gorgeous ancient moss-covered black lava stone will provide support for an ocean-view platform at some point and hammocks to chill.  The vision and design for the whole Ecovillage has been fermenting and with the unexpected down time due to the global shutdown, more time has been available to keep adding to the land. See Gallery at bottom of page.
PROJECT

This workshop will be the longest, most diverse and most comprehensive one we have yet offered to our students. We will be completing a 2-story building with a criptomeria (local structural wood) post load-bearing structure, that will be permitted as a "warehouse/workspace" with cob (first floor) and light clay straw (2nd floor) walls with a covered (pocket) balcony, cob wall-embedded stairs, a tamped-cob floor, a rocket mass heater and a reciprocal green roof, our trademark workshop finishing touch.
This is super exciting as it will be the first 2-story structure built in a workshop and that I will personally have built as well.  We have decided to make the second story out of a different natural building material, light clay straw, to give students exposure to another popular technique that is ideal for the Azorean slightly cooler winters with its higher insulation properties, has a faster building time, and is of lighter weight for the second story. We are hosting guest teacher Nicolas Pimentel, who started his natural building career with CruzinCobGlobal in the Azores on this very same island in 2017.  He is now a licensed architect in Chile having fast-tracked a green building career in a variety of techniques including one of his favorites, "paja liviana" or "light clay straw", suitable for the southern Chilean winters.
While the 50cm-wide foundation of this 37m2 (400 ft2)-footprint structure has already been built by local Azorean masons, we will spend the first week adding vertical stone layers in artistic shapes to the foundation guided by our local masons, to create a mixed volcanic stone and cob wall for the first story.  This will speed up the building process and students will still get to experience local-style rock work.  The following weeks will consist of filling in this rock'n'cob wall with cob and, as always, a myriad of aesthetic and functional elements like bottles,

niches, shelves, embedded counters and tables, hooks, as well as basic electricity and plumbing, opening and fixed windows and several doors, including one to the balcony.

Once the first story wall with floor beams (for second floor) and tamped cob floor are completed, students will lay down the second story floor boards before beginning the light clay straw walls of the second story, led by Nicolas Pimentel.  The reciprocal green roof will seal the building and the tops of the walls filled in before sculpting and plastering begin.

In the final week we have the honor to host my son and Rocket Stove aficionado Viva Hansen, who will lead the way in adding a wonderful element to the structure which will help take the edge off the cooler winter temperatures as well as dry the generally humid indoor air inside of buildings here.  We will build a Rocket Mass Heater that will heat up cob couches built onto black volcanic bedrock that are inside of the building.  The northern back wall will also be built onto this protruding bedrock.  I am so excited to realize one of my dreams: to recreate the cozy warmth I felt inside of the Bedrock Cottage at the Cob Cottage Company, in which I lived for 5 days warmed up by the heat stored inside of a giant black rock onto which my cob bed frame was built!
This 8-week workshop is the longest one we will have offered, however we are also giving students who can only or only want to do an integrated portion, the option to do so.  The 8-week students are our priority of course and will receive a reduced rate.  We will offer two Early Bird rates for students taking only one or more portions of the workshop.  These rates are for paying by July 5th and August 5th and the standard rate will apply afterwards. As always, we will offer 4 work trades, two in the kitchen preparing breakfast in the morning and 2 preparing the site in the morning and/or afternoon. These work trades are always off of the full/standard rate and will be prioritized for students taking the full 8-week workshop. See the Payment and Registration Info below. It is recommended people sign up as soon as possible so we can have room for everyone.
SCHEDULE
 
The 8-week Intermediate Cob Building Workshop (no foundation but with artistic rock work) begins on Sunday, September 5th, 2021 at 4pm and ends on Halloween, Sunday, October 31st, 2021 at 12pm.
International or non-island students should arrive a few days before to acclimate and settle in before the workshop begins and plan to stay a few days after to decompress.
The 8-week workshop schedule will be:
Week 1: Rock Work and Tamped Cob Floor
Weeks 2 & 3: Cob & Rock Wall
Weeks 4 & 5: 2nd Story Floor & Light Clay Straw Wall & Sculpting

Week 6: Roof
Week 7: Plaster
Week 8: Rocket Mass Heater
The daily schedule will be:
6:30-7:30 Yoga/Movement/Breathwork/Meditation
7:30-8:15 Breakfast
8:30 Morning Circle (required)

9:00-1:00 Building
1:00-1:30 Lunch
1:30-2:30 Rest
2:30-3:30 Lecture on MWF

2:30-5:30 Building on TTh
3:30-6:30 Building on MWF
7:00-8:00 Dinner
8:00-9:00 Slideshow/Videos once a week (required)
COURSE CONTENTS
 
Students will earn the Intermediate Cobber Certification as they will learn every phase of building a cob building from foundation through the roof in lectures/theory and will learn cob wall building, cob floor, sculpting, plastering and roof through daily hands-on construction. Plus this workshop will offer two bonus weeks learning light clay straw and rocket mass heater design and construction.  While students will not be building the building foundation, we will teach it in lecture time and spend a whole week adding vertical height to the foundation with artistic rock sculpting. This, combined with the lectures, will give students ample experience to build foundations on their own, especially with support from an experienced mason.  Students are always welcome to take the foundation week of another workshop to complement their Certification and upgrade it to an Advanced Certification.

The 4th and 5th week are focused on building the second floor walls with the light clay-straw technique, which is one of the best natural materials for insulation, and also very light for a second floor. 

There are many different ways of building with straw: from bales to panels. We will raise the wall filling a timber structure with compressed straw coated in clay and also plain straw walls. Then we will prepare the wall to be plastered and sculpted so it will be a "cob-like" highly-insulated wall.

  Students will learn how to apply this technique not only as a second floor wall for a cob house, but for any new building they want to develop. 
The last 6 days of the 8-week workshop offers students the opportunity to participate in building a Rocket Mass Heater (RMH) and to familiarize themselves with the working principles of wood heat and energy consumption/efficiency within a practical environment.
The "classic" RMH was developed and designed to generate clean wood heat using affordable materials available anywhere in the world. In a RMH, the energy generated through the rocket core radiates immediate heat into a space before charging an adjacent cob bench (or bed), and ultimately exiting through the chimney stack.
We will be constructing a rocket stove core, capping it with a 55 gallon oil drum, and connecting the whole thing to a "bell" style bench (where hot gases stratify, soaking the earthen bench with heat) before exiting through the chimney. Students will learn how to design and build a Rocket Mass Heater, including the core, the barrel, and the bench. The rocket stove core that we will learn can be adapted to a variety of different needs, including ovens, cook-tops, and stoves.
Our hands-on practice in the 8-week period will include:
building stone & lime mortar sculpted rock wall
analyzing soils and materials
making test bricks
deciding on correct mixture
deciding on best location
making cob w/ partner and solo
building with cob
preparing and inserting the door frame
preparing and inserting fixed window and opening window frame
preparing and inserting shelves
inserting bottle windows and other objects
inserting electrical outlet and plumbing pipe
light clay straw walls
sculpting
preparing and applying earthen plasters (1 coat)
pouring a tamped earthen floor (1 layer)
preparing walls for roof connection
building reciprocal roof frame
building wooden roof decking/sheathing & green roof covering
building a rocket mass heater (core, barrel & bench)

REQUIREMENTS & IMPORTANT INFORMATION
 
Students will need to come to class/building site prepared.
This includes:
Work clothes appropriate for the country and climate we are in

Work boots or other closed-toe shoes

Flip-flops for cobbing days

Rubber dishwashing gloves (for lime mortar)

Work Gloves

Tape Measure

Box Cutter

Carving Knife

Wood Hand Saw (cheap), Level (2ft), Hammer (whatever is possible)

Ear Plugs (roof week)
Wood Chisel

4"-6" Diameter Round Plastic Container Lids (plastering)

Good Moisturizer

Hat

Sunglasses

Safety Glasses

Water Bottle

Notebook/Pen/Camera

Sample of Your Soil (Optional)
Please read "The Hand-Sculpted House" by Ianto Evans, Linda Smiley and Michael Smith before the workshop and bring with you.  It is still the one and only Cob Bible!!!
Also, "The Rocket Mass Heater" by Erica and Ernie Wisner
And "Essential Light Clay Straw Construction" by Lydia Doleman
Weather in September/October  is quite perfect, however towards the end of October it will get cooler as soon as the sun goes down.  It usually does not rain more than momentary drizzles, but there may be a few grey days. So please bring your raingear and beachwear! Temperatures will be in the mid-60's (F) to low 70's in September and maybe 5 degrees less in October. Its definitely the best time of the year in my experience. Ocean is still very enjoyable!

TRANSPORT & LOGISTICS
You can Google "Clinica Veterinaria São Miguel" on Rua das Mercês and park on the street and walk up the dirt Canada das Mercês  a few minutes to the "Quinta da Vida Beleza" on the left, with a bright yellow painted gate. I have also set "Quinta da Vida Beleza" on Googlemaps so you should be able to locate it, 2 parcels north of "Quinta da Parodia".

Coming form Europe, you can fly with Azores Airlines, TAP or Ryan Air.  These are the main airlines flying here with Ryan Air being the cheapest, especially from Lisbon (20€/one way minimum with only a carry-on).  If it works out, I may pick you up or else just take a taxi (12€ (day)or 15€ (night)) to the land or your accommodations.
Coming from North America, direct flights are only from Boston and Toronto with Azores Airlines/SATA and TAP. That being said you can book with Azores Airlines or TAP from anywhere in the US to connect in Boston or buy two separate tickets.  You can also fly to Lisbon or Porto (much nicer) and then take RyanAir or SATA to Ponta Delgada.  NorwegianAir is super cheap especially off-season and flies from the US to Barcelona and Madrid from which you can take RyanAir to PDL.  Many options!

For students wanting to stay on and explore other islands, SATA airlines connects all the islands year-round.
While on the island, it is recommended to have a bicycle, which you can buy or rent or use the public bikes.  You can also share a rental car with other students for a possibly very low fee of 2€/day with Goldcar! There is a very good bus system as well.  And hitchhiking is pretty easy for getting around.
 
MEALS & ACCOMMODATIONS
 
Students will be fed 3 wonderful vegetarian meals per day by chef Rui Menezes, a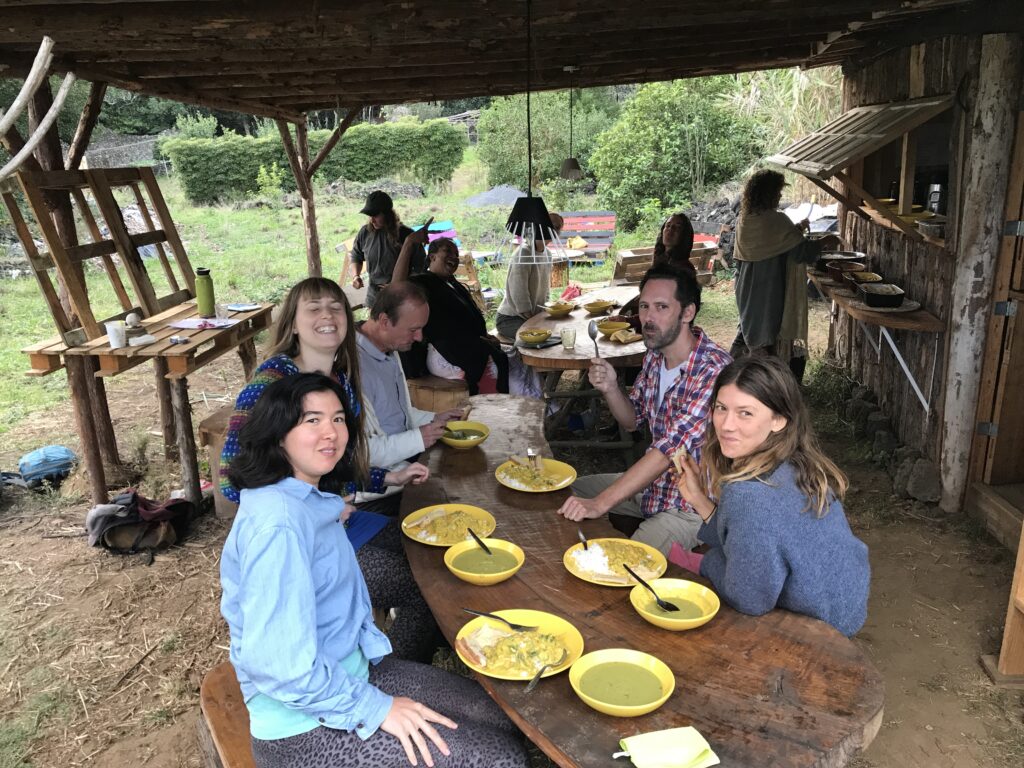 Portuguese long-time restaurant owner and now private chef.  His meals take us on eccentric tours of the world and he uses only the freshest market ingredients! On weekends students are on their own for meals and will have a chance to taste the island specialties or cook their own meals.

As far as accommodations, we can take 5 campers on the land and also have local low-budget accommodations at the Pés Verdes Hostel owned by my friend Margarida with cute patios, a kitchen and right near three black sand beaches, a food store and three restaurants. Find it on Googlemaps. If you are interested there is a dorm option and a private room option. My students get a special rate. Those choosing to stay there will need to bike, walk , drive or bus to the land (3km). Its only a 5-10 minute flat bike ride to the Quinta. Walking will take you about half an hour, and the bus leaves every hour and stops right on my street.  If you want the hostel option you will need to let us know ASAP.
There are also usually two rentable houses with two bedrooms each, oceanfront balconies, kitchens, washing machines and wifi only a 5-minute walk to the land. Please let me know if you want to rent them asap.   There is also the very sweet Hotel Arcanjo also in the same neighborhood, a little pricier but well worth it. And two restaurants and a small food store. The big supermarket is a 10-minute walk away and the natural pools are right there, a 5-minute walk from the land. Let us know and we can help.

INSTRUCTORS               

 
Claudine Desiree is the original "Cob Queen" of Santa Cruz, where she founded the original "Sunflower Cob Building" which quickly morphed into the California-based "Cruzin' Cob", the cob workshop and building business that evolved over a decade.  Once her three sons were "out of the house", she went for her dream of traveling around the world on a bike teaching cob workshops in 15 countries on 4 continents to continue supporting herself and offering up what she loves in the countries and languages she is passionate about (see the CCG: Where We Go).  Working internationally with no home base, required a new name and a website, hence CruzinCobGlobal was born naturally and appropriately and, after 5 years on the road, Claudine has finally found a new home in the Azores….for now.  On the island of São Miguel (where are the Azores?) she has started building an Eco- Homestead for family and friends called "Quinta da Vida Beleza" for chillin', playing music, dancing and communing!!!!  CruzinCobGlobal will continue to do the important work of teaching and building the best houses and best communities ever of course… with more new Teachers hitting the Cob Road in 2021 as CCG-trained students begin leading workshops and builds around the world. Claudine will also keep teaching in her favorite places and spreading the Cob everywhere, with more focus on the Azores land and project now, but also very interested in working in Africa and Asia.  California, however, will always be one of those favorite places, her and her children's home for 20 years. And the demand to learn Cob in California is always growing with the fires and earthquakes threatening conventional houses.  And the best part is we have a "legal" Cob Code to use anywhere in the world thanks to the CRI architects' and engineers' hard work and focus! Cob has even been approved under the recently-adopted Code K Ordinance for Santa Cruz County, allowing rebuilding after fires and in rural areas with minimum permit requirements and using alternative materials. And… homeless camps are turning into Cob Villages under highways in the US!
Viva Hansen was exposed to earthen building from a young age, but it wasn't until his college years that he started to delve more deeply into Cob and other techniques of natural building. Over the course of the last 10 years, Viva has lead a handful of builds, done many solo projects, and taught a fair amount of workshops. He is particularly passionate about the integration of earthen masonry and fire, leading him to experiment with Rocket Mass Heaters, Lorena stoves, rocket stoves, and ovens. He is very aware of the uniquely therapeutic aspects of sculpture and design, and strives to make every project a piece of functional art. You may read his bio below.
As a kid, Cob was this strange empowering thing my mom did to build us a bigger home. I participated when I wanted, and skipped out when I didn't. Though as time went on the Cob effect was undeniable. Every time a build was underway there was music and laughter and food and wisdom from people of all ages and backgrounds. 
As I matured through my high school years I was able to involve myself with enough earthen building to feel its practical magic. Then one summer I created an opportunity to build a meditation room with my high school physics teacher. His passionate involvement with our Indigenous community transformed the project into a spiritual experience. Throughout the summer we made long trips to sacred rivers and hand-picked beautiful stones for the foundation, often walking for miles on a trail with three or four stones in a backpack. Then as I finished my college experience and returned to California, the opportunity to join my mother on her journey bloomed.
For me, Cob is primarily a physical experience. It has always been about sweat and breath. The feel of different dirts and sands, straws and rocks. And it is a mystical experience, bringing me back to the earth. But what I have learned from the last year is that Cob building can be a tool to sew communities back together. To bring "strangers" into a common space and make them family. In that vein, Cob really is a product of my life philosophy. Something that I can stand behind fully because I know that from top to bottom it is peace, hard work, sustainable and love. Here is a short video I made last year that expresses these feelings better than written words.
As I continue to learn in this life I will continue to share what Cob has shared with me.
Nicolas Pimentel hails from Pucón, in southern Chile, where he taught his first CCG course last year with Viva Hansen.   Nico is a new generation Chilean architect and a green builder, designing efficient houses with a variety of natural building techniques such as cob, light clay straw, earthen plasters and green rooves. Currently he works in Chile and also manages the "Jungla Peumayen" project near the Nevados de Chillán volcanic complex in the Andes, with his brothers.  "La Jungla" is focused on conservation, environmental education and tourism. Nico is also an avid photographer and traveller, as well as an artist and writer.
Nico attended his first CCG workshop in São Miguel, Azores in June 2017 and assisted his first CCG workshop in Colorado in July 2018.  He hosted and assisted his first CCG workshop in February 2019 on the very land he loves, supported by his brothers and friends.  In February 2019 he co-taught his first full-length CCG workshop building a beautiful outdoor kitchen with reciprocal green roof with Viva.  Nico is a very talented cobber and builder, and we are fortunate to have Nico on the CCG Team!
He will be teaching the Light Clay Straw segment of the 8-week Azores September 2021 workshop.
REGISTRATION & PAYMENT
 
The fee for the 8-Week Intermediate Cob, Light Clay Straw & Rocket Mass Heater Workshop which includes camping, tuition, 2 snacks & 3 meals/day on workshop days (Monday through Friday) is 2800€. On weekends students will provide their own meals.
Students who want to take one or more portions of this workshop will pay the following rates:
Very Early Bird Discount: 400€/week, payed in full by July 5, 2021
Early Bird Discount: 450€/week, payed in full by August 5th, 2021
Standard Rate: 500€/week, payed after August 5th, 2021
There is a maximum limit of 15 students.
IMPORTANT: Students can take Week 1, Weeks 2 & 3, Weeks 4 & 5, Week 6, Week 7, Week 8 or any combination but cannot break up the double week segments.
To register please contact claudine@cruzincobglobal.org to receive application forms and payment information. To hold your spot in this training you will need to pay the full amount or a 50% deposit that will be non-refundable after August 5th, 2021.  The balance will be due by August 5th, one month before the start date.
For students coming from the US, Claudine will write an official registration letter to support your entry into the Azores, though currently the only requirement for US citizens is a negative COVID test performed within 72 hours of your flight departure day.
Please note: If you cancel before July 5th you will get a full refund or credit towards another workshop within 2 years, minus a 5% administration fee. If you cancel after July 5th you will get a full credit minus a 10% administration fee, good for 2 years.

We always offer work trades in our workshops depending on size of workshop. Here we will offer 4 work trades, two in the kitchen (making breakfast) and two onsite helping prep before breakfast. These work trades are for one hour per day of work in exchange for a 10€ discount per workshop day.  In this case work trader would receive 400€ off of the full price of 2800€, with 50% down to hold their spot and the balance due by  August 5th, 2021. Priority goes to the 8-week students but if there are openings left we can offer them to others.  Please inquire asap because these spots go first.
Note: Work trade applicants who cancel between July 5th and August 5th will forfeit 25% of the paid fee and after August 5th will forfeit 50% of the paid fee due to the need to find another work trader or hire someone.

Also, discounts are not cumulative, meaning you CANNOT get a work trade AND an early bird discount.
You can also contact Claudine by Whatsapp at +18312127225 for questions and registration.
SEE YOU IN THE MUD!!!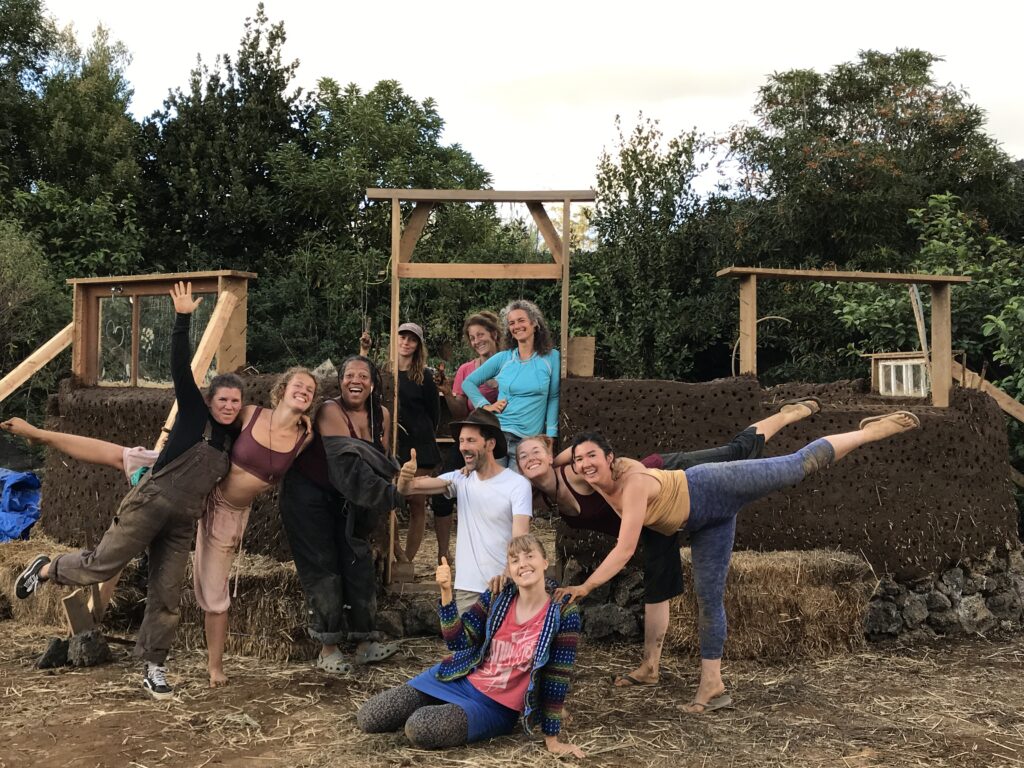 GALLERY
Location: Quinta da Vida Beleza