Date/Time
Date(s) - Sunday, November 4, 2018 - Sunday, December 2, 2018
8:30 am - 5:30 pm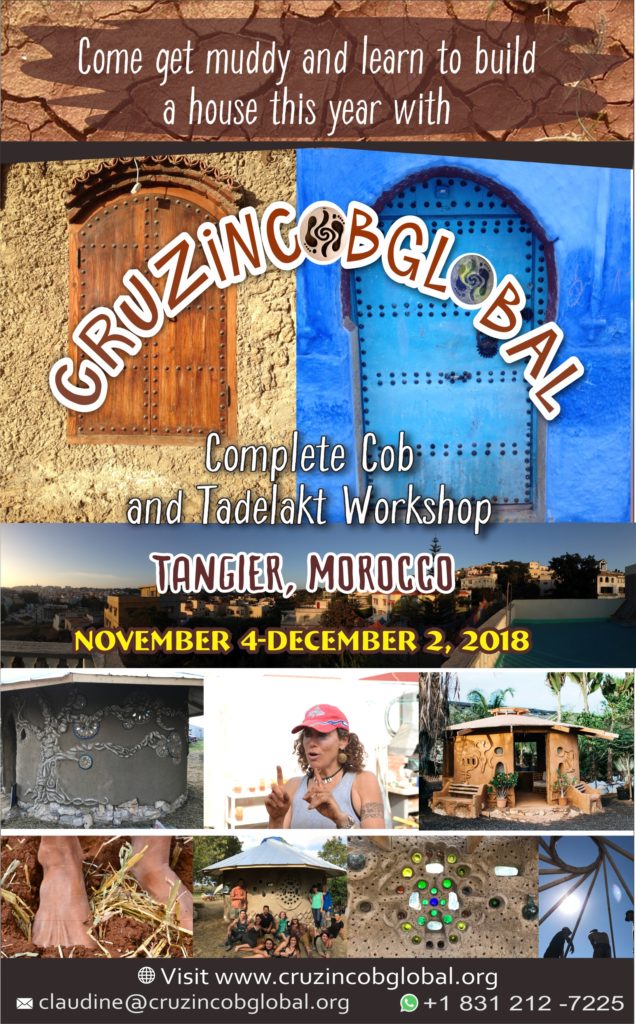 Project & Location
Our 1st Tangier, Morocco Complete Cob Workshop will take place in the city of Tangier on the southern edge in a beautiful neighborhood called Sidi Mismoudi with very old houses, lots of vegetation and a short walk to the beach or along the coastline.  We will be hosted by a lovely long-term Tangier family, Ahmed and Latifah Ben-Sallah, right in their 3-story Riad overlooking the city and removed enough to enjoy a quiet and peaceful environment punctuated five times a day by the prayer calls.
We will be introducing COB to the Moroccan population as this is a new technique using their traditional materials.  While Moroccans have built with clay and still do, they use blocks like adobe and build angular-shaped buildings mostly out of baked bricks.  Our workshop will take place in Ahmed and Latifah's backyard where we will build a cob bungalow/guest house for them to host friends, family and rent out for income.  Ahmed is a builder and will be learning with us, as will several other Moroccan builders.  As an added plus we will be learning Tadelakt from a local Master and applying it to a part of the building for a contrasting finish to earthen plaster.
The workshop will prepare students for professional cob building and/or teaching and, as always, wil be very intensive, especially in weeks 2 & 3 when the walls go up.  Latifah is a very accomplished cook and we will be fortunate to be well-fed three times a day with the finest traditional cuisine (Monday through Friday).  Ahmed and Latifah will teach us alot about Tangier and Morocco and there will be time in the evenings to go walking into the Old Medina, along the coastline, in the neighborhoods, etc as Tangier is always alive with activity.  The twice-weekly Farmer's Market is a 5-minute walk from their home and the center of Tangier is a 20-minute walk away.  Beautiful beaches, hiking areas and well-visited towns like Chefchaouen and Asilah are a short ride away for weekend adventures.  Students can also visit Tarifa, Spain which is across the Strait of Gibraltar for the weekend.  George Reed, an American who was born and raised in Tangier, will be available to take students on guided tours of Tangier ans well as local trips to the Rif Mountains, Chefchaouen, Ceuta, etc.
General Workshop Description

The 28-day Complete Cob Building Workshop consists of 20 days of instruction in the form of theory and construction for 4 hours in the morning and 3 hours in the afternoon. Students arrive on Sunday and settle in, meet the members of the community, the other students, and visit the area. Meals will begin with dinner on Sunday. The Course Orientation will take place on Sunday after dinner and Instruction begins on Monday morning. We will learn and build from Monday through Friday and have the weekends off for exploring the area  and other islands independently or as a group, resting, studying and, if desired, continuing to build at your own pace. Please note that weekend meals are not included but students are welcome to prepare their own meals in the kitchen.  A list of possible weekend activites and excursions will be presented at the workshop. The last Saturday (December 1st) we will have a big celebration dinner and a Moroccan fiesta and Sunday morning we will have a Closing Circle with Certificate Presentation after Breakfast.  The workshop will conclude after Lunch on Sunday.
Morning (4 hours) and afternoon (3 hours) sessions each have a 15-minute snack break. Lunch break lasts 2 hours which includes about 1 hour of rest time before the afternoon session begins, with a 60 minute lecture/discussion time (on most days), followed by construction. Yoga & Meditation sessions will take place before breakfast and before dinner, although sometimes we may have special classes in the evening like AcroYoga, Thai Massage, Partner Yoga, etc. One evening a week after dinner will be scheduled for showing slides, videos, and having Course-related discussions and Q & A. All the other evenings are free and/or organized for other extracurricular activities which will be chosen by the group.
Weekly Schedule

The Course starts with the Foundation work during Week 1. In Weeks 2 & 3 we build the Cob walls, which include a door, opening and fixed windows, shelves, niches, bottle windows, artistic inserts, deadmen (it's a term!), furniture, inserting sink & plumbing, electrical, sculpting and the roof connection structure. We will also build the first 12" (gravel, insulation and rough cob) of floor. In Week 4 we will apply one or two coats of earthen plaster on the walls (the second one depends on time), build the roof and apply the second coat of floor on the last day. Since the final floor coat and sealing needs to happen when all the rest of the building is finished and takes 5 days (1 coat per day) to allow each coat to dry in between, only students who want to stay past the end date to help will complete these last steps.
Daily Schedule

The 28-day Complete Cob Workshop begins on Sunday evening August 5th with Dinner and ends on Sunday September 2nd (4 weeks later) with Lunch. Students also have the opportunity to stay after the Course and help with any final finish work if needed (additional coat on floor, oiling and waxing floor, French drain, gutters, inserting door and opening windows into frames, putting in appliances and fixtures). You will need to confirm your agreement with Host.
The daily schedule will be:
6:30-7:30 Yoga & Meditation
7:30-8:30 Breakfast
8:45-12:45 Class
1:00-2:30 Lunch & Rest
2:30-5:30 Class
6:00-7:00 Yoga & Meditation
7:00-8:00 Dinner
8:00-9:00 Slides/Videos/Discussion (once a week)
Detailed Course Contents

Students will learn every phase of building a cob building from foundation through the roof in lectures/theory. In addition to the lectures, slideshows and videos will be shown to support and enhance their understanding of cob materials, cob building, design, geography, budgeting, business options, CCG career path and legal issues.
Our hands-on practice will include:
digging foundation trench

pouring gravel and inserting drainage pipe (if applicable) building foundation stemwall

analyzing soils and materials

making test bricks

deciding on correct mixture

deciding on best location

making cob w/ partner and solo

building with cob

preparing and inserting the door

preparing and inserting fixed and opening windows
preparing and inserting shelves

inserting bottle windows and other objects
inserting electrical wiring and plumbing in walls
sculpting

preparing and applying earthen plaster and tadelakt plaster (2 coats)
pouring an earthen floor (2 layers)

preparing walls for roof connection

building roof frame

building roof covering

making small-scale cob designs of future projects
In addition to Cob Building practices, the Course material also includes:
legal issues/permits
cost analysis
creating a cob business (building/teaching)
assisting, interning and teaching with CruzinCobGlobal
Requirements and Important Information Regarding Physical Work

CruzinCobGlobal's Cob Building workshops are an intense and demanding building experience.  The goal of our month-long Complete Cob Workshop is to complete a whole structure including the roof covering by the last Friday of the workshop.  This is quite an accomplishment and when completed, give students alot of pride and confidence in building on their own after the workshop.  The Monday through Friday schedule is rigorous and meant to train students in experiencing what it takes to build a cob building in a reasonable amount of time.  We also have a great time bonding, playing music, doing Yoga, and relaxing after class time.  Students can use weekends to rest, recuperate and enjoy getting to know the location. We accept all levels and abilities and students are never required to go beyond what they feel comfortable with.  There are always other activities besides mixing and building which are needed to build the house (getting materials, trimming, screening material, cutting straw, sculpting, plaster, etc) and students learn alot by watching.
Students will need to come prepared for active physical work from Day 1. This includes:
Work clothes appropriate for the country and climate we are in (long pants for Muslim countries)
Slip-on flip-flops
Lightweight rubber gloves (like gardening gloves)
Good moisturizer (clay is drying and dehydrating!)
Hat/Sunscreen
Water Bottle
 Notebook/Pen/Camera
Students are required to read "The Hand-Sculpted House" before the workshop begins and any other book they find, as well as watching videos on YouTube, especially the ones posted on CruzinCobGlobal's website under Cob Stories as well as in the Gallery to get an idea of what is expected. Please bring your book(s).
Students must tend to their own personal needs, drink alot of water, rest when needed and exert themselves at a steady pace. Students who cannot do the strenuous physical work should let us know before the workshop begins so we can adjust appropriately. It is totally OK to come for the lecture/ theory part, and then help the building part in less physically demanding ways, ie cutting straw, sifting for plaster, hammering nails into frames or shelves, sculpting, plastering, cutting bottles. There is alot to do besides making and building with cob that are integral to the building process.
Finally, please bring a watch or use your phone to be prompt and ready for each part of the Course including meals. Feel free to share your dietary needs with CCG or the Host and bring your essential snacks and foods, pillow and whatever you NEED to be comfortable and happy. Feel free to also bring slides, videos, movies and books to share, as well as a sample of your soil to test.
Meals & Accomodations

Students will receive 3 delicious Moroccan meals Monday through Friday and breakfast on weekends with non-vegetarian and vegetarian options on Monday through Friday, made with the freshest local produce and products.  Accommodations will be in the house in rooms and on traditional Moroccan sleeping couches.
Transport & Visa

The closest airport you can fly into is in Tangier where you will be picked up.  Another option is flying into Málaga, Spain and coming by boat from Tarifa where we can meet you.  The house is only a half an hour from the airport and 10 minutes from the port. Another good and cheap option is flying into Madrid and taking RyanAir to Tangier. These flights can run as low as 40€!!!

You do not need a visa for Morocco and can stay for 3 months.
Extracurricular Activities
Weekends students will be free to visit the area and have the option of renting a car to go on a guided tour with a local English-speaking resident to wherever they want.  The beautiful Atlantic beaches are close by and of course there is always the Medina that you can get lost in for days.  Tarifa, Spain is an hour away by boat and is also a fun spot to hang out for the weekend with all its music clubs, kite surfing, hiking and mountain biking.
Fee & Payment
Friends, partners or family coming together can each receive 10% off the full tuition fee. Youth from 12-18 receive a 20% discount off tuition and children under 12 receive a 50% discount off of tuition. Please inquire for families coming with young children, as childcare may be arranged with local babysitters onsite.

Full Payment of USD$2000 will be due by October 4th, 2018

A 50% non-refundable deposit will hold your spot with the rest due by October 4th at the latest.

U.S. students can pay online using Paypal or Venmo (free if you pay with a bank transfer, or add 3% fee to your payment if using credit card). International students can use Paypal (5% fee) or Transferwise (free in Europe or 1%-2% fee outside of Europe).  Students can also make a free U.S. or European Bank Deposit. Please contact claudine@cruzincobglobal.org to register for the course and for payment information.
For Venmo and Paypal please send payment to claudinedesiree@gmail.com or search CruzinCobGlobal and add appropriate fees to your payment if applicable.  You can also click below.
With 3% fee using credit card:
Work Trade

Location: Ahmed and Latifah's Home