Notice
: Trying to get property 'post_type' of non-object in
/var/www/wp-includes/link-template.php
on line
328
Notice
: Trying to get property 'post_name' of non-object in
/var/www/wp-includes/link-template.php
on line
330
Notice
: Trying to get property 'post_type' of non-object in
/var/www/wp-includes/link-template.php
on line
334
Notice
: Trying to get property 'hierarchical' of non-object in
/var/www/wp-includes/link-template.php
on line
336
Notice
: Trying to get property 'query_var' of non-object in
/var/www/wp-includes/link-template.php
on line
346
Notice
: Trying to get property 'post_type' of non-object in
/var/www/wp-includes/link-template.php
on line
351
Notice
: Trying to get property 'ID' of non-object in
/var/www/wp-includes/link-template.php
on line
352
Date/Time
Date(s) - Monday, April 4, 2016 - Sunday, April 10, 2016
9:00 am - 2:00 pm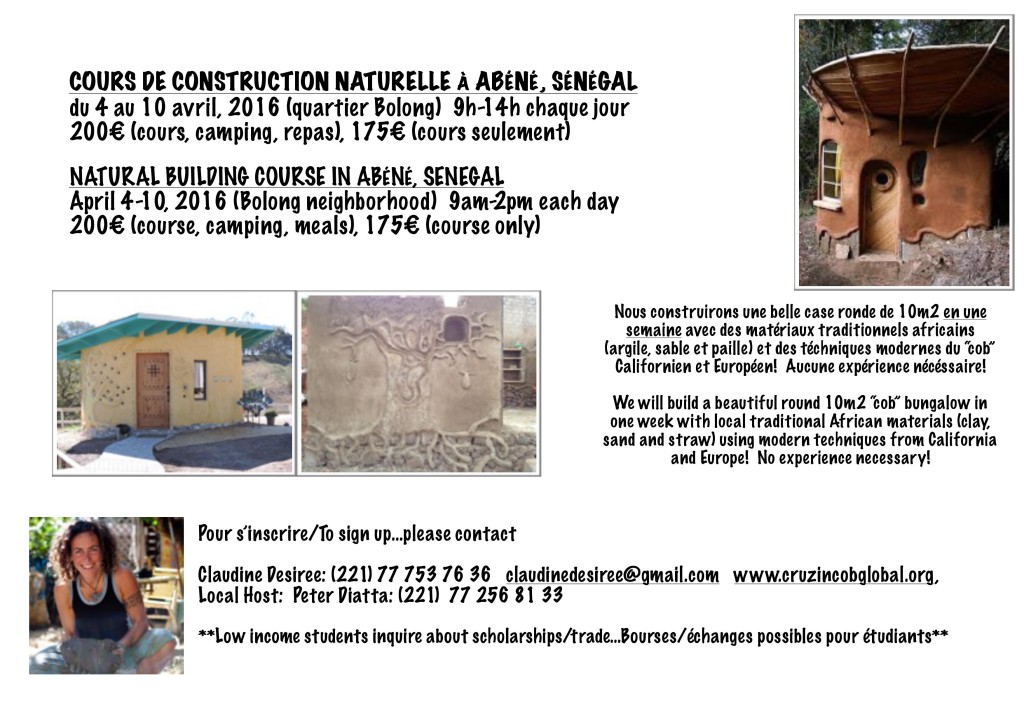 PROJECT
We will build a 10m2 round cob bungalow on Peter Diatta's forested land a short walk to the beautiful endless beaches of the Casamance coast.  Casamance is known for using "banco" or local clay for making bricks to build with.  However many people complain that the banco does not withstand the rain very well and is not very strong which is why many people turn to cement and concrete.  We are teaching a course to locals of all nationalities as well as other foreigners who want to learn "cob" which will be made with clay, sand and straw found locally of course.  Many people will be taking the course and are excited to learn a new technique using their traditional materials.  We will also bring in a local straw thatch roof specialist to build the roof the last day.  Come one come all!!!
LOCATION
Abéné is the Santa Cruz of Casamance.  A lovely, spacious, artsy, rootsy, music and dance community at the border of Gambia and Senegal, it is a 2-hour drive from the airport in Ziguinchor or the 12-hour boat ride from Dakar.  Peter's land is shady and cozy filled with all kinds of local palm and fruit trees and the village is a 15-minute walk away with its many artisans and boutiques.  There are many interesting people from all over the world residing and visiting Abéné all year round.  The weather is ideal at this time of year as is the ocean temperature.
PROGRAM
8am-9am: Breakfast
9am – 2pm: Hands on and Lecture Course
2pm – 3pm: Lunch
3pm – 5pm: Optional Building Time
5pm – 7pm:  Rest and Relaxation/Dance/Drum Classes
8pm: Dinner
TRANSPORTATION
By land one can drive or take public transport from Dakar to Ziguinchor and then another ride to Abéné.  It is also possible to fly in from Dakar or other locations as well as take a 12-hour boat from the Dakar port.  No visa is needed for Senegal.  Yellow Fever immunization is recommended.
FOOD and ACCOMODATIONS
Camping is free on the land and there are many other bungalows for rent in the area with food included.  The course fee can include all meals or just lunch or only the course.  A communal local-style lunch with extra vegetables will be served.  Breakfast and Dinner will be organized accordingly.
FEE
The cost of the course is 175€ and the food is 25€ for the week for 3 meals.  Lunch alone is 1000€.
You can pay using Paypal sending a payment to claudinedesiree@gmail.com or with cash.
Reduced price with work exchanges are availableas are other trades.  Inquire within.
Location: Peter's Land