Date/Time
Date(s) - Sunday, May 28, 2023 - Sunday, July 2, 2023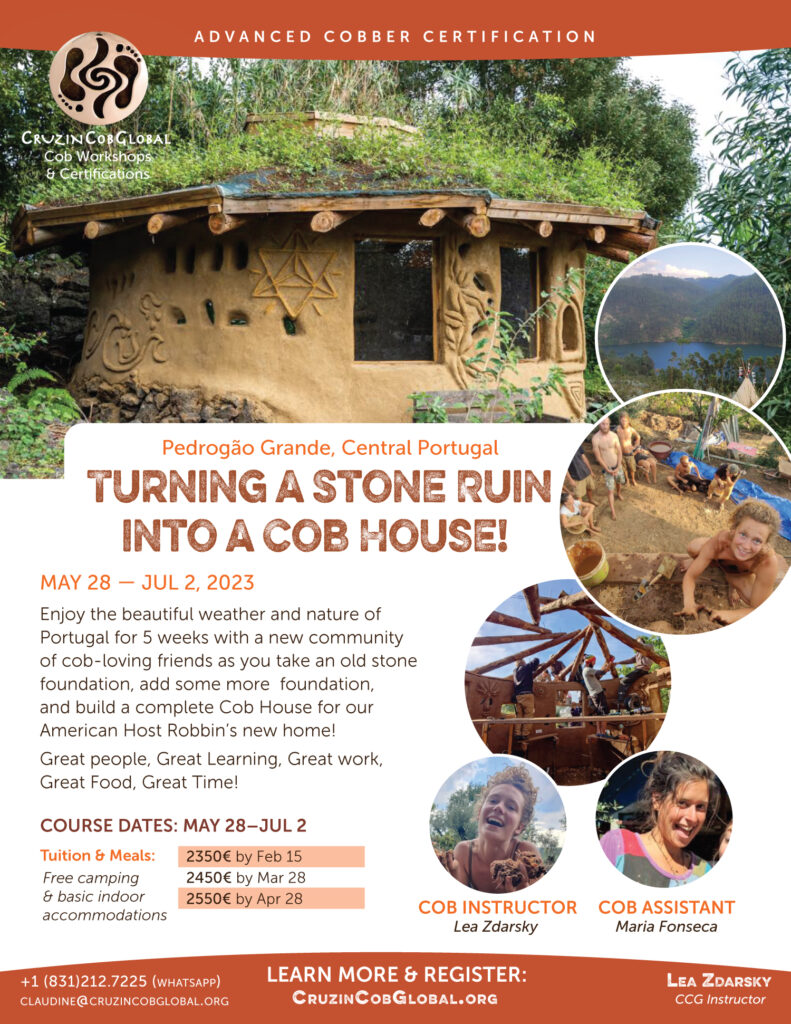 OUR HOSTESS
Hi My name is Robbin Hinson.  I was born in Tulsa Oklahoma, but "many days have come and gone since I've wandered from my home, those Oklahoma hills where I was born" ( an old song my grandpa use to sing). The words are true.  In my twenties I was married to a  German native and lived for about 16 years in "Saarland " Germany. I have three sons: Hans, Jean-Luc and Nic . Two of them are scattered around the globe now and Nic still lives with me. I currently live in California on the Central Coast. 
I'm not sure when I first discovered "Cob".  I think it was something I saw about a "Cob Cottage Village" in Southern Oregon which I went to visit. I fell in love with the philosophy, everything from the safe building materials to the artistic unique beauty which each cob home exudes. Most people building this style of homes want to return to nature and a simpler life… have a garden, feel the sun on your face and get to know their neighbors better. 
When my oldest friend and her husband ( Connie and Wolle both German natives ) purchased property 6 years ago in Central Portugal, I went to visit and fell in love with the little valley which includes 7 hectares, very old stone walls, terraced gardens, zig zag stone paths, and the freshest tastiest spring water I have ever had. Their small holding sits just above the Zêzere River.
 Last year they subdivided their property and sold me my own little piece of heaven. So my dream of building my own "Hand Sculpted House" looks like it is finally going to materialize.  I couldn't be happier about this workshop happening at the end of May.  I look forward with huge excitement and a thankful heart to meeting you all who share the same dream as I do! 
 Obrigada and see you  in May !!!! 
THE LOCATION
Twelve lucky students will get to learn all about Cob and build in one of the most beautiful areas of Central Portugal,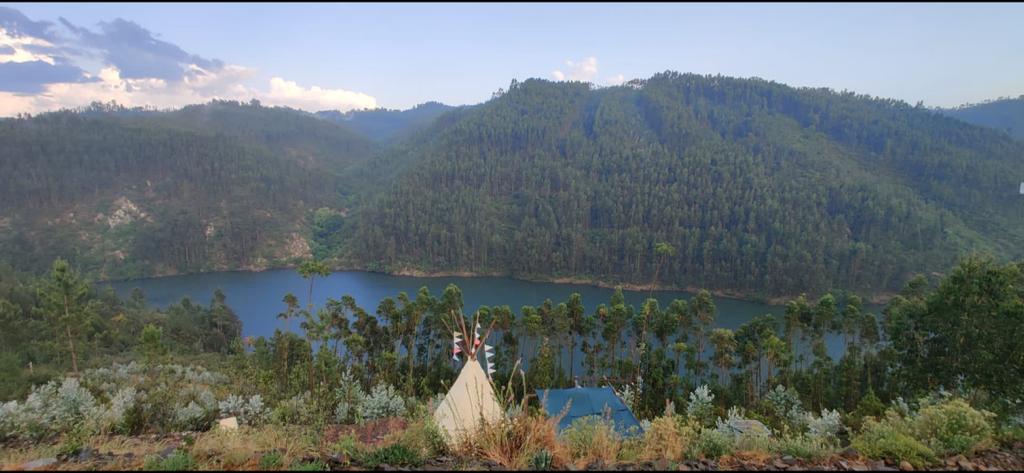 right on the Zêzere River.  The area of Pedrogão Grande is called Sobreiro, which means Cork Oak tree, and the land is called Junças.  The closest larger town is called Pombal, where students can arrive by train.  The Nazarê coast is an hour to the west, and the well-known medieval town of Tomar and São Simão gorge is about 45 minutes away.  There is great hiking in the surrounding mountains and our Robbin and her neighbors Connie and Wolle will be sharingmore information on weekend activities at the Opening Welcome Night.
Students will get to walk down to the River from the land every day after class to swim and cool off, and enjoy the beautiful sunsets and views from the building and camping site.  Below are photos of Junças and the surroundings.
GALLERY
THE PROJECT
Students will be restoring an old foundation ruin into a complete Cob House:  building some new foundation for one of the walls and an internal bathroom, building a wattle and daub wall for the bathroom, and building cob walls complete with windows (fixed and opening), shelves, niches, bottles, hooks, electrical housing, outlets, switches and a plumbing connection.  The restored cottage will be built from foundation to roof including floor, sculpting and plaster and students will receive an Advanced Cobber Certification for the 5-week professional training.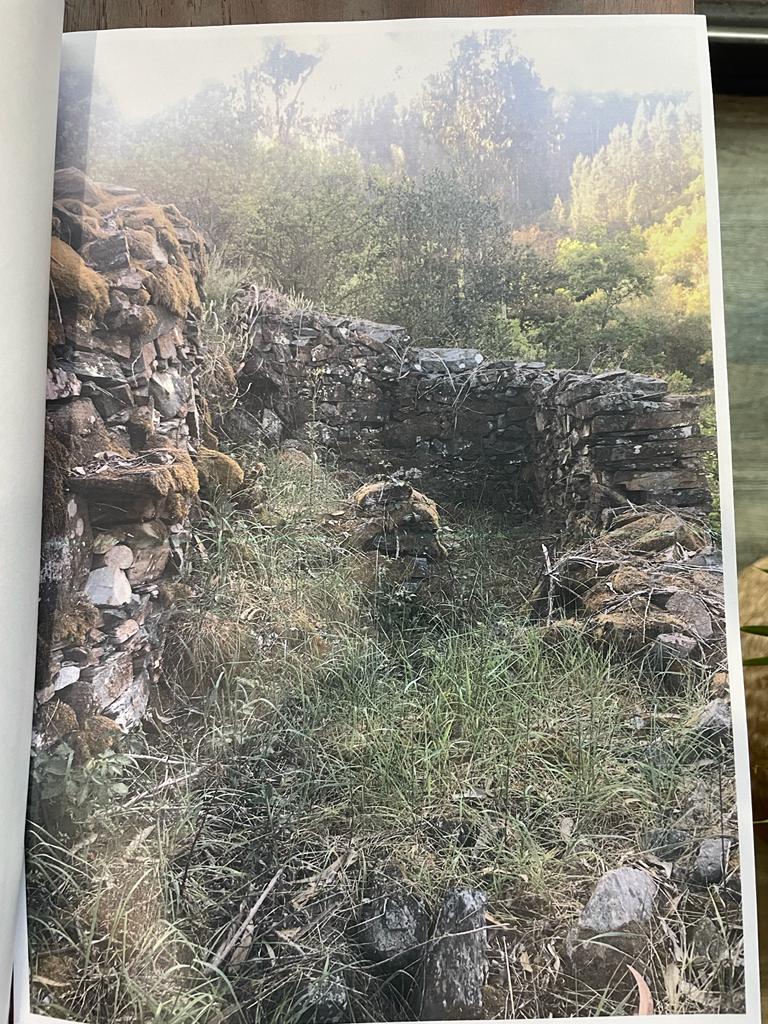 WORKSHOP DESCRIPTION
The 35-day Advanced Cob Building Workshop consists of 25 days (Monday through Friday) of learning & construction for 4 hours in the morning and 3 hours in the afternoon with theoretical instruction (lectures with graphics) on most Mondays, Wednesdays and Fridays afternoons to complement the hands-on experience.
Students arrive on Sunday between noon and 2pm and settle in. The workshop begins at 4pm with the Opening Circle followed by a Host Site Orientation and Introduction to the Project. Dinner is served at 6pm, and will be followed by an Introduction to the 5-week Workshop by the Instructors Lea Zdarsky and Maria Fonseca.
Monday morning we begin digging the trench for our Cob Building!!!!
Following Breakfast from 7:30-8:15am, the morning learning/building session begins at 8:45 am and lasts until 1pm with a 20-minute snack pause at 11am. Lunch break is from 1pm to 2:30pm, which  includes a rest time before the 3-hour afternoon session begins. Mondays, Wednesdays and Fridays there is a 60-minute lecture, followed by construction time. Tuesdays and Thursdays students begin building again after the rest time.  After class in the afternoon there is a 90-minute break before dinner, in which students are encouraged to stretch, do some type of relaxation/movement practice, go swimming if possible, and just relax. There is sometimes a work trade student officially or informally leading yoga and movement practice
in the mornings or afternoons (depending on student preference). There will also be 3-4 evenings (once a week)

after dinner for showing slides, videos and having Course-related discussions. Other evenings are free and sometimes students offer informal courses in their specialties and passions. Mondays are reserved for our weekly Council Circle.Weekends students are free to explore the area, rest onsite, and even continue building, with Instructor approval.
The 35-day Course will offer practical learning by building a complete 26m2 building from foundation to roof, as described in the "Project" section. Those who complete the 35-day Workshop will receive an Advanced Cobber Certificate of Completion for Foundation, Cob Walls (which includes Door, Windows, Shelves, Art, Electrical & Plumbing installation), Floor, Plaster & Roof.
There will be paid cob work for 8 qualifying certified students after the workshop in the Azores.
DAILY SCHEDULE
The Advanced Cob Building Workshop begins on a Sunday at 4pm and ends on a Sunday, 5 weeks later, after the morning Closing Circle & Brunch. Students can arrive a day or two before to acclimate and settle in (please let us know) but will need to cover their own food needs unless a work trade is approved by Host.
The daily schedule (subject to slight modifications due to climate/time of year) will be:
8:00-8:45 Breakfast
9:00-1:00 Class
1:00-2:30 Lunch
2:30-5:30 Class (Lecture on MWF's)
5:30-7:00 Rest/Yoga
7:00-8:00 Dinner
8:00-9:00 Slides/Videos/Discussion (once a week)
Students are expected to be on time and participate in all sessions and required activities as the goal of building a full construction depends on the whole group working together!
COURSE CONTENTS
Students will learn every phase of building a cob building from foundation through the reciprocal roof in hands-on building and lectures/theory. In addition to the lectures, slideshows and videos will be shown to support and enhance their understanding of cob materials, cob building, design, geography , budgeting, business options and legal issues.
Our hands-on practice will include:
digging foundation trench
pouring gravel and inserting drainage pipe (if applicable)
building foundation stemwall
analyzing soils and materials
making test bricks
deciding on correct mixture
deciding on best location
making cob w/ partner and solo
building with cob
preparing and inserting the door
preparing and inserting fixed and opening windows
preparing and inserting shelves
inserting bottle windows, glass and other objects
inserting electrical wiring and plumbing in walls
sculpting
preparing and applying earthen plasters (1 coat)
pouring an earthen floor (2 layers)
preparing walls for roof connection
building roof frame
putting on sheathing and other elements
building green roof
In addition to Cob Building practices, the Course material
also includes:
legal cob construction practices & the international cob
code
cost analysis
creating a cob business (building/teaching)
assisting, interning and teaching with CruzinCobGlobal
REQUIREMENTS & IMPORTANT INFORMATION
Students will need to come prepared for demanding physical work from Day 1.
This includes bringing:
Work clothes appropriate for the country and climate we are in
Work boots or other closed-toe shoes (for foundation and roof)
Flip-flops (for cobbing/plaster days)
Rubber dishwashing gloves (for lime mortar)
Work Gloves
Tape Measure
Two-foot Level
Hammer
Rounded triangular trowel
Box Cutter
Wood Chisel
Ear Plugs (roof week)
Carving Knife
Wood Hand Saw (cheap)
4"-6" Diameter Round Plastic Container Lids (for plastering)
Good Moisturizer
Hat
Sunglasses
Safety Glasses
Water Bottle
Notebook/Pen/Camera
Sample of Your Soil (Optional)
***VERY IMPORTANT***
These workshops are designed for people that want to learn how to build a complete structure from start to finish in a professional manner and amount of time. They are very intensive and, while we make time for yoga, stretching, dancing, music, relaxing….all students are expected to be present and participating in all building/learning hours unless ill or have some other significant reason. This is because we design the size of the building and organize the structure of the workshop in accordance
with the number of students and when people are absent it impacts the whole group and the other students have to work harder. In addition Instructors try to set up building work according to students' preferences and learning needs.
That being said, the workshop intensity also changes from week 1 to week 5. The first foundation week breaks people in with the work of moving, lifting, rolling and placing rocks and is a new and demanding physical experience for most students. It also includes the first layers and coat of cob floor. The second and third weeks of cob making and building are similar to the rock foundation week in physical demand but are more flowing and active in movement and cardiovascular exercise. The
fourth week finally slows down and the body can rest as students tap into their creative source and design and sculpt the walls and around niches, shelves, windows, etc. Plastering follows sculpting and is also an enjoyable more lightweight physical experience that lends itself to talking and sharing at the wall in a meditative rhythm as the students have bonded and shared deeply through a variety of experiences for a month. In the fifth week, the roof is the beginning of a change of pace from the earthen building work to carpentry skills, power tools, drilling, hammering, screwing, trimming, etc. But now the workshop is in its final stretch and there is a boost of energy to wrap up the green roof and the second floor coat and closing of the wall, the grand finale on the last day.
For students wanting a more mellow slow-paced cob experience along with time for personal exploration and experimentation, these workshops are not for you.  However you can find a more suitable workshop online with other organizations that are usually for a shorter period building a garden wall, a bench, a compost toilet or some other smaller-scale project.
Students are required to read "The Hand-Sculpted House" before the workshop begins and any other books they find, as well as watching our "International Cob Workshop"
videos on Claudine's YouTube channel, and the ones posted on CruzinCobGlobal's website under Gallery, to get an idea of what is expected. Also it is a great idea to watch as many other videos on cob and reciprocal roofs as you can to come mentally prepared.  Please bring your book(s).
Students must tend to their own personal needs, drink alot of water, rest when needed and exert themselves at a steady pace. Students who cannot do the strenuous physical work should let us know when registering so we can make sure the workshop is a good fit.  If approved before the workshop begins, we can adjust appropriately. It is totally OK to come for the lecture/theory part, and then help the building part in less physically demanding ways, ie cutting straw, sifting for plaster, hammering nails into frames or shelves, sculpting, plastering, cutting bottles. There is alot to do besides making and building with cob!!!!
Finally…please bring a watch or use your phone to be prompt and ready for each part of the Course including meals. Please share your dietary restrictions/allergies with CCG as soon as you register.  Note that very demanding dietary needs will not be able to be met (vegan & non-gluten ok) and those students may be recommended not to participate unless they are willing
to meet their special needs on their own, which may not include kitchen access on weekdays. Please discuss with Claudine at time of desire to register.  Also please bring your essential snacks and foods, pillow and whatever you NEED to be comfortable and happy. Feel free to also bring slides, videos, movies and books to share, as well as a sample of your soil to test.
We look forward to opening you to a whole new world of experience, skill, growth and transformation as you bond with your new COB family for life!

INSTRUCTORS
Lea Zdarsky (Cob Instructor)
After finishing High School I left Germany in a camper-van and went for the unknown. What I have encountered during my unconventional, self-educated journey since then is an international community of eco-villages, activist squats, spiritual and secular retreats and permaculture plots.
Life there made a lot of sense to me and just felt natural.
Through this I discovered natural building. I wanted to be able to create a space for ,myself where I could live a sustainable life in a healthy symbiosis with nature, held by a creative community that supports the same idea.
I volunteered and helped friends, building their off grid hide-aways. But my Natural Building career really started when I took the Advanced Cob Building course with Claudine in Alentejo in Portugal in 2018.
Since then I have worked on many CruzinCobGlobal projects, assisted and taught in cob workshops and many projects have followed all over the world in different climate zones in which I have been a builder and an Instructor.
I love how different it is everytime:  different soil, different sand, different people, a new climate and a new space to work with.  Learning about the various techniques and possibilities that earthen building offers has been a life-changing journey and I love to make this knowledge accessible to more people.
Lea will be teaching her second Advanced Cobber Certification workshop this Spring/Summer.
Maria Fonseca (Cob Assistant)
Maria, a trained marine biologist, fell in love with Cob in October 2021, while taking a Cob Workshop in the Azores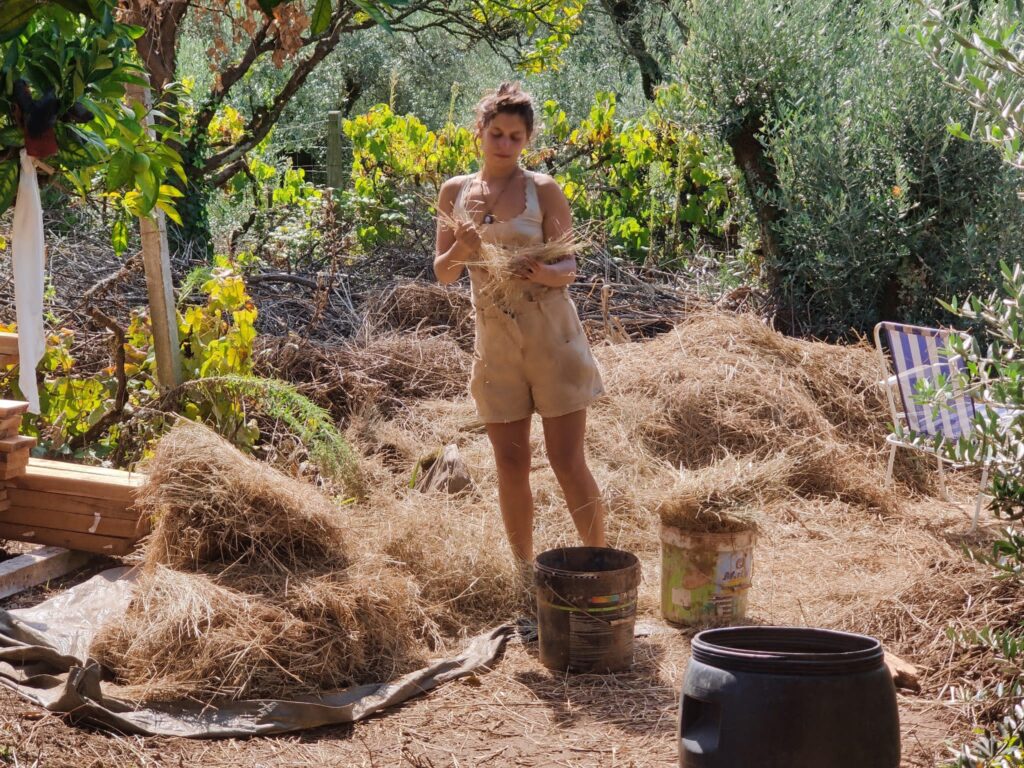 at the Quinta da Vida Beleza.  She is happiest barefoot, eating fruit off the trees, and building cob houses, these days.  She is also an avid permaculturist and plant lover and strives to live a zero carbon footprint sustainable life on her parent's land in central Portugal (Figueira da Foz) with all her cob friends coming to help her build…soon!  Maria is a Nature Spirit and with Lea, you will have 2 powerhouse women leading the way, along with Host Robbin, to an unforgettable and transformational experience in Portugal!

Be ready!
MEALS & ACCOMMODATIONS
Students will have 3 delicious, hearty vegetarian meals a day Monday through Friday.  There will also be a Welcome Dinner on the first Sunday night, a Celebration Dinner on the last Saturday night, and a Goodbye Brunch on Sunday morning after the Closing Circle.
On weekends students are on their own for food, and can travel and explore the area, go camping or stay onsite. They will have access to the kitchen and any leftovers from the week. Otherwise they will need to get their own food for the weekend and can collaborate to get rides to the food stores in town.
Students will be camping onsite for this workshop, in their own tents and with a few tents with pads and pillows available for 3€/night.  Students can also stay offsite in local accommodations but should be within easy walking distance.  Check Airbnb.
More information will be sent a month out in the Welcome Letter and students are also welcome to contact Robbin our host once they are registered.
TRANSPORTATION
The arrival airport is Porto or Lisbon.  The location is equidistant from both.  Students can then take a train to Pombal where the Host will be shuttling students on Saturday and Sunday one time each day.  Students can also take a bus to a closer location where oickups can be made.  However again the Welcome Letter sent out at the beginning of May will have more detailed instructions.

Carpooling options will be addressed on our Whatsapp group as well.
REGISTRATION
Thrifty Bird Rate : 2350€, pay in full by February 15th, 2023
Chill Bird Rate: 2450€, pay in full by March 28th, 2023
Super Chill Bird Rate: 2550€, pay in full by April 28th, 2023
Payment includes tuition, camping and weekday meals plus first and last dinners and last brunch.
To register, please email claudinedesiree@gmail.com or send standard text or Whatsapp text to (831) 212-7225 with your email address to receive the two registration forms.  Payment can be made by Zelle, Venmo and Paypal using claudinedesiree@gmail.com. With Paypal, please check the "Send to Family and Friends" box or add 3% for the fee. If you are using a credit card with Venmo or Paypal please add 3% for the transaction fee. Venmo ID is @claudine-desiree. You can also use the Wise app or website for international low-cost transfers.
European students and others can make a bank transfer or use Wise as well.  Information will be provided.
It is preferable that you pay in full when you pay however 50% deposit is required to hold your place with the rest due by April 28th at the latest.
We always offer four work trade discounts of 250€ each for an hour of work each class day.  There are two kitchen work traders who prepare breakfast from 6:30-7:30am and two work traders that do site prep from 6:30 to 7:30am. If you want a work trade, please email or text Claudine (contact info above). These are first come first serve.  Payment should be made in full or 50% deposit to hold your spot with final balance due by April 28th, 2023.  Note that the work trade discount is applied to the amount that is being paid off in full.  So if you are making your payment in full by the Thrrfty Bird date, it will be deducted form that rate. If you pay in full after the Chill Bird deadline, then it will be deducted from the Super Chill Bird rate. Please see work trader cancellation policy below.
CANCELLATION POLICY
Students who cancel before March 28th, 2023 will receive a full refund minus a 5% administration fee or a credit for another workshop within 2 years.
Students who cancel after March 28th, 2023 and before April 28th, 2023 will receive a full refund minus 10% admin fee or a credit for another workshop within 2 years.
Students who cancel after April 28th will not receive a refund or a credit unless they have proof of  an emergency situation beyond their control, in which case they will receive a credit to be used within 2 years, minus 10% fee.
*Work traders who cancel after March 28 th will receive a refund of what they have paid minus 250€.
EXCITED TO COB WITH YOU IN 2023!!!
Location: Junças