Date/Time
Date(s) - Sunday, September 2, 2018 - Sunday, September 30, 2018
8:30 am - 5:30 pm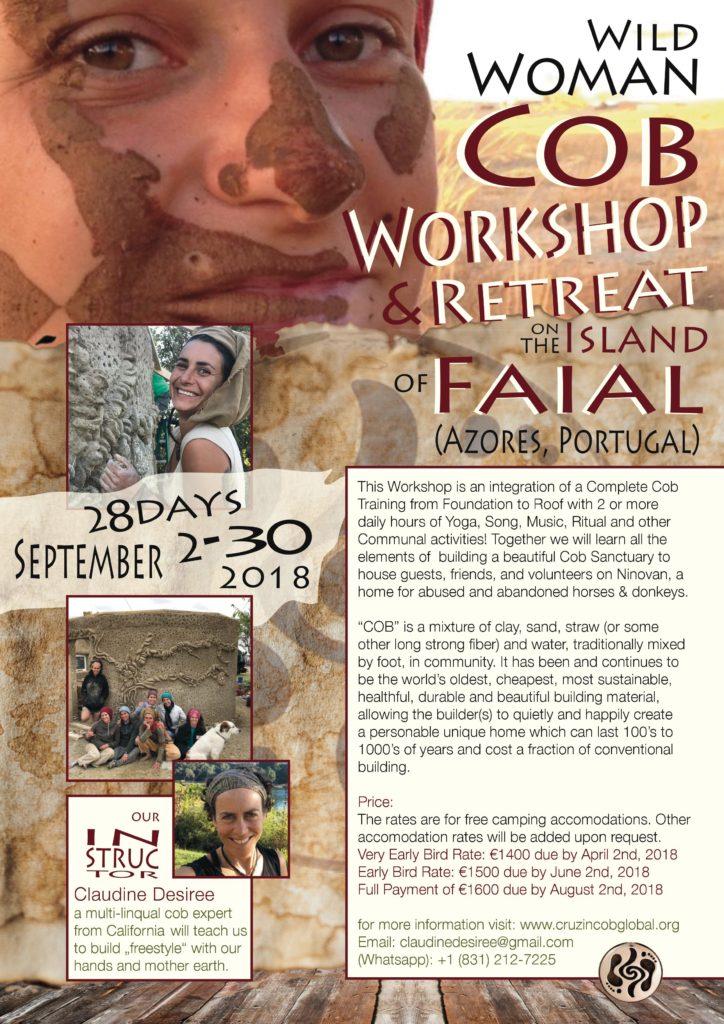 ***Estudantes açorianos podem traduzir a página com Google Translate e também contactarnos se estiverem interesados para informarse nos preços para locais que podem incluir opção sem alojamento e sem comida o só com almoço.***
PROJECT & LOCATION
The first annual 28-Day Wild Woman Cob Workshop & Retreat will be held on the beautiful magical island of Faial which is part of the Azorean island chain and officially part of Portugal (see Gallery below).  The Azores lie in the middle of the Atlantic Ocean about 1000 miles from Portugal and 2000 miles from Boston, Massachusetts. They are on the Gulf Stream path and have one of the finest annual climates in the world.  Each island is very different from the next and their unique commonality is their position on 3 continental plates: North American, European and African. The Azores are a real cross-section of multicultural immigrants, including return immigrants from the US.  They are one of the big tourism secrets of the world.

The Wild Woman Workshop is an integration of a Complete Cob Training from Foundation to Roof with 2 or more daily hours of Yoga, Song, Music, Ritual and other Communal Wild Woman activities both planned and spontaneous!  Together we will learn all the elements of  building a beautiful Cob Sanctuary to house guests, friends, and volunteers on Kim Howard and Michaela Eisele's beautiful homestead which they call "Ninovan" (meaning: our home) where they, their team and volunteers not only care for horses and donkeys that have been abandoned or mistreated, but also work with local children on creating a better sense of animal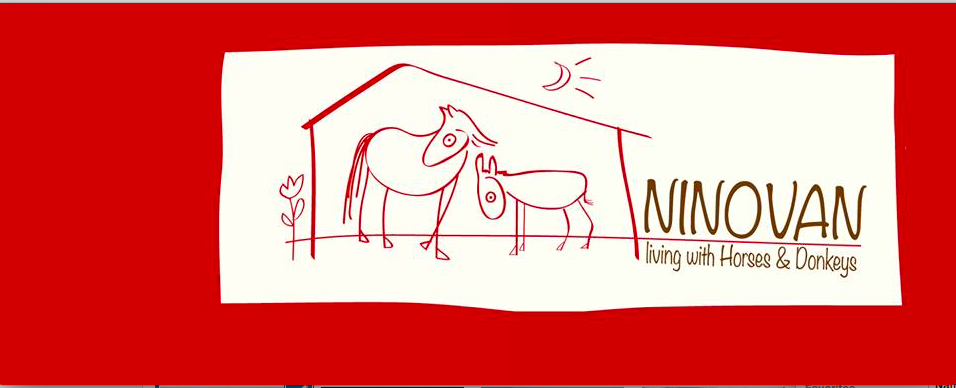 awareness. What a wonderful environment to come together and build a healthy loving building with Mother Earth's finest wall and sculpting mix. Participants will be trained to build and teach Cob Construction and upon completion of this Course will receive the Advanced Cobber Certification for Foundation, Cob Walls (which includes Door, Windows, Shelves, Art, Electrical & Plumbing), Floor, Plaster & Roof. Please see the Students menu tab for all the details on certification and working with CruzinCobGlobal.

Cob is new to the Azores where stone buildings are the traditional building style.  We will be introducing the island of Faial to Cob and hope to have many local women, from other islands as well, joining the workshop to create a beautiful rainbow of Goddesses from diverse lands, cultures, generations and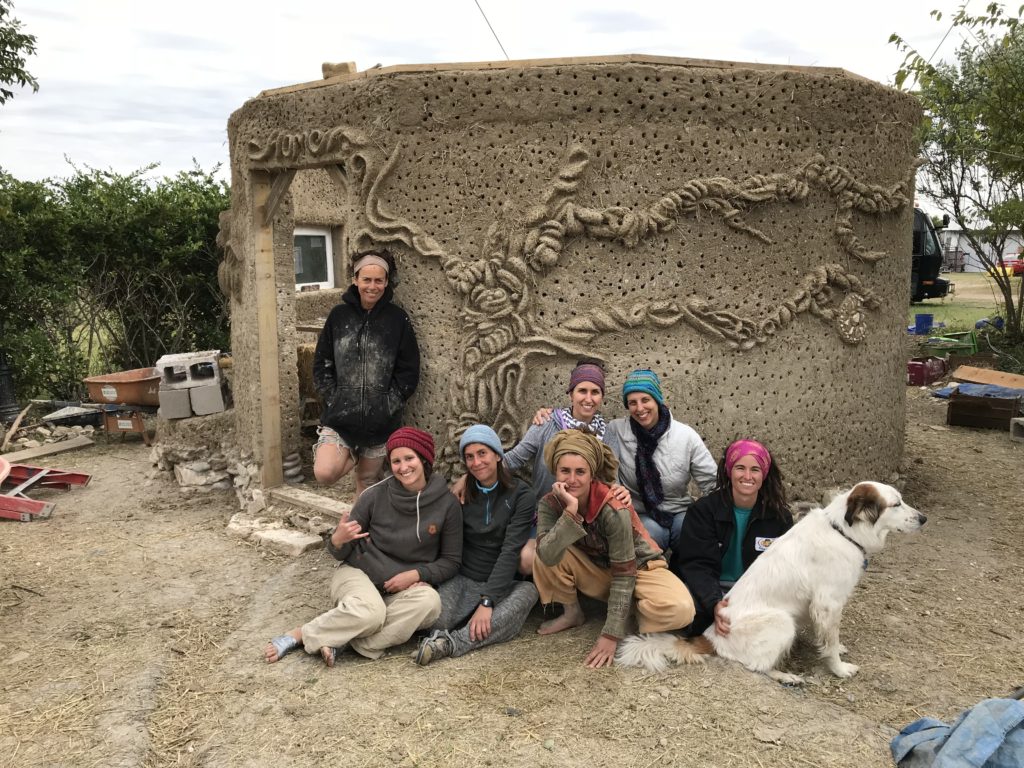 skills merging in creativity, energy and love to build the most beautiful structure ever as a model for the future.  Being a Wild Woman Workshop & Retreat means there will be a perfect balance created between work, play and rest to fill our bodies and spirits with joy and fulfillment at the end of each day. 
Weekends will be free to visit other islands nearby like Pico and São Jorge by boat, visit beaches, hike, surf, sail, scuba, try new foods, attend festivals and/or rest on the land.  This experience will be fully rejuvenating, inspiring, healing and loving as we create a new powerful Cob Family of Beautiful Goddesses ready to change the world, nurtured with new knowledge, skills, connection and lots of playing and dreaming.  You will leave transformed and energized to bring your gifts to the world!
September is the month of Virgo and Libra, healing and creativity and peace, and is the best time to be in the Azores enjoying the warm breezes and ocean always the perfect temperature!  Faial is one of the central islands of the Azores, only a 2.5-hour plane ride from Lisbon, Portugal and 4 hours from the East coast of the US.  The Azores are joined by the common language of Portuguese (granted each island has its own accent) and a common history in which many different immigrants have passed through establishing their communities and bringing their touch to this very unusual sweet and free culture.  You will find influences from the Spanish, Flemish, French, Irish, Americans, Jews, Brits and of course Portugal.  Faial is the fifth largest of the 9 Azorean islands and lies in the middle of the chain next to its neighbors São Jorge and Pico.  Its harbor is well-known as the stopping-off point for sailboats crossing the Atlantic where the Goddess of the Sea blesses them with a safe passage home.  It is green, verdant and lush with a medium rolling topography and the quaint capital Horta at its main harbor.  Being small everyone knows each other and we will become part of this intimate community for the month.  Ninovan Homestead lies on the southern edge of the island  in a small town called Castelo Branco (see Location at bottom of page).
GENERAL WORKSHOP DESCRIPTION
The 28-day Complete Cob Building Workshop consists of 20 days of instruction in the form of theory and construction for 4 hours in the morning and 3 hours in the afternoon. Students arrive on Sunday September 2nd and settle in, meet the members of the community, the other students, and visit the area. Meals will begin with dinner on Sunday. The Course Orientation will take place on Sunday after dinner and Instruction begins on Monday morning. We will learn and build from Monday through Friday and have the weekends off for exploring the area  and other islands independently or as a group, resting, studying and, if desired, continuing to build at your own pace. Please note that weekend meals are not included but students are welcome to prepare their own meals in the kitchen.  A list of possible weekend activites and excursions will be presented at the workshop. The last Saturday (September 29th) we will have a big celebration dinner and an Azorean "festa" and Sunday morning we will have a Closing Circle with Certificate Presentation after Breakfast.  The workshop will conclude after Lunch on Sunday.
Morning (4 hours) and afternoon (3 hours) sessions each have a 15-minute snack break. Lunch break lasts 2 hours which includes about 1 hour of rest time before the afternoon session begins, with a 60 minute lecture/discussion time (on most days), followed by construction. Optional yoga/meditation sessions will take place before breakfast and before dinner, although sometimes we may have special classes in the evening like AcroYoga, Thai Massage, Partner Yoga, Singing Circles, and anything anyone would like to contribute. One evening a week after dinner will be scheduled for showing slides, videos, and having Course-related discussions and Q & A. All the other evenings are free or organized for other extracurricular activities which will be chosen by the group.
WEEKLY SCHEDULE
The Course starts with the Foundation work during Week 1. In Weeks 2 & 3 we build the Cob walls, which include a door, opening and fixed windows, shelves, niches, bottle windows, artistic inserts, deadmen (it's a term!), furniture, inserting sink & plumbing, electrical, sculpting and the roof connection structure. We will also build the first 12" (gravel, insulation and rough cob) of floor. In Week 4 we will apply one or two coats of earthen plaster on the walls (the second one depends on time), build the roof and apply the second coat of floor on the last day. Since the final floor coat and sealing needs to happen when all the rest of the building is finished and takes 5 days (1 coat per day) to allow each coat to dry in between, only students who want to stay past the end date to help will complete these last steps.
DAILY SCHEDULE
The 28-day Complete Cob Workshop begins on Sunday evening September 2nd with Dinner and ends on Sunday September 30th (4 weeks later) with Lunch. Students also have the opportunity to stay after the Course and help with any final finish work if needed (additional coat on floor, oiling and waxing floor, French drain, gutters, inserting door and opening windows into frames, putting in appliances and fixtures). You will need to confirm your agreement with Host.
The daily schedule will be:
6:30-7:30 Yoga & Meditation
7:30-8:30 Breakfast
8:45-12:45 Class
1:00-2:30 Lunch & Rest
2:30-5:30 Class
6:00-7:00 Yoga & Meditation

7:00-8:00 Dinner
8:00-9:00 Slides/Videos/Discussion (once a week)
DETAILED COURSE CONTENTS
Students will learn every phase of building a cob building from foundation through the roof in lectures/theory. In addition to the lectures, slideshows and videos will be shown to support and enhance their understanding of cob materials, cob building, design, geography, budgeting, business options, CCG career path and legal issues.
Our hands-on practice will include:
digging foundation trench

pouring gravel and inserting drainage pipe (if applicable) building foundation stemwall

analyzing soils and materials

making test bricks

deciding on correct mixture

deciding on best location

making cob w/ partner and solo

building with cob

preparing and inserting the door

preparing and inserting fixed and opening windows
preparing and inserting shelves

inserting bottle windows and other objects
inserting electrical wiring and plumbing in walls
sculpting

preparing and applying earthen plasters (2 coats)
pouring an earthen floor (2 layers)

preparing walls for roof connection

building roof frame

building roof covering

making small-scale cob designs of future projects
In addition to Cob Building practices, the Course material also includes:
legal issues/permits
cost analysis
creating a cob business (building/teaching)
assisting, interning and teaching with CruzinCobGlobal
REQUIREMENTS AND IMPORTANT INFORMATION REGARDING PHYSICAL WORK
CruzinCobGlobal's Cob Building workshops are an intense and demanding building experience.  The goal of our month-long Complete Cob Workshop is to complete a whole structure including the roof covering by the last Friday of the workshop.  This is quite an accomplishment and when completed, give students alot of pride and confidence in building on their own after the workshop.  The Monday through Friday schedule is rigorous and meant to train students in experiencing what it takes to build a cob building in a reasonable amount of time.  We also have a great time bonding, playing music, doing Yoga, and relaxing after class time.  Students can use weekends to rest, recuperate and enjoy getting to know the location. We accept all levels and abilities and students are never required to go beyond what they feel comfortable with.  There are always other activities besides mixing and building which are needed to build the house (getting materials, trimming, screening material, cutting straw, sculpting, plaster, etc) and students learn alot by watching.
Students will need to come prepared for active physical work from Day 1. This includes:
Work clothes appropriate for the country and climate we are in (long pants for Muslim countries)
Slip-on flip-flops
Lightweight rubber gloves (like gardening gloves)
Good moisturizer (clay is drying and dehydrating!)
Hat/Sunscreen
Water Bottle
 Notebook/Pen/Camera
Students are required to read "The Hand-Sculpted House" before the workshop begins and any other book they find, as well as watching videos on YouTube, especially the ones posted on CruzinCobGlobal's website under Cob Stories as well as in the Gallery to get an idea of what is expected. Please bring your book(s).
Students must tend to their own personal needs, drink alot of water, rest when needed and exert themselves at a steady pace. Students who cannot do the strenuous physical work should let us know before the workshop begins so we can adjust appropriately. It is totally OK to come for the lecture/ theory part, and then help the building part in less physically demanding ways, ie cutting straw, sifting for plaster, hammering nails into frames or shelves, sculpting, plastering, cutting bottles. There is alot to do besides making and building with cob that are integral to the building process.
Finally, please bring a watch or use your phone to be prompt and ready for each part of the Course including meals. Feel free to share your dietary needs with CCG or the Host and bring your essential snacks and foods, pillow and whatever you NEED to be comfortable and happy. Feel free to also bring slides, videos, movies and books to share, as well as a sample of your soil to test.
MEALS & ACCOMMODATIONS
Students will receive 3 delicious vegetarian meals a day Monday through Friday, made with the freshest local organic produce and products as much as possible. Fish will be offered once or twice a week, depending on group's preferences. Camping is free near the workshop site and there is also a Communal House nearby with kitchen, living room, and shared rooms with bunk beds which students can stay in for an additional fee of 10€/night or 280€ for the 28 workshop days.  The House is walking distance from the workshop site and has all the basic amenities students will need.  See the accommodations photos below.
TRANSPORT & VISA

Students can fly into Faial from Lisbon or take a boat/ferry from São Miguel or Terceira, the main islands. US flights come in to Terceira and São Miguel. Students will be transported to the workshop site from the boat or airport. Check www.azoresairlines.com and www.flytap.com.  RyanAir also flies into the Azores and there may be others now.
The sooner you buy your ticket the cheaper it will be!!! Also use your frequent flyer miles!!!
A visa is required of all U.S. citizens flying into Europe and is good for 90 days so you can visit the other islands after the workshop. There are ferries and also private sailboats who may give you rides. 
EXTRACURRICULAR ACTIVITIES
The Azores are an amazing playground of possible activities and weekends will be open for exploring. Student will have 3 weekends to plan either solo or
with others. São Jorge and Pico are the closest nearby islands and are spectacular in their own ways. Pico is one giant volcano with snow on top that students can climb or bike around and São Jorge has some some beautiful secret beaches and surf as well as great cheeses and hikes.  All the islands have summer festivals and parties going on and a host of water sports too. More will be presented at the workshop and if students want to organize in advance they can contact Claudine
FEE & PAYMENT
The fee for the workshop with free camping and food is USD$1900 or 1600€.  Three vegetarian meals a day will be served Monday through Friday, with 1 or 2 fish options per week. Students are welcome to stay and use kitchen facilities on weekends and make their own food.  Free camping is available near the land and nearby at the port area with natural swimming pools.  There is also the option of staying in a beautiful rented house nearby (walking distance) for students to share for a reasonable fee in either one double room or several communal room with bunk beds (10€/night). See photos below. Please let us know if this is your preference and we will give you the price.  Students who want to stay on their own can also look into AirBnB rentals, rural tourism rentals, hotels, etc but will need to have transportation or take a bus or hitchhike to the workshop site each day. Hitchhiking and the bus system should work well.

There are 3 rate options depending on how soon you make your full payment. Friends, partners or family coming together can each receive 10% off the full tuition fee. Youth from 12-18 receive a 20% discount off tuition and children under 12 receive a 50% discount off of tuition when attending with a parent. Please inquire for families coming with young children, as childcare may be arranged with local babysitters onsite.  Please note that discounts are not cumulative meaning you will get the best one discount you qualify for at the time of payment.  For example, if you come with a family member and pay by April 2nd, your best discount is the Very Early Bird Rate each.  After April 2nd the best discount would be the 10% tuition discount, etc.
The rates below are for free camping accommodations. Other accommodation rates will be added to the ones below. Please confirm your final price with claudine@cruzincobglobal.org before making your payment.
Full Payment of USD$1900 or 1600€ will be due by August 2nd, 2018.
A 50% non-refundable deposit will hold your spot with the rest due by July 5th at the latest. If you pay by the Early Bird dates your balance will be calculated accordingly.

U.S. students can pay online using Paypal (add 3% fee to your payment) or Venmo (free using bank account payment). International students can use Paypal (5% fee) or Transferwise (free in Europe or 1%-2% fee outside of Europe).  Students can also make a free U.S. or European Bank Deposit. Please contact claudine@cruzincobglobal.org to register for the course and for payment information.
For Venmo and Paypal please send payment to claudinedesiree@gmail.com.  If you prefer to use a credit card then make sure to add 3% to your payment.  You can also click below if you will be choosing camping accomodations.

For US residents:
 RETURN STUDENTS
Any former students who have taken a month-long Complete Cob Workshop may attend as assistants paying only for food ($400).  Former students who have taken shorter cob courses will get to assist for the length of time of the course they have taken and will pay for the extra learning days and for food. Please make sure you contact Claudine first to make sure there is space.
We want to help low-income local Azorean women to attend at an affordable cost and learn a new skill and profession which will also help to promote environmental awareness and protection in this region.  Your payment helps to support their attendance.
INSTRUCTOR
Claudine Désirée, founder and director of CCG, learned how to cob with Michael Smith in 2003 in northern CA and has been building and teaching ever since completing her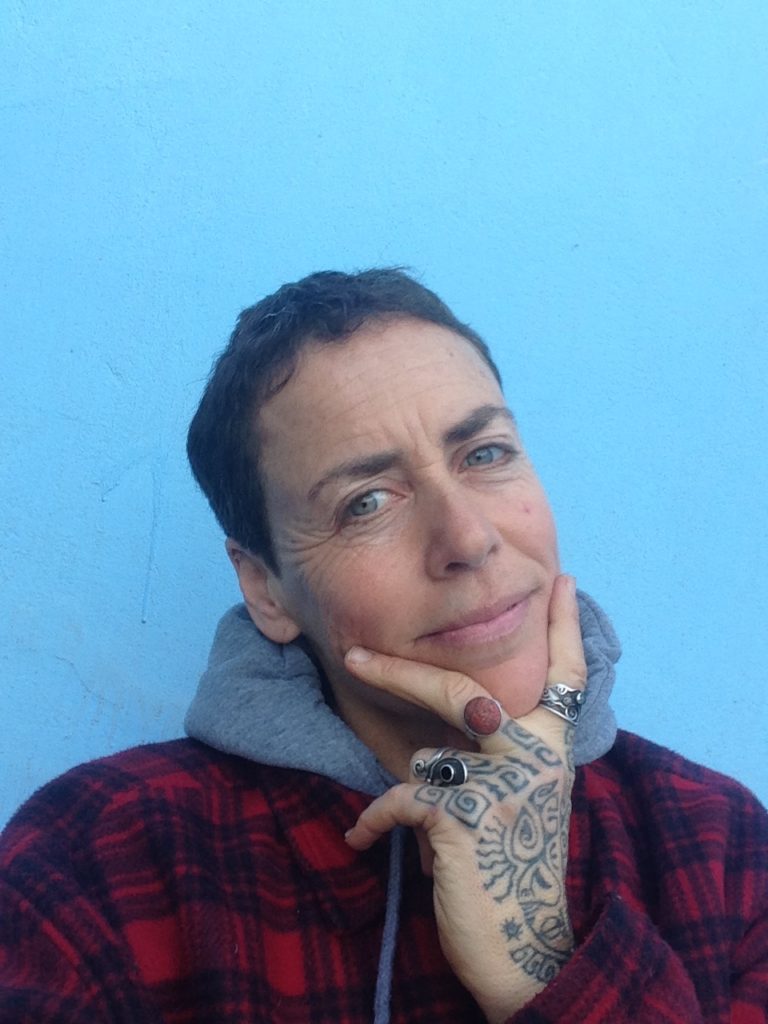 first project, her legal 200 ft2 studio, in her backyard. She was one of the first people to legalize a cob building on the west coast of the US, where the building code laws are the most stringent due to high earthquake risk.
In 2008, she created SunflowerCobBuilding which became CruzinCob and then, in April 2015, evolved into CruzinCobGlobal, the international cob workshop business she runs from wherever she happens to be on her bike on the Planet. To date she and her team has taught close to 100 workshops, 20 of which have been part of CCG's new international circuit since the Spring of 2015 in the following countries: Spain & the Canaries, Senegal, Cabo Verde, France, Morocco, Portugal, including the Azores, and Santa Cruz, CA. Upcoming workshops include three month-long trainings in Texas, Brazil and Colombia.
CRUZINCOBGLOBAL.ORG
Our vision is two-fold. First, we seek to expand the global awareness, understanding and practical experience of Earthen "Cob" Construction as a safe, healthy, ecological, economical, strong and durable building technique everywhere on the Planet. Secondly CCG seeks to contribute to the reduction in concrete-based construction and cement production thereby increasing the well-being of all Life and our Planet Home.
Our mission is to collaborate with individuals and communities around the Planet in organizing and holding Cob Building workshops in which we lead an international/intercultural group of 10-15 students in the construction of all (foundation, walls and roof) or part (just walls) of a small structure (10-15m2 or 110-165ft2) in a period of 10-28 days. The standard workshop is 10m2 in 2 weeks. We also teach 3-4 day Cob Oven workshops as a shorter and easier option.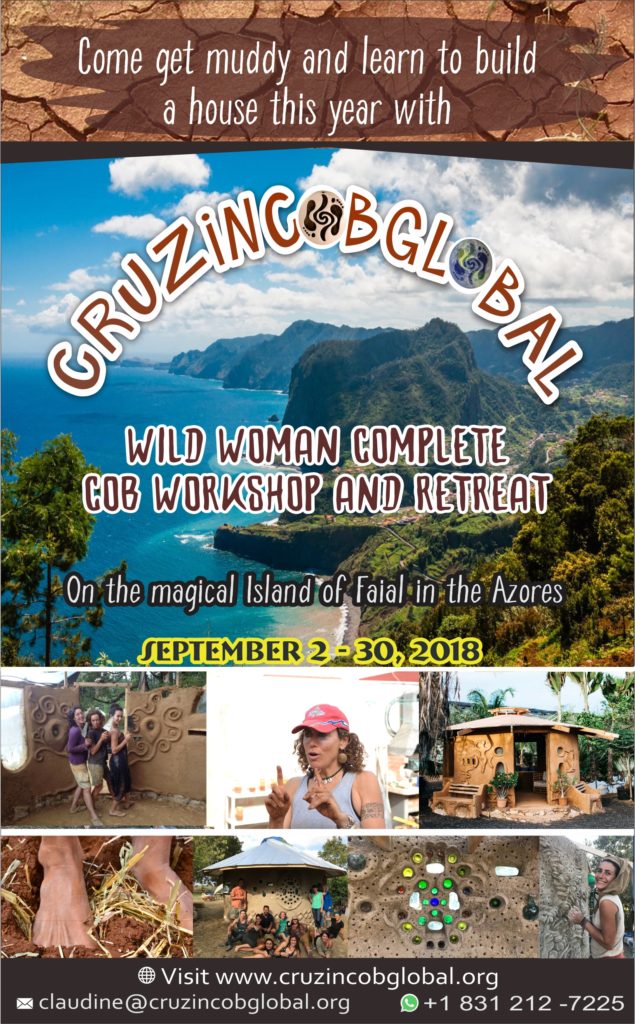 GALLERY

Location: Ninovan Farm