CruzinCobGlobal's principal activity is teaching International Cob Workshops on all continents to train students in an intercultural setting to become professional cob builders and instructors working with CCG or independently or just for their own personal enrichment.  Here are some videos of our most recent Cob Workshops in Portugal and Cabo Verde to give you an idea of the fun and enjoyable environment you will learn in with people from all over the world.  You can see more photos and videos from all of our workshops in the Gallery section of our website.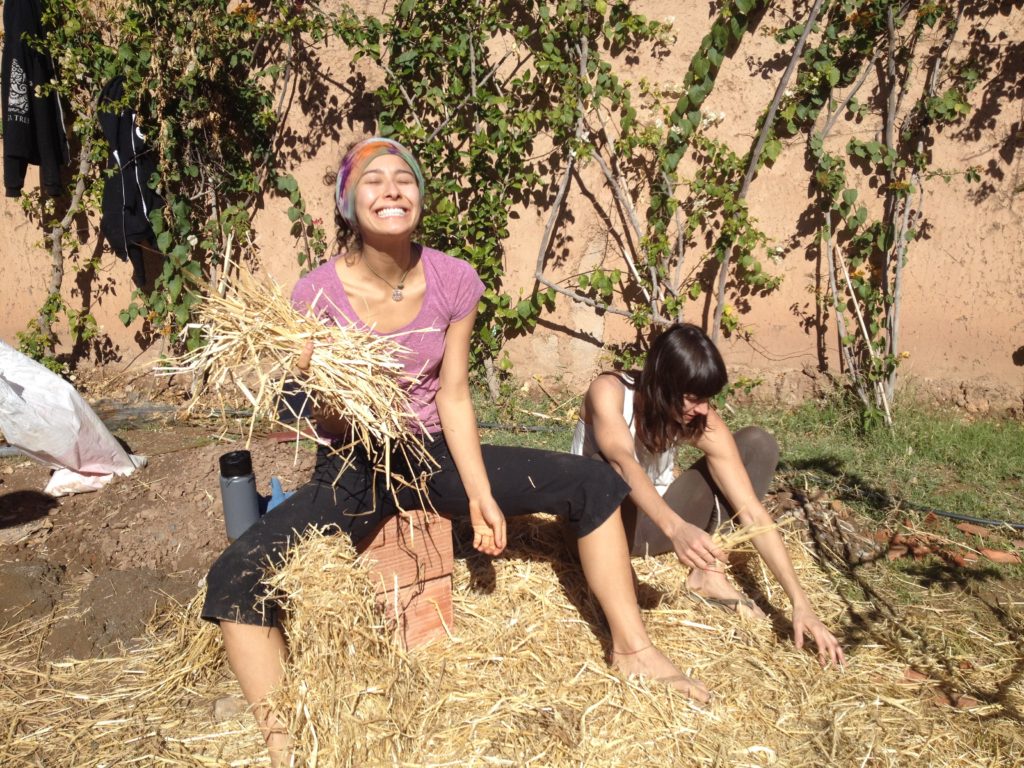 CruzinCobGlobal is on a planetary mission to teach cob building, as it is practiced in California and Europe.  We lead workshops for local and international students who learn and build together, not only a beautiful ecological structure, but intercultural communication and understanding.  It is a multi-faceted opportunity to learn cob building, a language, a culture and community living.  We can also be hired for cob building projects and both of these happen where we find ready hosts/clients with available land and a desire for something new in their lives.  Many of our students and clients are going through major lifestyle changes when they fall in love with the idea of cob and join a workshop.  They are left transformed and closer to living their true calling, whatever it may be.

After 10 years of teaching in the US, we are in the midst of a 3 1/2-year Global Cob Trotter Bike Tour teaching cob workshops around the Planet. We are proud to have launched the international model, CruzinCobGlobal, in March 2015, and have already taught 20 workshops in: Spain, the Canaries, Senegal, Cabo Verde, France, Portugal, the Azores, Morocco and Santa Cruz, CA . We will head back to the US in August 2017 for several more workshops in the Fall, including a month-long Complete Cob Workshop/Training  in Taylor, Texas in October.
In January 2018 begins Part 2: the Caribbean and Latin America….always on bicycle of course!  We will head to Cuba for an exploratory visit/ride to check out a potential Ecovillage site in the region of Santa Clara and then continue on through the Caribbean to South America, where we will hold our first South American workshop in Bahia, Brazil in the Spring of 2018. Stay tuned for other workshops in Argentina, Chile, Peru, Ecuador, Colombia and Nicaragua.   The grand finale of our Global Tour will be in Cuba in the Summer of 2018.

Our website has all the information you need to join a workshop,  host a workshop or hire CCG for your cob build project on your land.  We are building a team of global cob builders to support the peaceful, healthful beauty of durable and economical earthen buildings everywhere.  Whether you want to learn  in order to teach workshops  with CCG or on your own, or want to start the journey towards being a professional cob builder, we're eager to help and support our students. 
Here is a time lapse birdseye view filmed by Chad Franco, one of our students, in one of our recent Cob Oven Workshop in Feb 2017:
JOIN AN INTERNATIONAL WORKSHOP WITH
And check out our  FACEBOOK PAGE for our extensive gallery of workshop photos from around the world and follow our COBlog!

C.O.B. = Community Of Biobuilders