WELCOME TO CRUZINCOBGLOBAL!
Here you will find everything you need to learn to build a Cob Building from foundation to roof, including electricity, plumbing, plaster, floor and artistic elements…and in only 5 weeks of your life!
And if you want to become a professional Cob Builder and/or Instructor of workshops….we support our students in every way we can to take this rewarding profession to the world…as we have!
All of our 2023 workshops are available in the side bar menu to the right…just click and learn and register. We offer Early Bird discounts by paying in full by a certain date, as well as 4 or more work trade discount spots for all workshops. Enjoy the site, pictures and videos to get an experience of what the workshops are like with CruzinCobGlobal! And look forward to having you with us!

 OUR NEW LINEUP OF 2023 INTERNATIONAL COB WORKSHOPS ARE ALREADY ONLINE AND WITH A WHOLE NEW STAFF OF INSTRUCTORS AND ASSISTANTS!  PLEASE SIGN UP ON OUR EMAIL LIST TO STAY CONNECTED OR EMAIL US!

SIGN UP EARLY TO GET WORK TRADE & EARLY BIRD DISCOUNTS!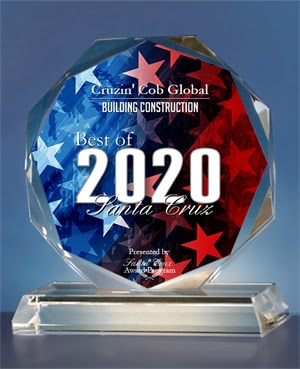 CRUZINCOBGLOBAL awarded Best Building Construction Company in Santa Cruz County for 2020!  Thank You Santa Cruz! I love you! It's where it all began…..in 2001!
Each year, in and around the Santa Cruz area, the Santa Cruz Best Of Award Program chooses only the best local businesses. We focus on companies that have demonstrated their ability to use various marketing methods to grow their business in spite of difficult economic times. The companies chosen exemplify the best of small business; often leading through customer service and community involvement.
For most companies, this recognition is a result of dedication and efforts as well as the work of others in the organization that have helped build the business. Our team is now a part of an exclusive group of small businesses that have achieved this selection.  AND…..

Check out this video made by Jamie Nichols of our complete 3-week cob sauna workshop to get a feel for the CruzinCobGlobal workshop environment.

Our Vision
We train and empower individuals of all ages to design and build beautiful, hand-crafted, personalized, healthful, inexpensive, durable, safe, and ecologically harmonious Cob Structures for personal use and/or professional purposes, and thus contribute to their economic independence, freedom and well-being and a better world.

Our Mission 

We provide the awareness, knowledge and skills of Natural Building using Cob through workshops, trainings, consultations, demonstrations and tours, in as many languages and countries as possible, and as an added benefit offer students an intercultural and transformational community experience creating a new family of changemakers every time.

Here is what Cobbing is about, as expressed through the words and visuals of a long-term Cobber, and one of our Instructors, Viva Hansen:
Cob Workshops
CruzinCobGlobal's principal activity is teaching International Cob Workshops on all continents to train students in an intercultural setting to be amateur & professional cob builders and instructors ready to work with CCG or independently or for their own personal enrichment.
Our 28-day cob building workshops will teach you how to build walls, insert windows, shelves, bottle windows, and sculpt furniture, niches, arches, bas-relief artistic sculptures, insert roof connections, pour an earthen floor and apply earthen plaster, as well as build either a foundation or a roof. For a shorter version we offer a 21-day workshop which focuses only on the walls between foundation and roof.  The 35-day workshop offers the Complete Cob experience from foundation to roof and often has an additional bonus like an oven or a masonry heater. Check out the photos of our most recent 35-day Advanced Workshop in the Azores Islands of Portugal.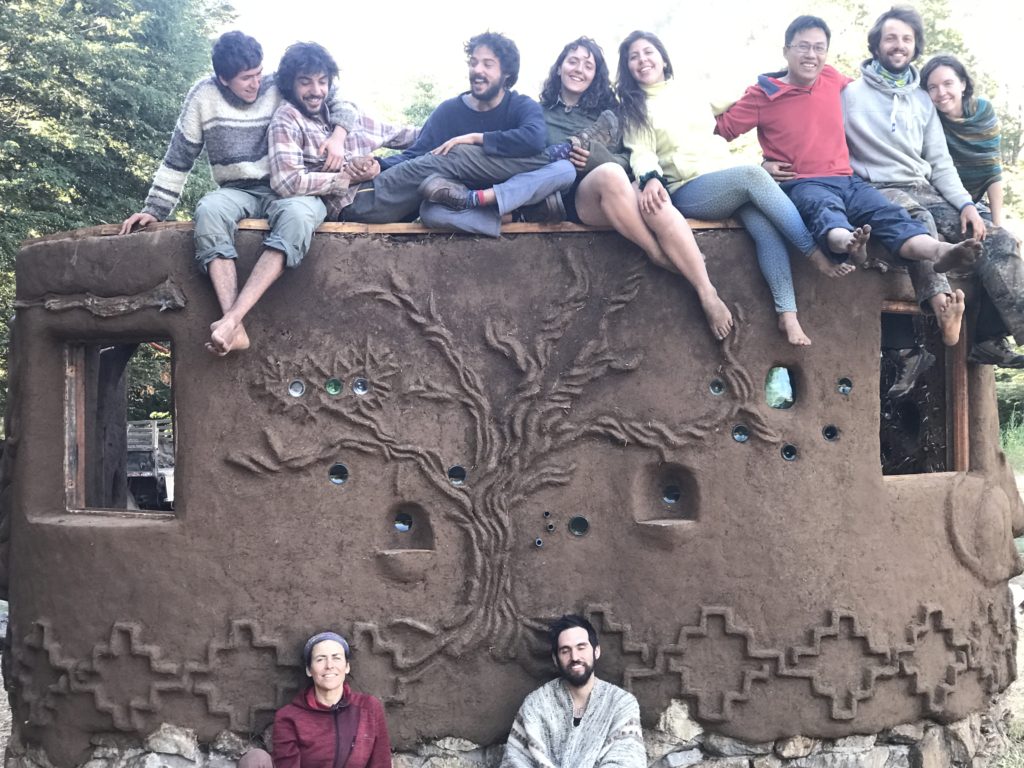 We will take you from the ground up which includes analyzing soil samples and making test bricks to figure out the best mix for your construction purposes. The work is intense and fulfilling and when you are done you will feel confident and energized to go out and build for yourself and others. Students continue their training towards amateur or professional status by completing projects after the workshop on their journey to becoming full-fledged Cob Builders and Instructors.

Our workshops are not only a physical experience…students experience a deep personal transformation from the learning experience combined with the community bonding, living close to the Earth, eating excellent clean tasty mostly vegetarian meals, and, most importantly, being away from their routine life and the stressors of technology, fast-paced living and disconnection from others. Most students who come have already begun or want to begin changing their lives to one that is peaceful, calm, pure and simple, connected to what is real and nurturing, like living in community, growing your own food, building your shelter, and having alot of quality time alone and with others connecting to your Creative Source. Come join us and come out cleansed, rejuvenated, energized and clear.
Join our email/newsletter list to the right of this page to stay posted and start planning for attending one of our 2023 international workshops which will be posted at the end of January. 
If you are an interested Host with land to build on and receive 10-15 students for 21, 28 or 35 days, let's talk!  We are always looking for new countries to hold workshops and train locals so that little by little the World will be covered with this new landscape of Soulful and Healthful Sculpted Homes that make the Heart sing and smile every time you see or step inside them!
Below are some videos of our Cob Building Workshops in California, Texas and France to give you an idea of the fun and active environment you will learn in with people from all over the world.  You can see more photos and videos from all of our workshops in the Gallery section of our website as well as by visiting our Facebook Page and the CCG YouTube Video Playlist
Here is a fun short interview video from the October 2017 Taylor, Texas 28-Day Complete Cob Building Workshop:
http://www.statesman.com/news/claudine-desiree-talks-about-cob-house-construction-taylor/XhLVjWE9u3pMvVxfHrjC3J/
CruzinCobGlobal is on a planetary mission to teach cob building, as it is practiced in California and Europe.  We lead workshops for local and international students who learn and build together, not only a beautiful ecological structure, but intercultural communication and understanding.  It is a multi-faceted opportunity to learn cob building, a language, a culture and community living. 
Cob Construction Projects
We can also be hired for Cob building projects as Cob Contractors with our trained students as interns and/or builders, depending on their level of post-workshop experience.  Alternately we are happy to lead your project using local building professionals like masons, carpenters, and any other experienced builders who will be quickly trained on the job.  This works especially well in places where labor is inexpensive, new skills are welcome to boost local builders' abilities and you cannot or don't want to host a workshop. These are great and economical options for getting your new Cob building built well and quickly while expanding Cob knowledge to new places.

Watch Viva Hansen, fire & cob expert, burnish this rocket oven used for faster high temp baking.
Cob World Tour
After 10 years of teaching in the US (2004-2014), in December 2019 we wrapped up a 5-year Global Cob Trotter Bike Tour teaching cob workshops in 15 countries. We are proud to have launched the international model, CruzinCobGlobal, in March 2015, completing 28 workshops in Spain, the Canaries, Senegal, Cabo Verde, France, Portugal, the Azores, Morocco, Colombia, Brazil, California, Colorado, Texas and Chile!

The complete new 2023 CruzinCobGlobal workshop spring & summer schedule is already online with five 5-week Advanced Cobber Certification workshops in the US and Europe.

Sign up on our email list (form to right of page) and join our CruzinCobGlobal FB page to stay posted.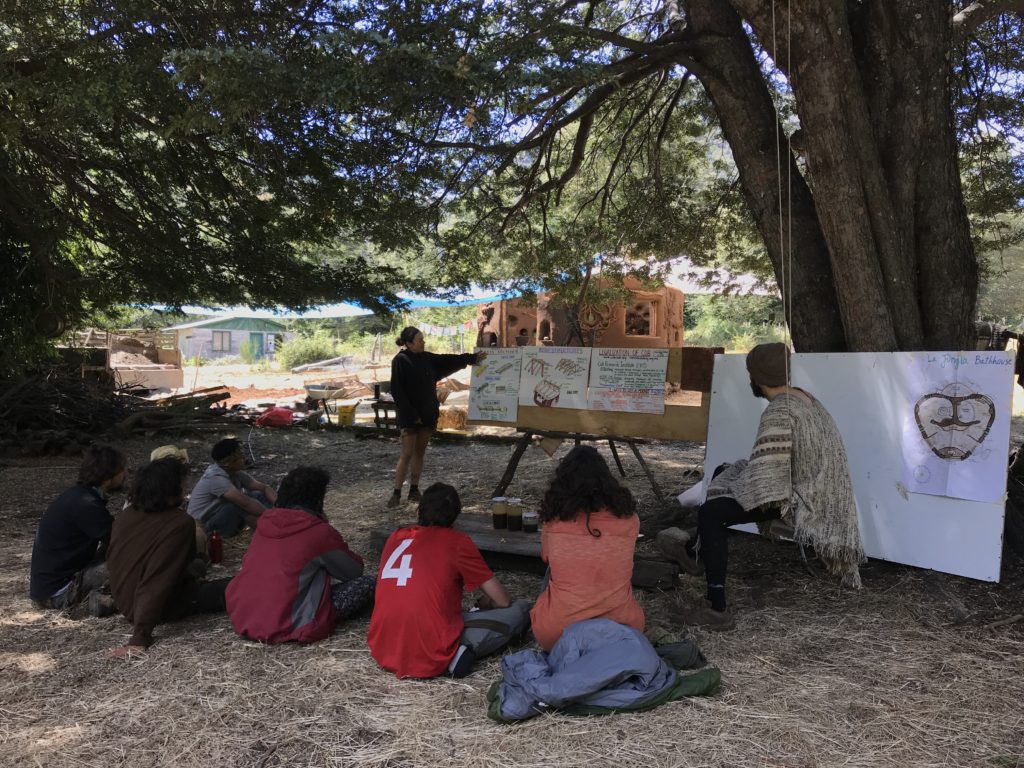 Our website has all the information you need to join a workshop,  host a workshop or hire CCG for your cob build project on your land.  We are building a team of global cob builders to support the peaceful, healthful beauty of durable and economical earthen buildings everywhere.  Whether you want to learn  in order to teach workshops  with CCG or on your own, or want to start the journey towards being a professional cob builder, we're eager to help and support our students.
Check out this time lapse video from southern France in August 2016 to see how we build a small 150 ft2/15m2 building in 2 weeks!
Visit our  FACEBOOK PAGE to see the extensive gallery of workshop photo albums from around the world and enjoy reading the COBlog!  When you sign up for our newsletter and/or our email list, you will be updated when new courses and blogs come online.
Look forward to seeing you in the mud soon!
The Global C.O.B.
(C.O.B.=Community of Biobuilders)