Date/Time
Date(s) - Sunday, August 28, 2022 - Sunday, October 2, 2022
8:30 am - 5:30 pm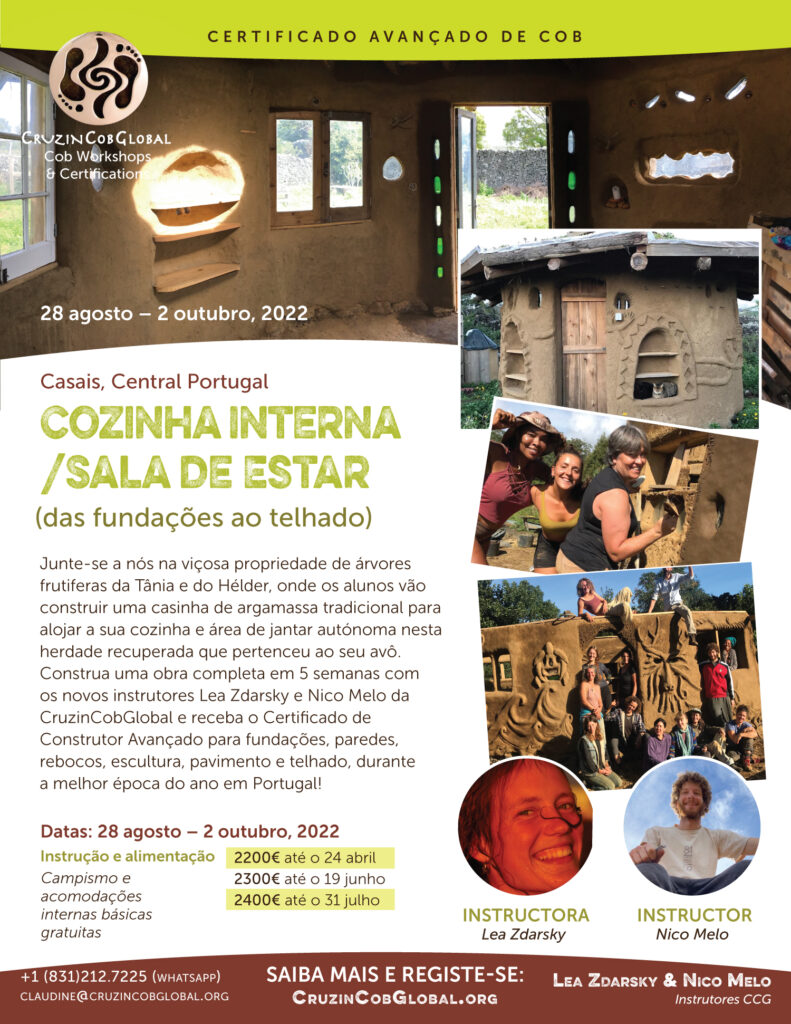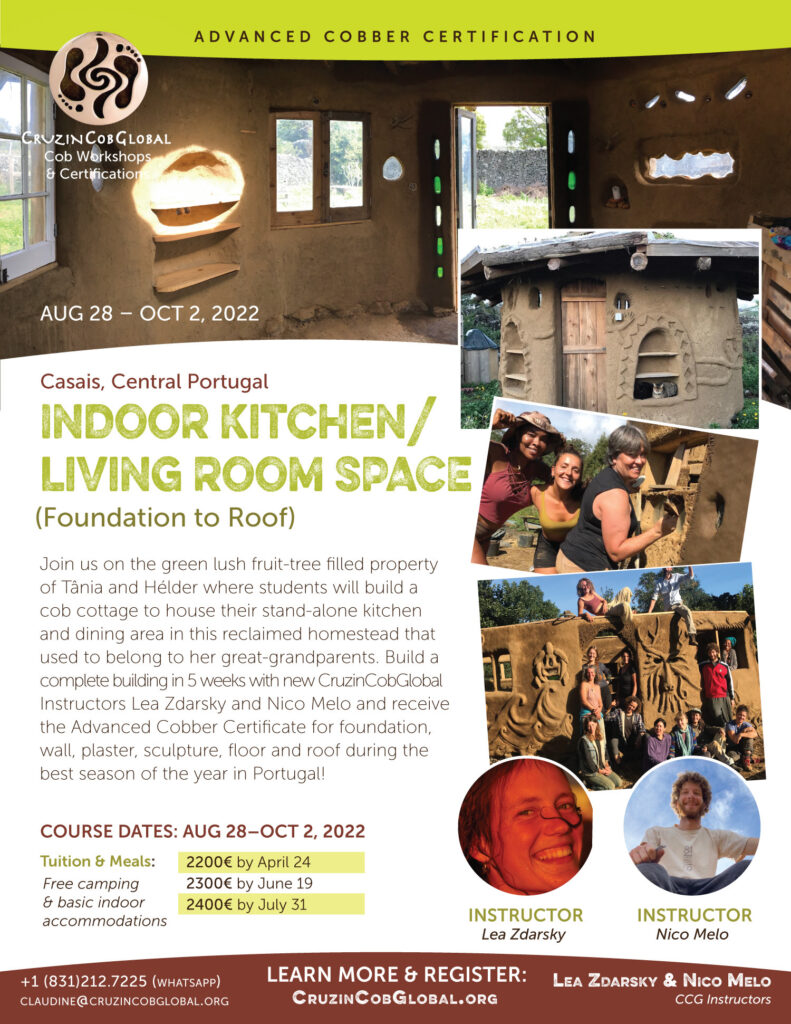 Host & Location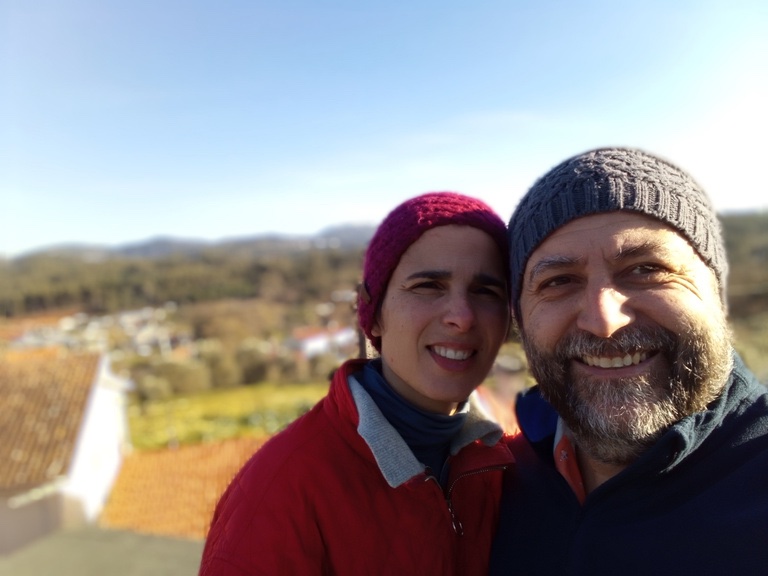 Our lovely Portuguese hosts are Tânia and Hélder of the new Quinta da Nossa Neta.  Their family farm is located in the beautiful Leiria region of central Portugal close to a myriad of rivers, waterfalls, mountains, hiking trails and active farms with abundant fruit trees and produce to feed the hungry cob students of this 5-Week Foundation to Roof Cob Building Workshop.  Hélder is an Acupuncture Practitioner in Lisbon and Tânia is a Physical Therapist.  They have 3 children Bernardo (17), Sara (12) and Tiago (7).  They are lovers of Permaculture and Sustainable Living and this weekend country getaway, which belonged to Tania's great-grandparents, will eventually be their permanent home.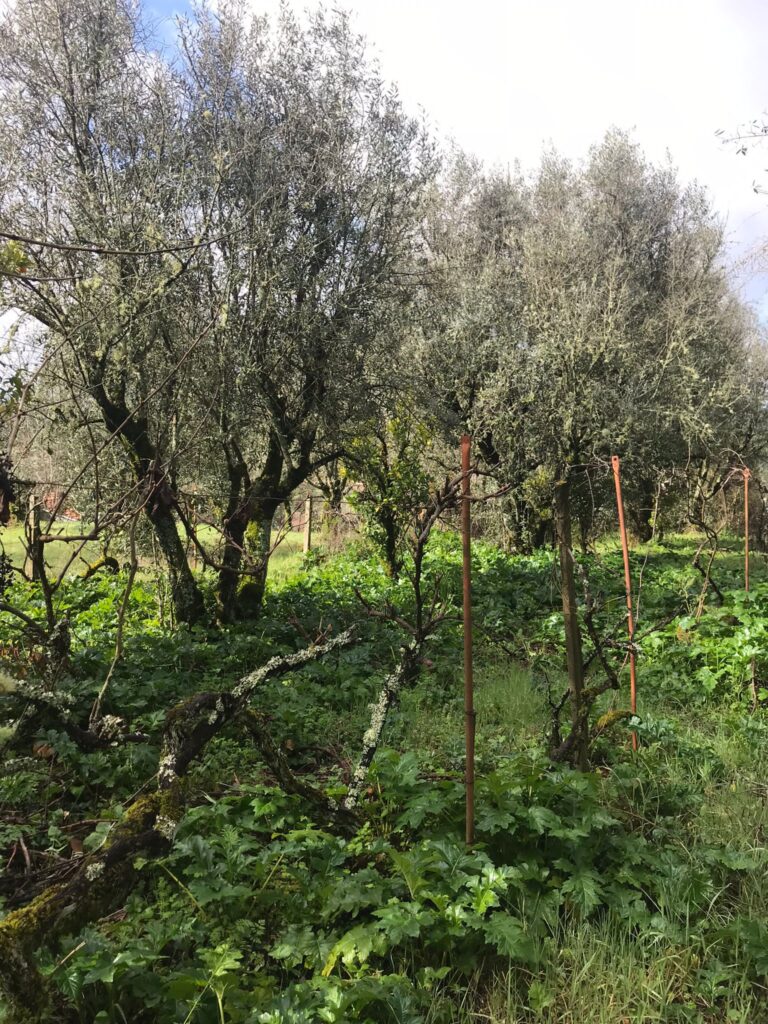 The land, located in the county of Alvaiázere, has been in Tânia's family for 3 generations.  There is a hundred-year old main 2-story building that belonged to her great-grandparents and where her grandparents were married.  They want to create a sustainable permaculture homestead and augment the already large variety of fruit trees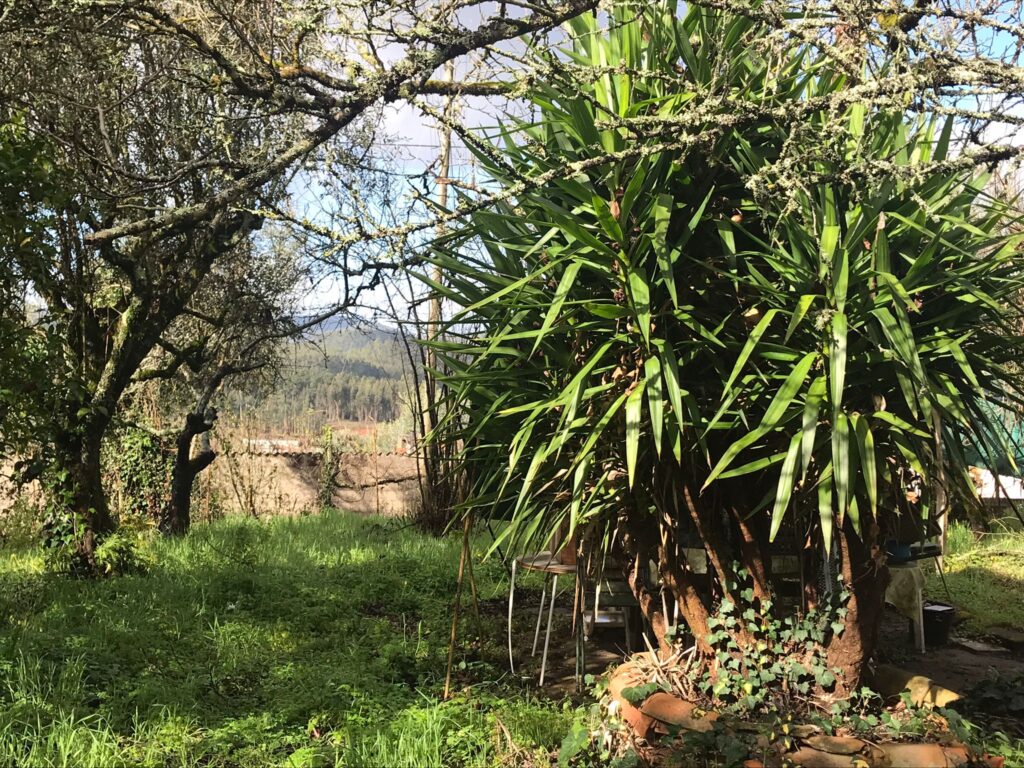 (walnut, apricot, plums, figs, persimmons, olive, tangerine, apples and pears) as well as restore a 44m2 cement block garage as a temporary habitation while the main house is remodeled.  In the plans is also the creation of a natural biological swimming pool.  The workshop will build a brand new cob building which will be connected to the "garage" and house the kitchen as well as a dining and living room space.  Their intention is to use this property preserving traditional practices and historic techniques for both family and others to enjoy.
Alvaiázere is located in the center of the country. It is 30km from Tomar, 50km from the historic university town of Coimbra, 20 km from Ferreira do Zêzere with a natural bay called Dornes and only 10km away from the natural waterfall paradise of Fragas de São Simão.  The town of Leiria, also the name of the province,is 60km away.  While the closest beaches of Nazaré
(known for its giant waves) and Figueira da Foz are 100km away, there are many wonderful fluvial beaches much closer and only 30 km from Casais.  Students will have ample time in the afternoons and on weekends to get to know these natural wonders. See Gallery for more photos of the surroundings.

The Project
The workshop participants will build a 10-15m2 attached kitchen/dining/living room space which will be used to expand the temporary 44m2 indoor living space while the main house is remodeled..  The Advanced Cob Building workshops always build a complete structure from foundation to roof and students will experience every phase.
Week 1: Foundation & Floor #1
Week 2 & 3: Wall (windows, door, electrical, plumbing, roof connection)
Week 4: Sculpting & Plaster
Week 5: Reciprocal Frame Roof
WHAT YOU WILL LEARN
Students will learn every step of building a Cob structure from foundation to roof.
location and design decisions (sun, water, wind)
soil analysis
soil testing
foundation building
preparing foundation for Cob wall
making Cob
building with Cob
inserting door, windows, electricity, plumbing, hooks, etc
inserting roof connection
earthen floor (one coat)
earthen plaster (1 coat)
building a reciprocal framed roof structure
building a green roof
building a "legal" Cob house
starting a Cob business
working with CCG
Lectures will be 2-3 times a week and will be aligned with the practical building. There will be a few slideshows by Instructor and students who want to share.
Students who complete the whole workshop will receive a Certificate of Completion which will include all they have done during the workshop, as well as the CruzinCobGlobal Handbook, which summarizes the workshop steps with graphics from the lectures. All the visual teaching materials as well as links, videos and other documents referred to in the lectures or slideshow night will be emailed to the students after the workshop.
WHAT TO BRING
Students need to come prepared for the build, for being outdoors all day, and for camping (unless you are staying indoors). The workshop will be held during the driest and warmest months of the year.
closed-toe shoes (for foundation & roof weeks)
flip-flops
rubber or plastic gloves (for lime mortar)
work/gardening gloves (for working with rocks/wood)
good hat (July/August can get into he 80's and even 90's)
sunscreen/sunglasses
water bottle (with filter is useful)
notebook/pen
"The Hand-Sculpted House" by Ianto Evans (READ BEFORE!!!)
work clothes
ear plugs (for roosters & power tools/hammering)
measuring tape (cm)/wood saw/level/trowel (esp tape)
yoga/dance clothes
swimsuit, towel, snorkeling gear
lightweight rain jacket
photos/videos of your projects for sharing in slideshow night
your favorite music playlists for the build site
favorite personal healthy snacks that you can't get here!
WHAT TO EXPECT
VERY IMPORTANT!!!
This workshop is an INTENSIVE, DEMANDING experience for people who are ready to show up every day all day and work hard in Community to erect this beautiful masterpiece in record time! It cannot happen without EVERYONE's contribution each of the 25 days! Please expect to come every day and rest during your downtime and on weekends. Of course if you are ill or injured we will make the necessary adjustments but it does make the work harder on the rest of the group.
This Advanced workshop is for serious student builders who really want to learn how to build a complete cob cottage and who plan to do so after the workshop, when they are ready. Everyone will be trained to be able to do so on their own. This is not a mellow exploration of cob. For that there are other workshops. So please please please make sure you qualify for this workshop.
That being said, you don't have to be a builder, an athlete, 25 years old or some compulsive workaholic to qualify for this workshop. We receive students of all ages, all backgrounds, all professions, all abilities. The only requirement is that you make an effort to do your personal best each day and show up for the group. Some of my best students have been over 60 years of age! So if you are willing, motivated, excited, ready and chomping at the bit…this is the workshop for you! If you have doubts or questions…please email me at claudinedesiree@gmail.com and we can talk.
INSTRUCTORS
Lea Zdarsky will be teaching her first CruzinCobGlobal workshop this summer as Main Instructor, after having been a devoted cobber since she did her first training in Portugal in the summer of 2019.  She has assisted Claudine in a 5-week workshop in the Azores and was on the building crew for the 2-story cob building that went up last Fall 2021.  Lea is an amazingly talented builder and has been in the sustainable living world as well as the movement and dance world for most of her life. Here are her own words:
When i finished high school i left Germany in a camper-van and went for the unknown. What I  encountered on my self-educational journey since then is an international community of eco-villages, activist squats, spiritual and secular retreats and permaculture plots.
Life there made a lot of sense to me and just felt natural.
I think those experiences lead me to the wish to learn to build a house with my own hands and create a place myself where I could live a sustainable life in a healthy symbiosis with nature and held by a creative community that supports the same idea.
Through this I came to natural building. I had already had a taste of it from volunteering and helping friends building their off grid hide-aways. But I really started by taking a cob building course myself in Alentejo with CruzinCobGlobal in 2019.
After this, many projects have followed all over the world in different climate zones.  I assisted Claudine in two more workshops on her Quinta in the Azores, built a permaculture classroom in southern Italy and collaborated with a few s projects in Costa Rica and Nicaragua. Learning about the various techniques and possibilities that natural building offers never ends and i want to make this knowledge accessible to more people.
Nico Melo will be assisting Lea. Nico is an Azorean student who learned with Claudine as well at Quinta da Vida Beleza in 2020 and then became an Assistant in the 2021 Sauna Workshop, after which he led 4 students in building his mother a cob art studio.  Nico is the only trained Azorean and has a big future ahead of him with Cob.  He has become a great and passionate builder and a great teacher as well.  He is also a professional golfer and farmer.  He and Lea will make a great team!
DAILY SCHEDULE
6:30-7:30 Yoga/Movement Practice/Meditation (optional)
7:30-8:30 Breakfast
8:45-1:00 Morning Session
1:00-2:30 Lunch & Rest
2:30-5:30 Afternoon Session & Lectures
6:30-7:30 Dinner
MEALS & ACCOMMODATIONS
Students will receive three delicious vegetarian/vegan meals a day Monday through Friday, prepared by local chefs & our host, beginning with Dinner on Sunday, August 28, 2022 and ending with Lunch on Sunday, October 2nd, 2022.  Weekends students will prepare their own meals and go exploring and trying the local fare!
Students will have the option of camping in their own tents outside, or sleeping in their vehicles or sleeping indoors in an informal setting on mattresses on the ground most likely.  The hosts do not have a finished house so everything is in process. The kitchen, dining area, bathrooms, showers will be prepared for receiving students, and there is electricity and running water. The hosts are well-trained in health and wellness.
Students that want to rent a room nearby should contact claudinedesiree@gmail.com and she will work out the logistics with the hosts.
TRANSPORT & LOGISTICS
Students need to fly into Lisbon (LIS) airport and from there take a train to Tomar or a bus to Casais. More precise directions will be emailed in the Welcome Letter.  The host may also be able to drive a group of students who arrive on the same day in Lisbon up to their Quinta (1.5 hrs) and there will certainly be carpool shares available from local students. At this time you need to have a Covid test done wihin 48 (Antigen) or 72 (PCR) hours before flying and fill out a questionnaire online with a QR code.
PAYMENT & REGISTRATION
Tuition & Meals for the 5-Week workshop is 2400€ (approximately USD$2700 but varies with current conversion rates). Camping is free. We have 2 early bird rates if fee is paid in full.
Very Early Bird Rate: 2200€, paid in full by April 24th, 2022
Early Bird Rate: 2300€, paid in full by June 19th, 2022
Standard Rate: 2400€, paid in full by July 31, 2022
Locals can choose to just come for the day and pay for lunch/snacks. Please inquire with Claudine. Estudantes portugueses tem desconto e podem também vir diariamente e so tomar almoço. Contactar claudine@cruzincobglobal.org para o custo.

There are 2 work trade positions which will give the student 10€ off/day for working 75 minutes a day helping with breakfast or site preparations. Work traders who cancel less than a month from start date (after July 31st) will have to forfeit the value of their work trade discount (250€) because of the inconvenience and need to potentially pay a substitute.
To guarantee your spot, either pay in full or make a 50% deposit. Payments will be non-refundable after July 3rd, 2022. Any cancellations before July 3rd will be refunded or given a credit to be used within 2 years minus a 5% cancellation fee.  Any cancellations between July 3rd and July 31st may be approved to be used as a credit for another workshop within 2 years, depending on the circumstances of the need to cancel (with proof) minus a 10% cancellation fee. After July 31st there is no refund or credit possible.
Payments can be made in USD at the current conversion rate with Venmo, Zelle or Paypal to claudinedesiree@gmail.com. Payments in Euros can be made using Transferwise or as regular European inter-bank transfers.
Students will be sent a Welcome Letter 4 weeks before the workshop with any additional information.
SEE YOU IN THE MUD!!!!

Location: Quinta da Nossa Neta