Date/Time
Date(s) - Sunday, May 8, 2022 - Sunday, May 29, 2022
8:30 am - 5:30 am
HOST & LOCATION
Our host Paulino fell in love with Cob when he first saw it in São Vicente, where Claudine led a few workshops in 2016.  Since then he has been hounding CCG to come back to Cabo Verde, however this time to his land on Santo Antão, the largest and greenest and most untouched of the Cabo Verde archipelago.  Santo Antão is the Nepal of the Atlantic island chains, where you put a pack on your back and walk from village to village up and down the peaks and valleys/gorges as you circle the island.  One of the most beautiful places on Earth.
Paulino lives in Espongeiro, a village on the only asphalt road that circles half of the island.  This will make transport alot easier for students who want to visit the rest of the island on weekends. The hiking is amazing as are the beaches.
Cabo Verde is a former Portuguese colony and has a Brazilian vibe with the Afro-European mix, the music and dance lifestyle, and a vibrant culture.  Each of the islands is totally different from each other, however there is a strong geological connection with the other Macronesian archipelagoes to the north: the Canaries and Azores.  Everyone has heard Cesaria Evora crooning her love songs…this was her home!
THE PROJECT
The project will be a traditional CCG Cob Cottage, however we will only learn and build the cob portion, since our time is limited to 3 weeks.  This is a perfect workshop for those who don't want to spend time on rock work or carpentry work.  Many cobbers hire those parts of the build out to professionals and prefer to focus on the part they love most: The Cob!  The foundation will be built beforehand by professional local masons.  Black volcanic rock is the traditional building material on the island. While they have used clay as the mortar, they do not have a tradition of earthen walls.  Which is why we are being called there…it's affordable, sustainable, simple and beautiful!
As in all of our workshops, especially when they are in non-European and non-North American countries, we aim to integrate local and non-local students so our workshops are not only an education in natural building but also in intercultural communication and sharing as the students come together every day for morning activities like yoga, dance, singing before the building begins, spend a whole day building, learning and eating, and then spend more time together in the evenings.
INSTRUCTOR
Claudine Désirée
Claudine is the founder and director of CruzinCobGlobal and taught her first long-form full build workshop in 2015 in Andalucia, Spain.  Since then she has been leading 2-4 of these workshops a year, including 3 in Cabo Verde, always trying to teach in new lands, new cultures, new languages to spread the Cob word far and wide.  Today she is grateful to finally be teaching on her own homestead born in January 2020, where she and her wonderful students have slowly colonized São Miguel with the beginning of many Cob Ecovillages to come. As a matter of fact, as we speak, she is teaming up with the local govmt entity and Kairos, an NGO, to begin training local unemployed youth to build their own Cob Community Space in Lagoa, on their organic farm. They will then train more locals and on the other islands.  This is what we are hoping for on Cabo verde as well.  Its just the beginning. Cob is the future. Glad you are part of it!
WHAT YOU WILL LEARN
Students will learn every step of building a Cob Wall and pour the first layer of Cob floor.
soil analysis
soil testing
preparing foundation for Cob wall
making Cob
building with Cob
inserting door, windows, electricity, plumbing, hooks, etc
inserting roof connection
earthen floor (one coat)
earthen plaster (1 coat)
building a "legal" Cob house
starting a Cob business
working with CCG
Lectures will be 2-3 times a week and will be aligned with the practical building. There will be a few slideshows by Instructor and students who want to share.
Students who complete the whole workshop will receive a Basic Certificate of Completion which will include all they have done, as well as the CruzinCobGlobal Handbook , which summarizes the workshop steps with graphics from the lectures. All the visual teaching materials as well as links, videos and other documents referred to in the lectures or slideshow night will be emailed to the students after the workshop.
WHAT TO BRING
Students need to come prepared for the build, for being outdoors all day, and for camping (unless you are staying indoors). The workshop will be held during the driest and warmest months of the year, but still, it sprinkles regularly.
flip-flops
good hat
sunscreen/sunglasses
water bottle (with filter is useful)
notebook/pen
"The Hand-Sculpted House" by Ianto Evans (READ BEFORE!!!)
work clothes
measuring tape (cm)/wood saw/level/trowel (esp tape)
yoga/dance clothes
swimsuit, towel, snorkeling gear
lightweight rain jacket
photos/videos of your projects for sharing in slideshow night
your favorite music playlists for the build site
favorite personal healthy snacks that you can't get here!
WHAT TO EXPECT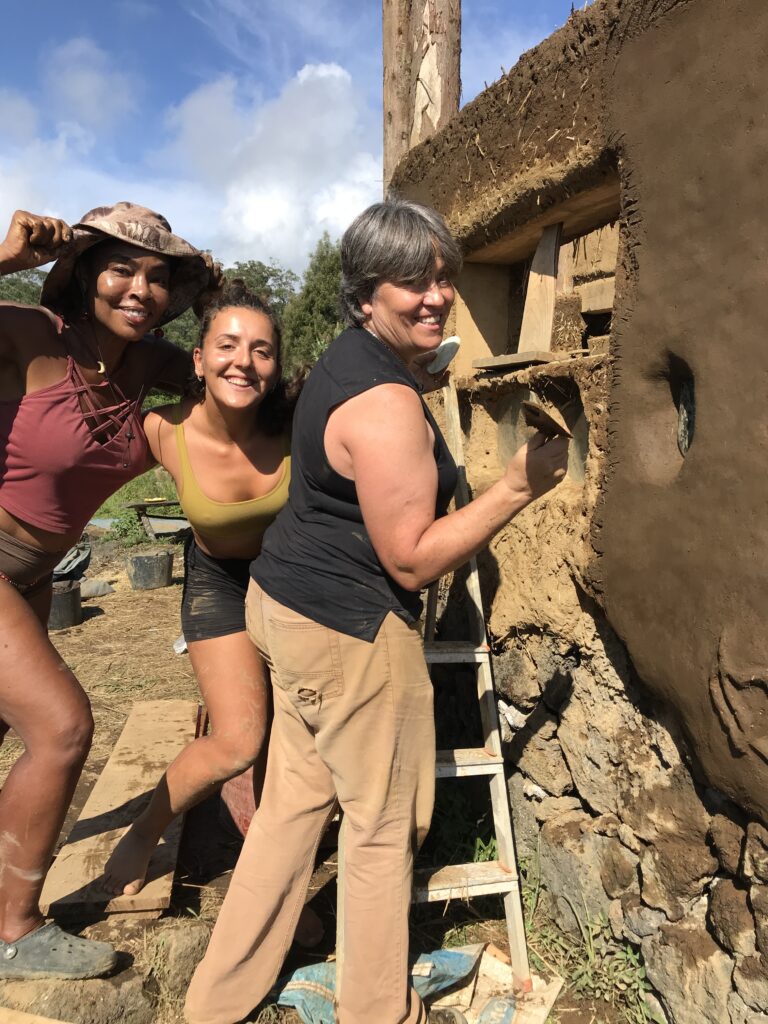 All CruzinCobGlobal workshops are known for being hard-working, intensive and also an amazing community experience.  We aim to give students a realistic idea of what it takes to complete a structure in a reasonable amount of time. Basically 5 weeks for a 150ft2/13m2 building with about 6 skilled cobbers or 12-15 unskilled learning students.  This is not a relaxing exploration of Cob.  So please come prepared to work hard and be present every day for the whole class time, as the success and completion of the build is based on everyone's full participation. That being said, we only ask for your personal best, and are open to all ages, experience and abilities.  And if you become injured, which is rare, or ill, also rare, we will make adjustments obviously. If you need a rest, you can still sift through straw or make slip, as you continue supporting the build in a slower pace.
DAILY SCHEDULE
6:30-7:30 Yoga/Movement Practice/Meditation (optional)
7:30-8:30 Breakfast
8:45-1:00 Morning Session
1:00-2:30 Lunch & Rest
2:30-5:30 Afternoon Session & Lectures
6:30-7:30 Dinner
Classes will be held Monday through Saturday Lunch each week.
MEALS & ACCOMMODATIONS
Students will receive three delicious Cabo Verdean meals a day  (veggie & non-veggie) Monday through Saturday, prepared by one or more local cooks, beginning with Dinner on Sunday, May 8th, 2022 and ending with Lunch on Sunday, May 29th, 2022.  Sundays students will prepare their own meals and/or go exploring on the island trying the local fare!
There will be camping space (bring your own camping gear please) and for people who prefer to rent a private or shared room in a house, we can offer some local Airbnb's or just staying with the locals. You will need to contact Claudine as soon as possible to arrange indoor accommodations.
TRANSPORT & LOGISTICS
Students need to fly into São Vicente (VXE) airport from Lisbon (LIS) or from another island like Santiago (RAI).  There are flights with SATA/Azores Airlines and TAP from Boston through the Azores and then onto Santiago (RAI), the capital of Cabo Verde.  Many other European capitals have direct flights to Cabo Verde. You will need to have a Covid test done wihin 48 (Antigen) or 72 (PCR) hours before flying.  From the São Vicente port, you take the boat to Santo Antão where the host will greet you and transport you up to Espongeiro.

PAYMENT & REGISTRATION
Tuition & Meals for the 3-Week (16.5 education days) workshop is 1155€. Camping is free and you bring your own tent.

Locals can choose to just come for the day and lunch/snacks. Please inquire with Claudine.
To guarantee your spot, either pay in full or make a 50% deposit. Payments will be non-refundable after March 27th, 2022. Any cancellations between March 27th and April 24th may be approved to be used as a credit for another workshop within 2 years, depending on the circumstances of the need to cancel (with proof) and with a 10% cancellation fee deducted. After April 24th there is no refund or credit possible.
Payments can be made in USD at the current conversion rate with Venmo, Zelle or Paypal to claudinedesiree@gmail.com. Payments in Euros can be made using Transferwise or as regular European inter-bank transfers.
Students will be sent a Welcome Letter 2 weeks before the workshop with any additional information, especially concerning the recommended trowels.
VAMOS PA' CAB' VERDE!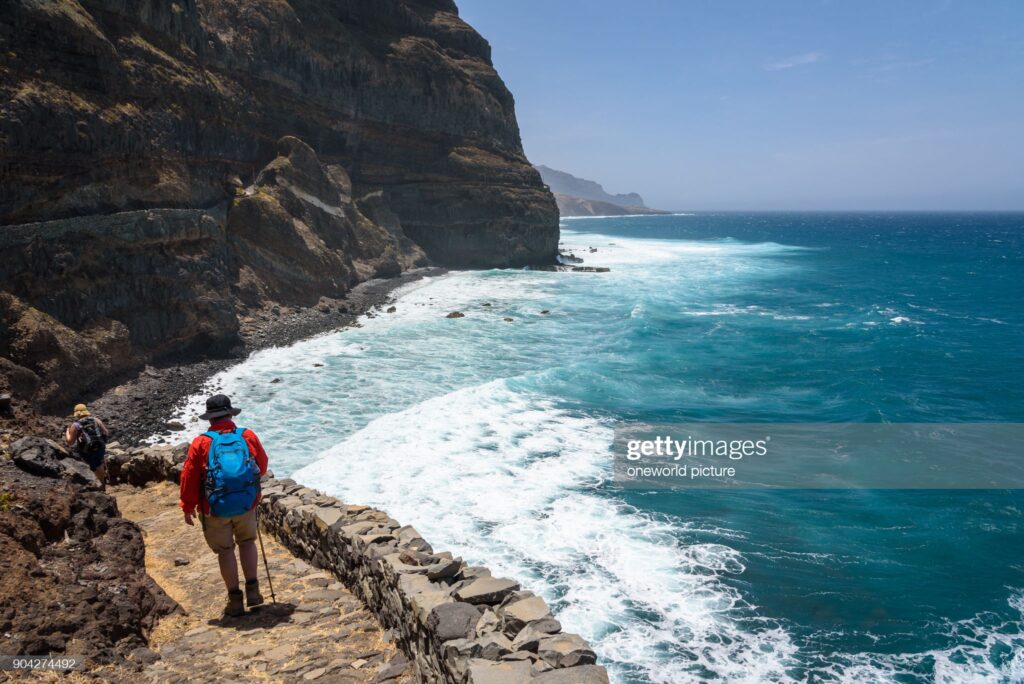 Location: Paulino's Place