Date/Time
Date(s) - Sunday, April 24, 2022 - Sunday, May 15, 2022
8:30 am - 5:30 pm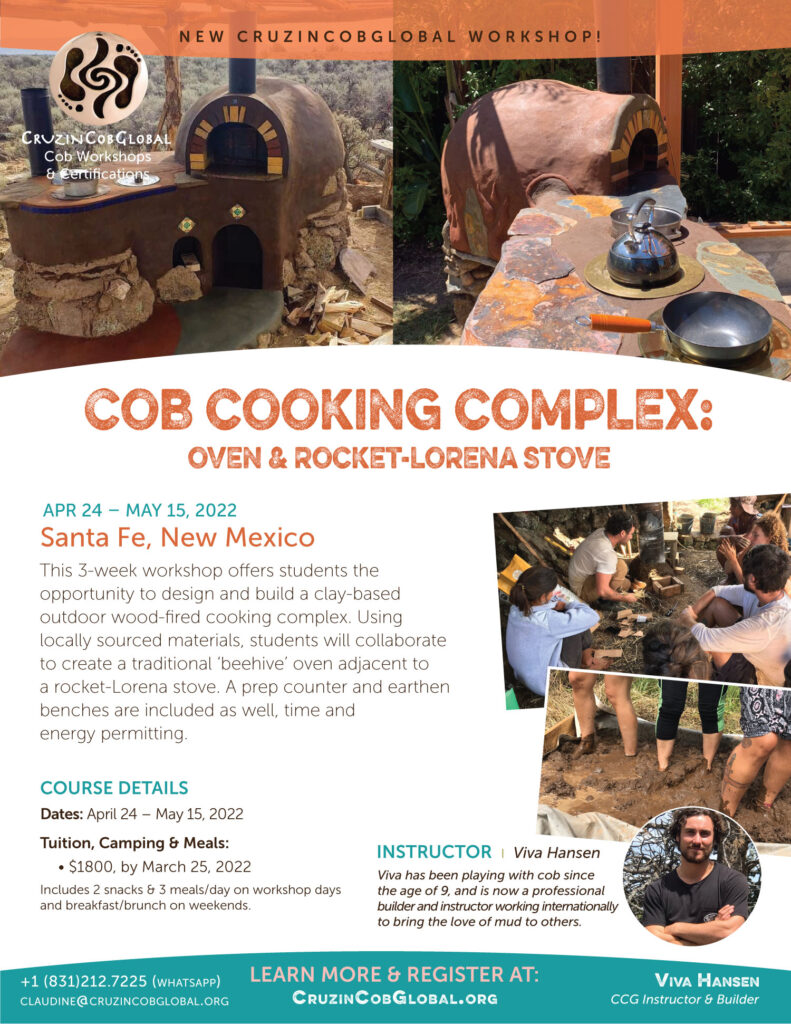 HOST & LOCATION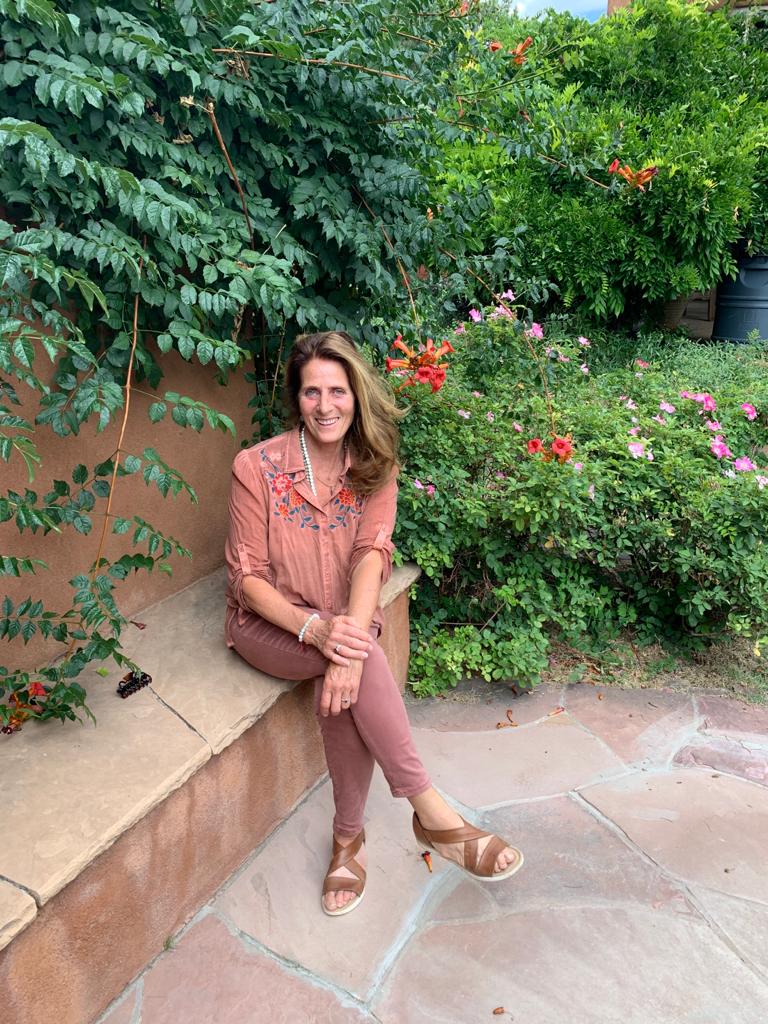 Our gracious Host for this workshop is Melanie Milasinovich, who recently established herself in the Chupadero Valley of Santa Fe, New Mexico, to create Florentia, her new Ecological Homestead. I share this property with my two lovely kitties, Tao and Tikka and also many magpies, ravens, desert wrens, rabbits and coyotes.

Melanie has written up her own introduction to herself and her place:
Welcome Future Cobbers,
It was in October/November of 2020 I left the Azores, where I experienced a 5 week Advanced Cob Workshop with CruzinCobGlobal. It was a living dream, to build a structure from the ground up and above all with like-minded folks. Saying farewell to all the advanced cobbers was emotional as we all had deepened our bond in such a short span in time. Whereas we all got challenged we also got stretched to be more open. Mainly we all experienced the greater web of life, and our interconnectedness to all that is. So many memories to pull from and still today we are so connected as we support each other on our new paths with building. I left feeling empowered, confident and trusting with the quest I have taken on. One which holds a place in my heart for the younger generation and the need to help assist and teach.
I found learning to make structures from Cob is a foundational key component to work with and really plays an important role as it connects us with our ancestors who have created earthen dwellings for eons. As we are becoming more aware, we need to become more rooted into the Earth, as Gaia is always here to show us how to BE on The Earth. This leads me into all the inner and outer journeys in my life that led me to want to work with natural materials in building and how to become more in tune with the subtle energies of the land.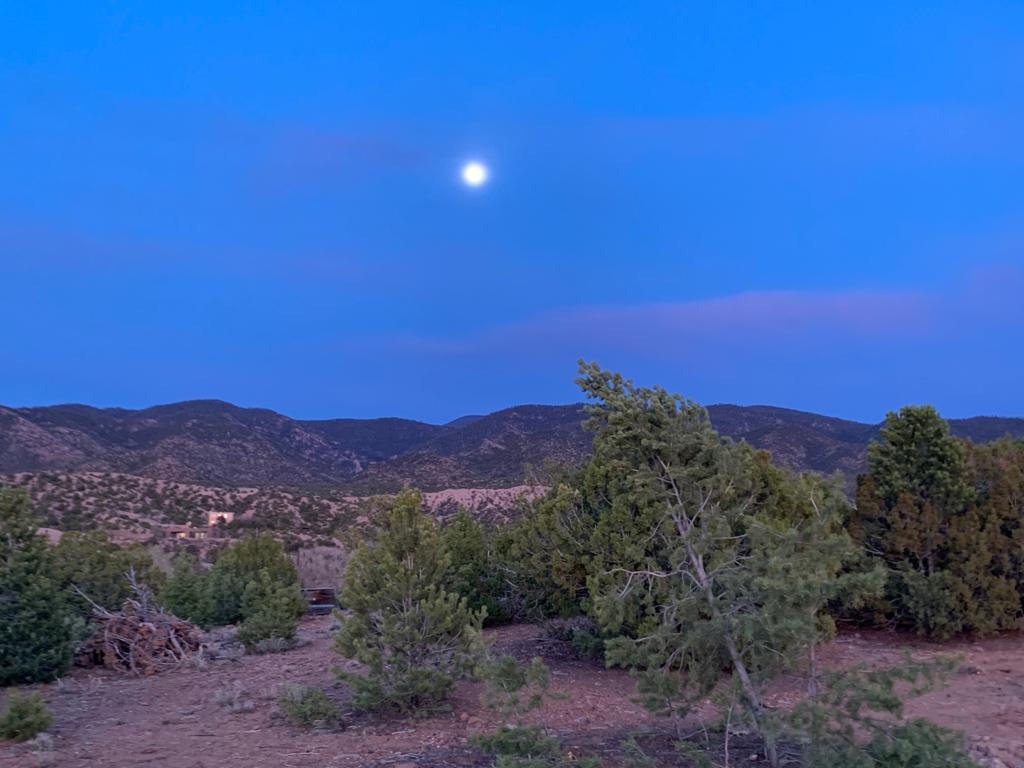 My interests have encouraged my journey into the studies of food and cultures and cuisines. Living communally for many years exposed me to initiation practices in all my spiritual pursuits. I have explored the world of natural healing techniques and therapies, Massage, body work, along with the study of many spiritual traditions. Astrology has also been playing a major role which deepens and enriches my spiritual pursuits. My gratitude goes out to holding a vision and cultivating trust and faith and believing I have discovered my soul's purpose, which I am finally actualizing today.
Florentia, my sacred place of refuge sits on a small mesa above the Chupadero Valley, laced with many arroyos all around me, within the territory of the Tesuque subdivision, a 20 min. distance from colorful downtown Santa Fe.
It is private, with 360 degree expansive views of the Sangre de Cristo mountain range to the east, the Jemez mountains to the west, and the Rio en Medio River Valley  to the north, which leads to trails and waterfalls. I am surrounded by many arroyos and places to tuck into and explore. The night is a glorious wonder, full of stars and the milky way.
The site is at 7300 feet of elevation. Late April and into May the weather brings some winds with moisture, 65-70's during the day. Once in a while a light mist may roll into the valley. Nights are in the mid-50's but in April can go as low as the 40's and there has been an unusual snowfall at that time too, so you need to bring appropriate warm sleeping gear and dress with all seasons in mind, sunscreen and hats, windbreakers, layers.  I look very forward to hosting this workshop this Spring and meeting all of you!

PROJECT
This 3-week workshop offers students the opportunity to design and build a clay-based wood-fired cooking complex. Using locally sourced materials, students will collaborate to create a traditional 'beehive' oven adjacent to a rocket – Lorena stove multi-surface cook top. A prep counter and earthen benches are included as well, time and energy permitting. 
This workshop is an opportunity to learn about the operational principles of wood-fired cooking, both through the traditional oven, and the rocket stove. Terribly practical and pan-applicable, the skills acquired through this course provide you with relevant knowledge to cook efficiently and comfortably without the need for propane or electricity.
There will be ample time for sculpting, artistic details and creativity, as well as optional extracurricular activities in the evenings.
Beginning with the foundation for the cooking complex and analysis and testing of soil, this workshop gives students a secure understanding of cob building.  This is where the practical aspects of earthen construction begin. Students will familiarize themselves with the principles of insulation, heat retention, and draft, knowledge that can be applied to most if not all earthen construction in general.
SCHEDULE
The 3-week, Clay-Based Cooking Complex Workshop begins on Sunday, April 24th, 2022 at 4pm with an Opening Circle & Orientation to our Host's Site, followed by our Welcome Dinner. After dinner Viva will introduce the workshop schedule. 
The hands-on build will begin Monday morning at 8:30am after breakfast. There is always optional meditation/yoga before breakfast that is either self-led or we may have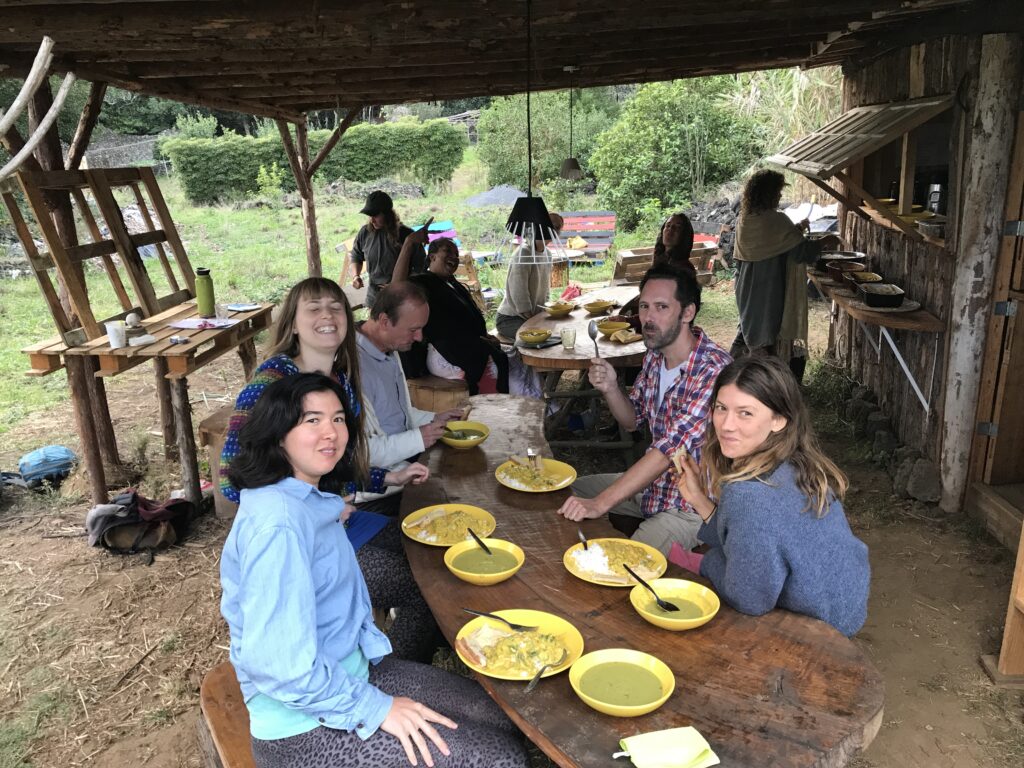 a volunteer yoga teacher from the group.  We will learn and build every day until 1pm, have lunch and rest until 2:30pm, and on MWF we will have lecture at 2:30pm for up to one hour before starting the afternoon session.  On Tuesdays and Thursdays the afternoon building session will begin at 2:30pm and the day will end at 5:30pm so students can rest and have personal time before dinner. One night a week, instructor Viva Hansen will show slides and videos related to what is being covered that
week. Weekends are free and students will have access to the kitchen, but be responsible for their own lunch and dinner.  Breakfast food will be available for students to prepare on the weekends, and, you are welcome to bring your own nourishment. 
On weekends, students may also leave the site and explore the beauty of the surrounding National forests, swimming holes, rivers, and hot springs during the weekends.  There is ample beauty in this area of New Mexico, including the Pecos National Forest, the Taos Ski area, the High Road to Taos (lots of towns and camping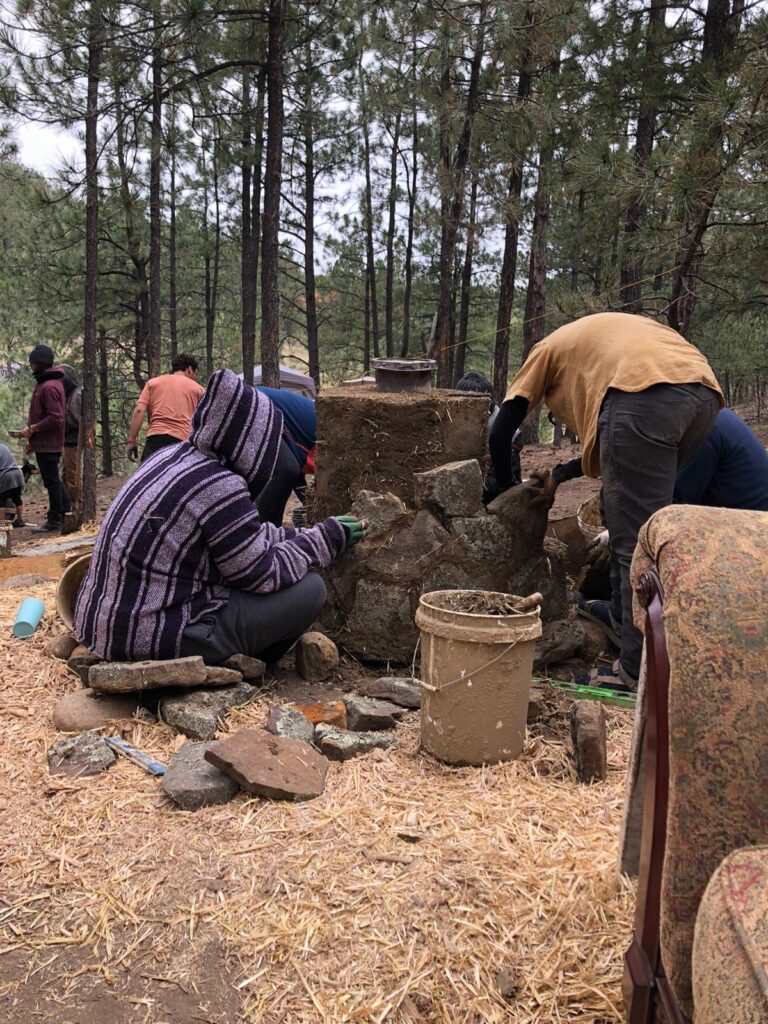 areas and trails to explore), the Town of Truches and the Penasco Chimayo Dixon, Pilar (off the Rio Grande Gorge), Rio Grande trails and swimming holes and hot springs off the river. Host will share more information at the workshop Opening.
The last Saturday (May 14th) will be a day to wrap up anything unfinished, clean up the site, and relax together to use the oven for the Graduation Celebration Dinner.  On Sunday morning May 15th, we will have a Closing Circle followed by a Goodbye Brunch to end the workshop.
*International or long-distance traveling students should arrive a day or two before to acclimate and settle in before the workshop begins.* Please let us know if that's the case.
The detailed 3-week workshop schedule will be presented at the Introduction on Sunday evening.
Our daily schedule will be:
6:30-7:30 Yoga/Meditation
7:30-8:15 Breakfast
8:30 Morning Circle
9:00-1:00 Building
1:00-2:30 Lunch & Rest
2:30-3:30 Lecture MWF (this can vary according to Instructor)

3:30-6:00 Building MWF
2:30-5:30 Building TTh
7:00-8:00 Dinner
8:00-9:00 Slides/Videos/Other Activities
COURSE CONTENTS
Students will learn all the relevant steps to building an earthen oven, a rocket stove, and Lorena-style hot spot pot-wells designed for cooking. This process starts with a footprint, and a stone foundation. Using raw earth and adobes, we will carefully craft the multifaceted anatomy of our outdoor cooking complex. There are many strategic steps in the building process to ensure the proper functioning of both the oven and the rocket stove. Weekly lectures provide theoretical bolstering to the building, as well as weekly slideshows and videos related to natural building.
Our hands-on practice includes, but is not limited to:
digging the footprint for the cooking complex and possible benches
pouring gravel 
building stone foundation 
analyzing soils and materials
making test bricks
making adobes
deciding on correct mixture
making cob w/ partner and solo
building with cob
Possibly preparing and inserting shelves
Possibly inserting bottles and other objects
sculpting
preparing and applying earthen plasters (1 coat)
building insulation layers for oven
making oven pad
building oven mold
building inner oven shell
building insulation layer
building final sculpted cob layer
applying plaster
building the rocket stove core
Fitting the pots and sculpting them into the pot wells
WORKSHOP REQUIREMENTS & IMPORTANT INFORMATION
Students will need to come to workshop and class/building site prepared.
This includes:
Work clothes
Work boots or other closed-toe shoes for foundation & roof days
Flip-flops for cobbing days
Work Gloves for rocks and carpentry
Good Moisturizer
Hat
Sunglasses
Safety Glasses
Earplugs
Tape Measure
Sharp-toothed cheap wood saw
Rounded triangular metal trowel
Water Bottle
Notebook/Pen/Camera
Sample of Your Soil (Optional)
Personal music playlists for working
Also, if you haven't already, reading "The Hand-Sculpted House" by Ianto Evans, Linda Smiley and Michael Smith, or something equivalent, like "The Cobber's Companion" by Becky Bee, or "House of Earth" by Conrad Rogue beforehand,  will benefit you greatly. We encourage you to bring your natural building books with you! 
While our cob trainings are physically demanding, in order to complete projects within the timeline of the workshop, we ask students to show up every day of class prepared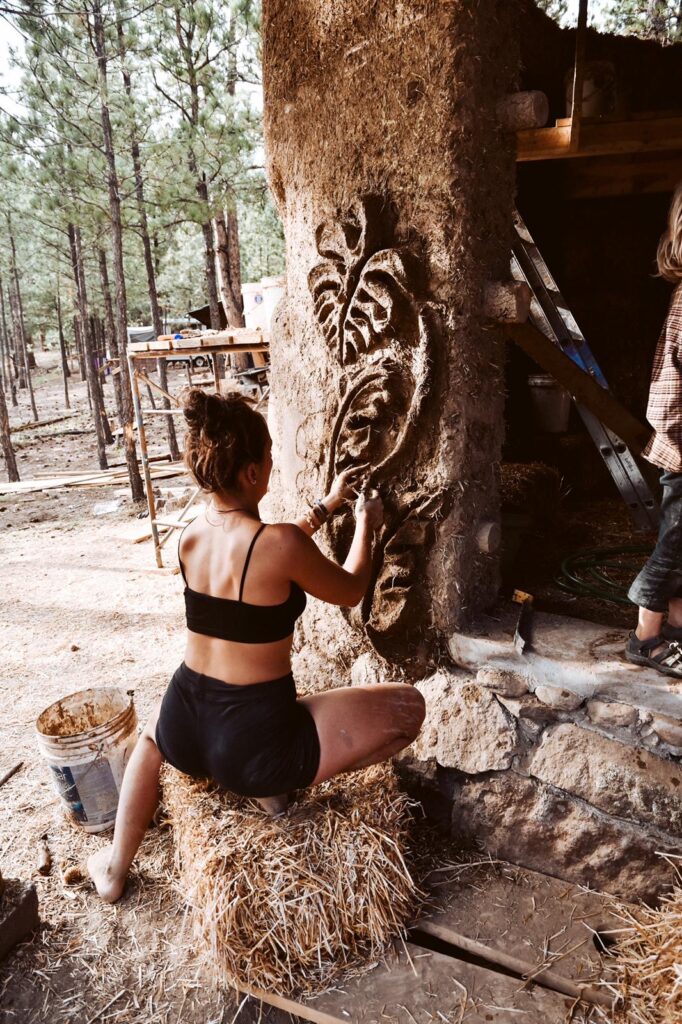 for the day's tasks. There will always be opportunities  for lighter work here and there for students who are needing to go a bit slower.  Cob building consists of many elements happening simultaneously that support the flow to be smooth and continuous. Sifting through straw, sifting clay soil and sand, cutting wood, and trimming are less physically intensive than making cob, moving materials, making breads, tossing them to the project…..just ask. In order to reach our goal of finishing in three weeks, everyone's contribution is counted upon!  We also design the size of the build and workshop based on the number of students.  In the end you may be exhausted, but you will be very proud of our accomplishment!
TRANSPORT
Florentia
My address is 119 Paseo Encantado NE, Santa Fe, NM. 87506, (following Google maps will take you on a long journey to a locked Gate above the property used only by the Fire Department)
Access: Hwy 78 to Florencio Rd, see directions below
Directions:
Coming from Santa Fe: Take the first Tesuque Village Market Exit to hwy 592, you will pass the famous Tesuque Village Market and Restaurant and a Post office.
Turn right at 592, Four Seasons Resort Sign, I am approx. 5 miles to Camino Chupadero.
Coming from Pojoaque, Taos, Espanola, take the Tesuque South Exit, pass the trailer court and make left onto hwy 592. Four Seasons Resort Sign, I am approx. 5 miles to Camino Chupadero.
You will come to a stop sign and follow towards Chupadero and Rio en Medio, it's a steep grade down into the valley. Make a left onto Camino Chupadero and look for a yellow sign on the right, Florencio Rd. Make a left onto Florencio Rd, (a wooden fence and Turquoise door next to the entrance of Florencio follow slowly down the dirt road, it has a few dips and stay to your right when you see Florencio Trail pass Picaflor, the green gate is just on the right. It will be important to close the gate after you enter. Once you crest to the top stay to your right to the 2nd driveway which will have a white storage trailer on the left.
If you have 4WD it's best to use it going up the hill not to tear up the gravel base.
All front wheel drives are fine to make the drive.
There will be places to park above and coming into the property, it is a long strip of 3.11 acres and not a lot of room to turn around. Roundabout at the top as you climb the hill.
The private road coming thorough the green gate is a single lane road, slight uphill curve to the top. Before the green gate entry there are a couple of homes located literally next to the road.
Due to the nature of this single lane road and limited parking space at the building site; Melanie is lining up places to park with a neighboring landowner. He has spaces to park and for those who will be with camper trailer. No facilities, 5 min walk to site.
Each person coming will need to let the host know what type of vehicle you are driving and time of your arrival.
There will be an orchestrated time of entry for each cobber coming onto this road to set up and unload at the Building site. Private Entry – Safe Parking
LOGISTICS & FACILITIES
Arroyos are situated on all sides of the property. Three empty lots surround my land which are fine to walk on and explore. And near the gate is a short hike onto another arroyo.
The ground is clay, silt, and vegetation is fragile, please stay on designated paths, (human and animal) paths when possible.
Well Water:
Crystal Clear and has some Calcium deposits, great for drinking and washing
Spigot locations:
South East by the white Dome
South corner of the Carport (where hoses are set up for Solar Showering, equipment supplies
North of the Yurt next to the Wooden Portal
West of the Adobe Building
Southwest land is mostly clay and has places designated to walk on.
Electricity:
I have an electrical box for the well, and have made extensions for usage for the yurt, refrigeration and freezer, power tools
Minimal Power usage.
Bring your solar charges for lights and flashlights
Bring Solar charging items for phones if possible,
(will have to do time rotations)
Plug ins South of the Carport, White Dome and extensions by the Greenhouse.
Internet:
Satellite: for Internet
Signal Booster for cell phone service (will not need PW on your phone)
Internet Access: near the Yurt and phone service around the property and below to the gate.
Shaded areas, Deck, Portal, North sides of the Adobe house
Bathing: Solar Showers, rotation with Sun's Rays South side of Carport
Compost Toilets: (possible porta potty)
Cooking, Preparations near Adobe House and Portal
Propane Tanks
Distances:
Tesuque Village 10 mins
Santa Fe downtown 20 mins
Santa Fe Airport 35 mins
Albuquerque Airport 1hr 15 mins from downtown Santa Fe
Shuttle service will drop off Downtown Santa Fe
Purchase supplies:
Trader Joes, Whole Foods, Sprouts
Gas stations: Santa Fe and Pojoaque
Hiking locations nearby farther away destinations
Ojo Caliente Hot Springs
Indian Ruins, Kivas, Petroglyphs
Santa Fe Plaza and Canyon Art Walk
Taos, Rio Grande, Pilar, Abiquiu Dam, Ghost Ranch and more
MEALS & ACCOMMODATIONS
Students will receive snacks and 3 delicious healthy vegetarian meals a day from Monday through Friday prepared by cooks.  If there are meat-eaters we can offer some meat options throughout the week and on Fridays. We will ask about allergies and restrictions a month before the workshop. If you have favorite food snacks and needs you can't live without, please bring them.  On weekends, breakfast foods will be available for students to make for themselves. Lunch and dinner will not be served on weekends, but students can use the kitchen.
There will be options for car camping on the land, as well as pitching tents. There isn't ample shade, but Melanie has a large adobe house where six or so students can tent. We are also working with a close neighbor to see if students can camp on their land. There will be two composting restrooms, and two private showering booths using solar showers for cleaning after each day. If you have a solar shower, please bring it!
****Additional Info from Melanie:
Camping:
Stake Tents inside the Adobe house, Room for 6
Winds can be an issue, best to be tucked into areas
There are a couple of places on the land, North, and East that have flat areas
Designated Fire Pits and above Ground Fireplaces
I will connect with the land owner in the area who may rent out space, it has no facilities,
protected areas and places to park. Water can be attained from the well.
Short 5 min walk to work sight
Next Door Neighborhood sight for Renting a house or two.
Extra Supplies to Bring to the Workshop!!!:
Water jugs large and small
Sunscreen, hats, sunglasses
Extra powered drinks for dehydration (Emergen-C,etc)
Solar chargers
Flashlights, headlamps
Water bottles
Hot water Thermos
Warm sleeping bags
Warm clothes, rain and wind gear, dress in layers
Towels, toiletries
Plate,Bowl, Mug and Silverware (if you can)
Energy Bars/Energy drinks/Extra personal snacks (if needed)
Camping chair (for people who are driving in)
INSTRUCTOR
Viva Hansen was exposed to earthen building from a young age, but it wasn't until his college years that he started to delve more deeply into Cob and other techniques of natural building. Over the course of the last 10 years, Viva has lead a handful of builds, done many solo projects, and taught a fair amount of workshops. He is particularly passionate about the integration of earthen masonry and fire, leading him to experiment with Rocket Mass Heaters, Lorena stoves, rocket stoves, and ovens. He is very aware of the uniquely therapeutic aspects of sculpture and design, and strives to make every project a piece of functional art. You may read his bio below.
As a kid, Cob was this strange empowering thing my mom did to build us a bigger home. I participated when I wanted, and skipped out when I didn't. Though as time went on the Cob effect was undeniable. Every time a build was underway there was music and laughter and food and wisdom from people of all ages and backgrounds. 
As I matured through my high school years I was able to involve myself with enough earthen building to feel its practical magic. Then one
summer I created an opportunity to build a meditation room with my high school physics teacher. His passionate involvement with our Indigenous community transformed the project into a spiritual experience. Throughout the summer we made long trips to sacred rivers and hand-picked beautiful stones for the foundation, often walking for miles on a trail with three or four stones in a backpack. Then as I finished my college experience and returned to California, the opportunity to join my mother on her journey bloomed.
For me, Cob is primarily a physical experience. It has always been about sweat and breath. The feel of different dirts and sands, straws and rocks. And it is a mystical experience, bringing me back to the earth. But what I have learned from the last year is that Cob building can be a tool to sew communities back together. To bring "strangers" into a common space and make them family. In that vein, Cob really is a product of my life philosophy. Something that I can stand behind fully because I know that from top to bottom it is peace, hard work, sustainable and love. Here is a short video I made last year that expresses these feelings better than written words.

As I continue to learn in this life I will continue to share what Cob has shared with me.
REGISTRATION & PAYMENT
The fee for the 3-week Outdoor Cooking Complex workshop is $1800, which includes camping, tuition, 2 snacks & 3 meals/day on workshop days and breakfast/brunch on weekends. We are offering a sliding scale of $1600-$1800 for people that need some flexibility with the pricing.

There is a maximum limit of 8 students.
To register please contact claudine@cruzincobglobal.org to receive application forms and payment information. To hold your spot in this training you will need to pay the full amount or a 50% deposit that will be non-refundable after February 25th, 2022 (see below).  The balance will be due by March 25th, one month before the start date.
Cancellation Policy:  If you cancel before February 25th you will get a full refund or credit towards another workshop to be used within 2 years minus a 5% cancellation fee. If you cancel between February 25th and March 25th you will get a full credit minus a 10% cancellation fee.  If you cancel after March 25th, there will be no refund or credit, unless with proof of extenuating circumstances and subject to approval by CCG.

We always offer work trades in our workshops depending on size of workshop. Here we will offer 2 work trades, one in the kitchen (making breakfast) and one onsite helping prep before breakfast. These work trades are for one hour per day of work in exchange for a $10 discount per workshop day.  In this case work trader would receive $150 off and needs to put down 50% to hold their spot with the balance due by March 25th, 2022. Please inquire asap because these spots go first.
Note: Work trade applicants who cancel between February 25th and March 25th will forfeit 25% of their credit due to the inconvenient need to find another work trader or hire someone to fill their position.

Location: Florentia