Morocco is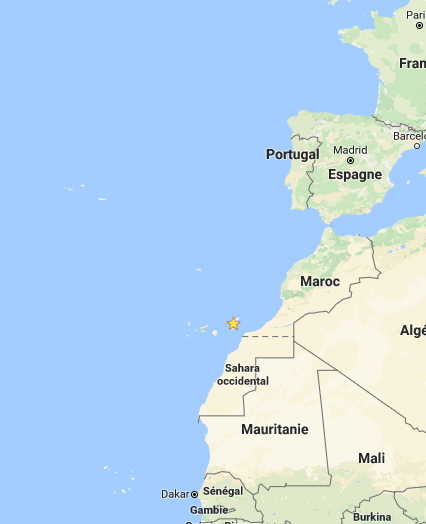 where my mother was born and raised. It is between Spain and Senegal, and east of the Canaries and northeast of Cabo Verde. Two years after beginning the Global CobTrotter Journey, I am completing full circle. Actually 3 full circles. Spain to the Canaries to Cabo Verde to Senegal to Cabo Verde to the Canaries to Spain to Portugal to Senegal to Cabo Verde to France to Portugal to Spain to Morocco. Fitting that I finish this triple circle in the middle and in my mother's homeland. She is now 77 and after 40 years in NYC has moved back to the neighborhood of her youth, with her friends of her youth. While NYC is my hometown, I have been introduced to Morocco on many occasions but never have I introduced COB to Morocco.
Once again, I find an ancient earth-building culture that, like all the others, has strayed from its roots replacing them with inefficient, ugly and expensive concrete blocks. Our workshop was in the countryside which allowed us to experience more of the roots of traditional building techniques. There is a form of cob walls with no straw or fiber, and there are adobe blocks, also with no fiber.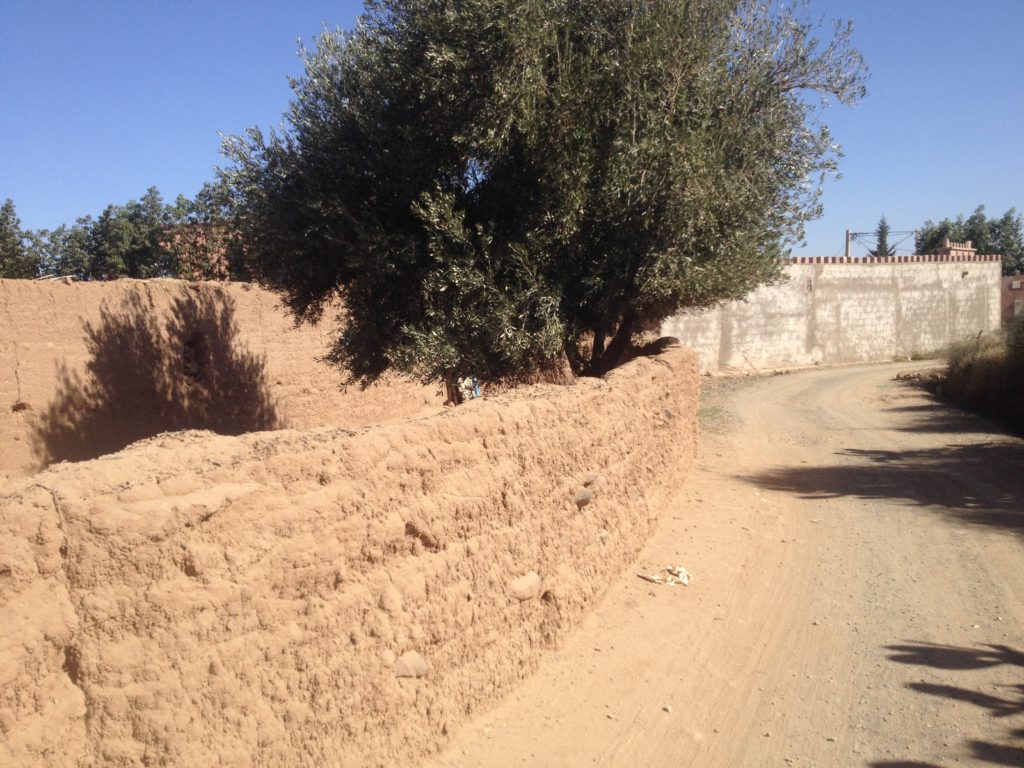 Because of the minimal rainfall and the rich red clay content, these walls endure. However upon examination of a shake test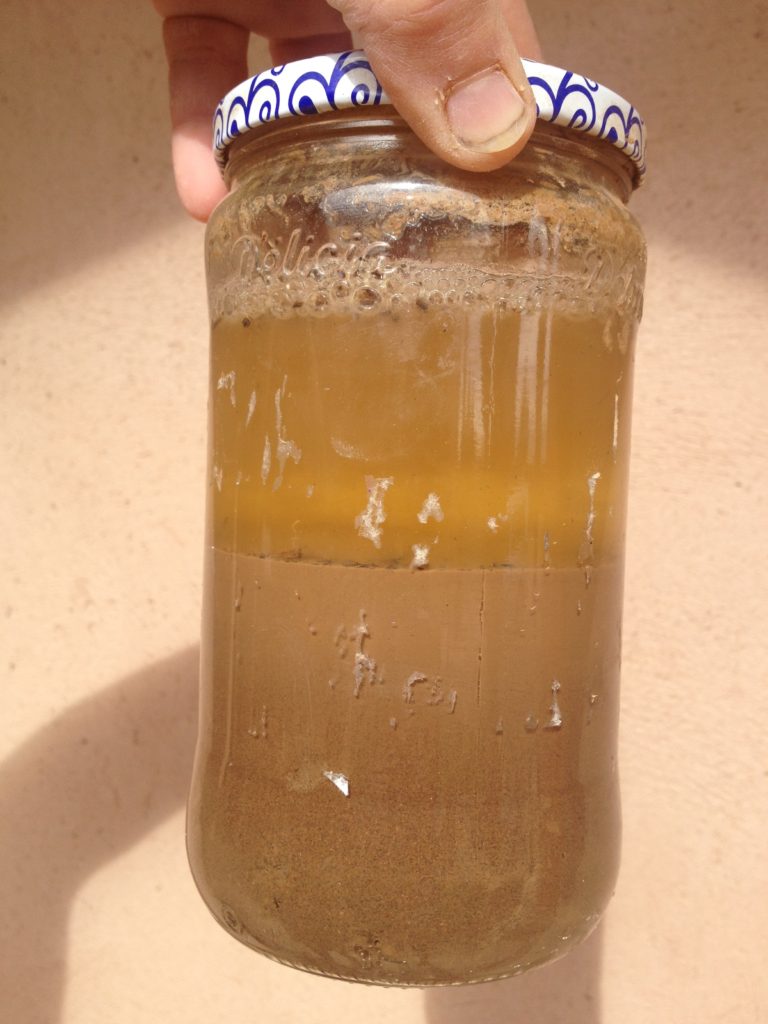 of one of the very old (300 years?) walls that stands as ruins outside Jamal's doors, we found no coarse sand at all in the mix. As a matter of fact it was about 30% clay and 70% fine sand. The ratio was ok but such a mix would be very sticky and not structurally as sound as a coarse sand cob mix. As I learned from my teachers and I teach my students…Cob is forgiving. But is it even true Cob with no fiber? Naaaah. That would be weak adobe.
Thus I had something to teach not only my American and European students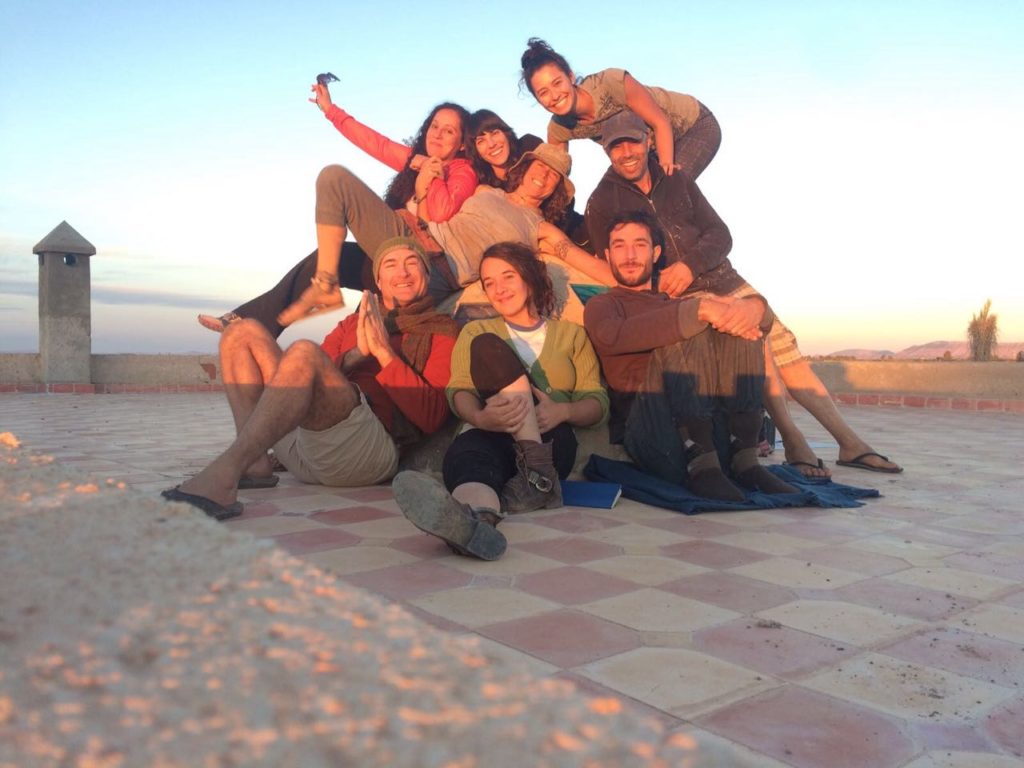 , but my trio of Moroccan students, who will, hopefully, pass on the good deed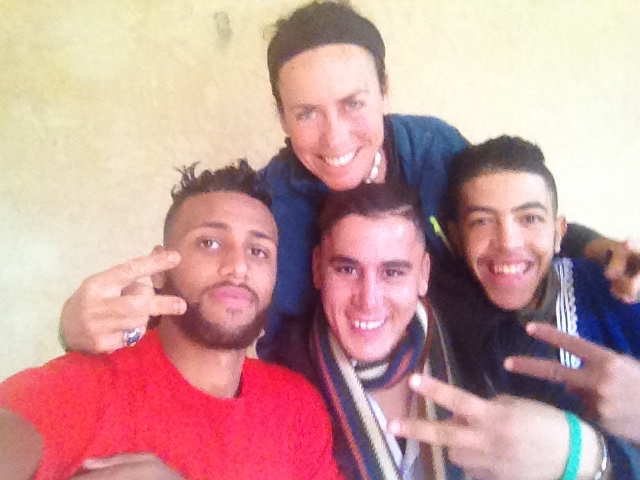 to their friends who will show their friends, and so on. When they saw us mixing with our feet and getting all muddy, the Tadelakt (lime finish plaster) artisans would have nothing to do with us. Dressed pretty in their leather jackets and jelled hair, they watched from afar lest Jamal encourage them to join in.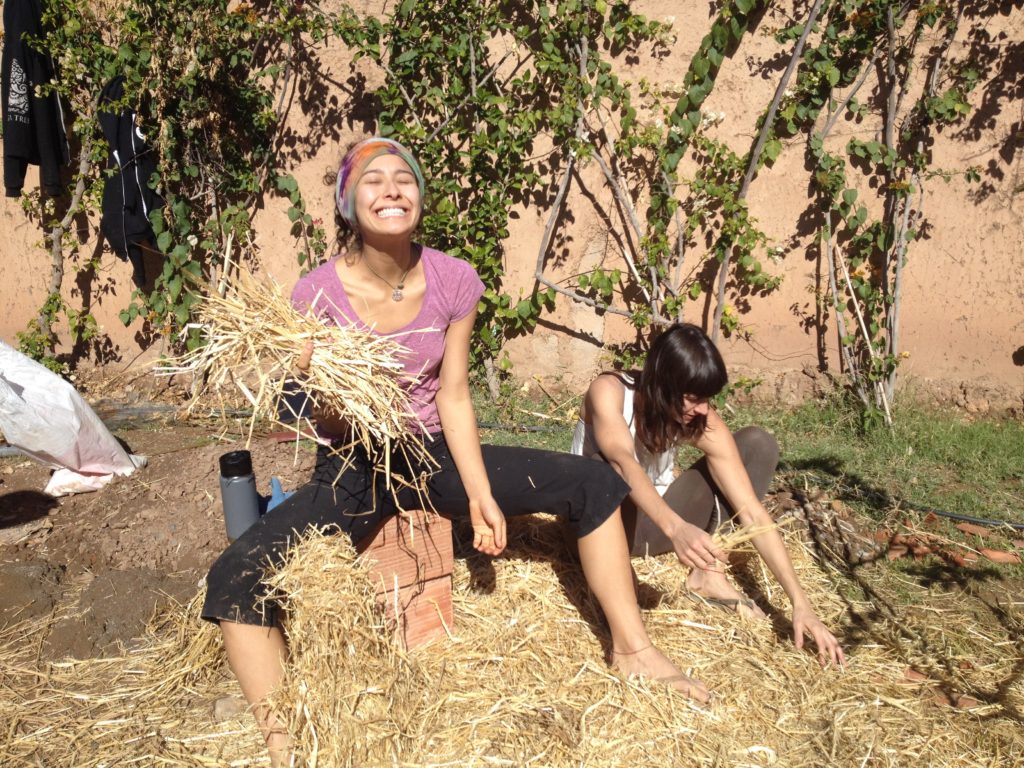 What is it about getting muddy and "dirt"y that is "lowly" in the eyes of non-Westerners? In Senegal it took a bit for the Senegalese to feel OK jumping in once they saw the white folk enjoying it. We, the new eco-generations, thrive on being one with the land, living in earth houses, eating mostly plants and ignoring plastic.
Eventually the locals cannot resist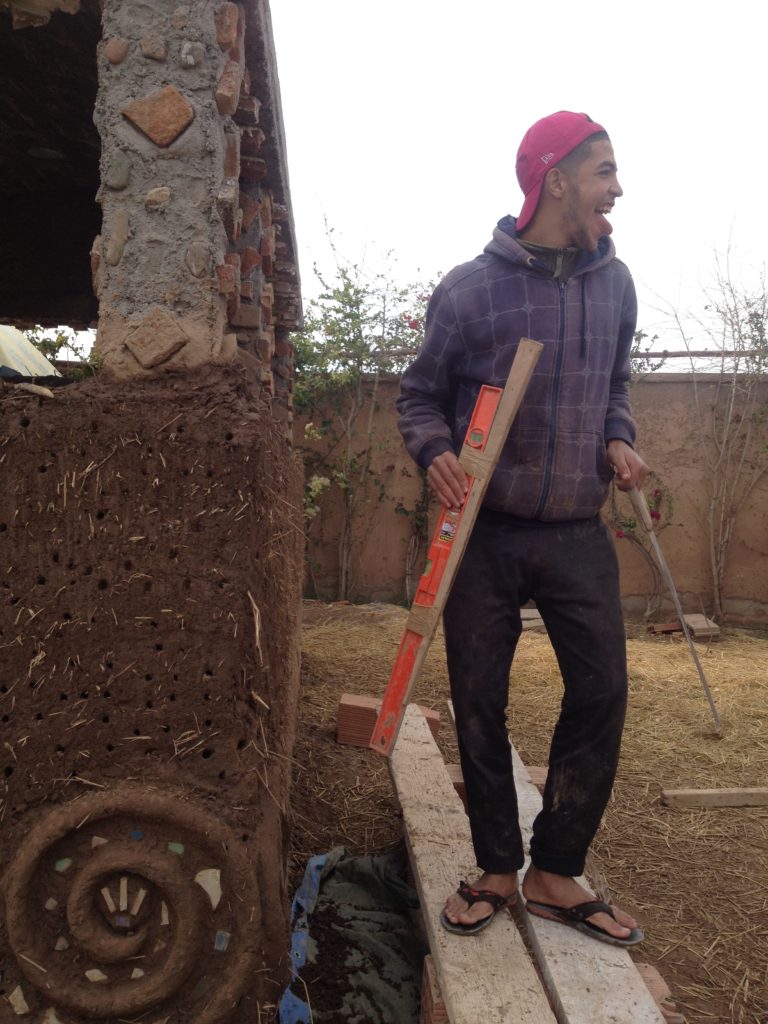 as they see how much fun it is despite the hard work. With some rockin' Islamic prayer tunes followed by peppy Michael Franti and Cabo Verdian-Japanese fusion, our bodies move easier and our collaboration is more fun.

Once again a new family is born, the cob bonding with cob and bonding the humans, who came from the clay and become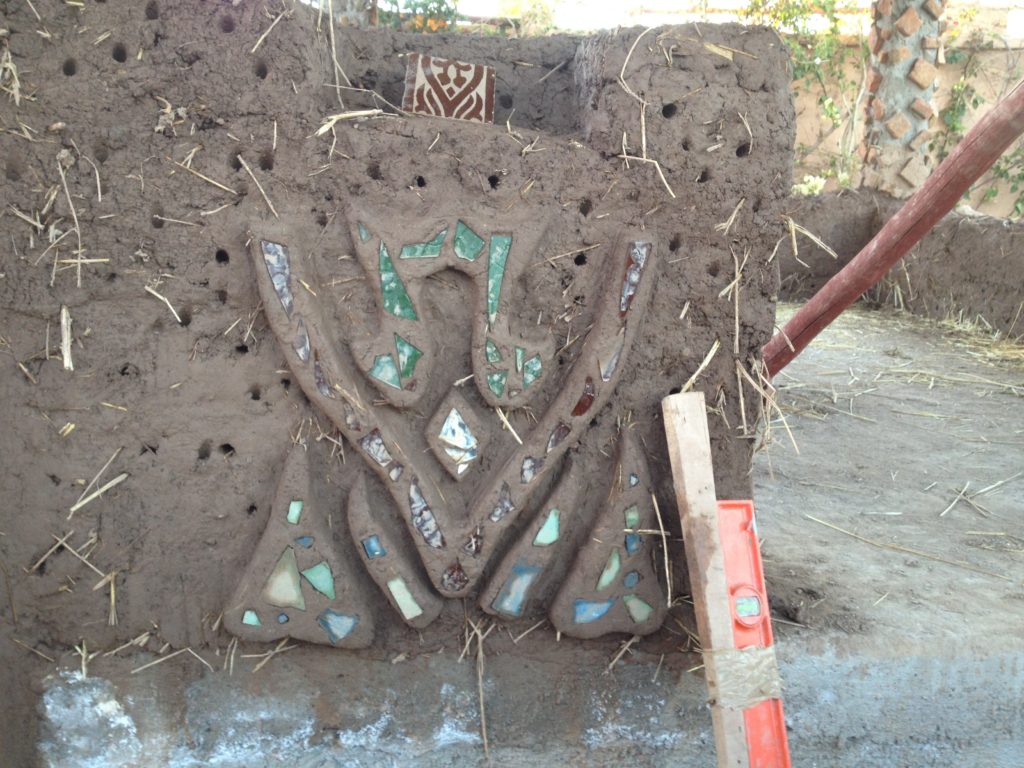 transformed in the clay. Artists and sculptors emerge in the last days, embellishing and personalizing the sweatily-built walls, bestowing life and unique beauty upon them. Satisfaction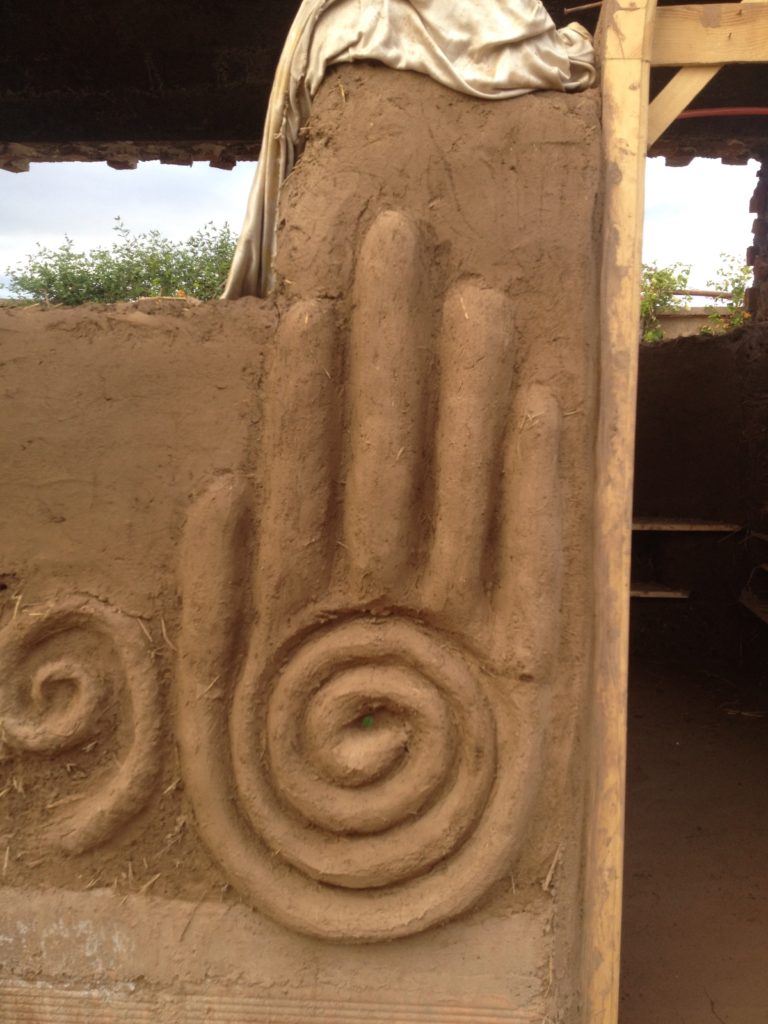 reigns when we stand back and look at our work. The plaster is the reward, smoothing and finishing the walls with horse poop for ultimate protection. We work together on the last day to give our Hammam as much as we can, taking away the skills to build one out of cob one day, and finish it with the age-old smooth-as-silk Moroccan lime finish cultivated right here in homemade lime kilns.
Amazing food, amazing people, amazing vistas and souks to get lost in….another wonderful experience! Shoukran!!!