Date/Time
Date(s) - Sunday, September 17, 2023 - Sunday, September 24, 2023
9:00 am - 5:30 pm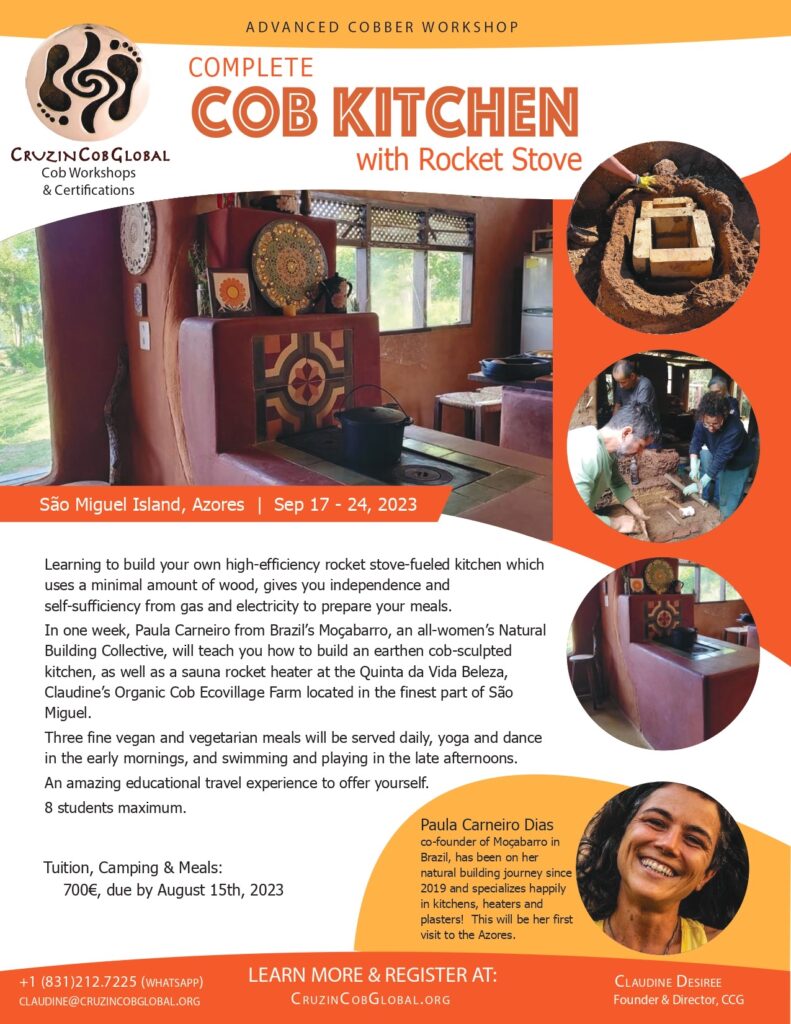 THE PROJECT
Eight students will build a high-efficiency (low fuel consumption and maximum burning efficiency) rocket stove for cooking in the cob cottage that will be completed in the previous workshop.  Rocket stoves were developed for ecological and economic sustainability, especially targeting the poor countries where access to wood has become harder.  The rocket stove system's efficiency is due to the thermal insulation together with the double combustion and retro-heating of the airflow producing a longer duration of the heat inside the system and thus less heat loss to the outside.  The enclosed chimney prevents cold air from coming in and directs any smoke to the outside, though since all the fuel is burned so efficiently, hardly any smoke or heat leaves the exit chimney, and is all directed to the cooking.  While rocket stoves can be used for many different functions, ie air heating, water heating, stove, oven, smoker, furniture heating, floor heating, etc, we will focus on channeling the heat for cooking on a stovetop.  Of course a by-product of the cooking heat in the cottage will be air heating.
LOCATION
 
Quinta da Vida Beleza Cob Ecovillage is located in the the warmest and driest microclimate on São Miguel, and a short 5-minute walk to the natural ocean swimming pools of Lagoa, close to an earthquake and volcano museum, black sand beaches, the town of Lagoa, produce markets, cafes and restaurants and a 25-minute bike ride to the capital, Ponta Delgada.
The banana forest which supplies us with bananas and also eggs!
Students will have time to explore on the weekends. During the week after class there will also be ample time to hit the ocean and beaches close by before dinner.  The Azores are getting more and more popular and summer is the high season. The island is full of magic with hikes, surfing, scuba diving, kayaking, hot springs and even just staying on the land in a hammock and daydreaming.
 
With an always-evolving flock of 40-50 free-ranging chickens and 3 working cats, Xica, Joia and Viva, the farm is an abundant, lush and wild paradise as well as a peaceful yogic refuge.  Bounded by indigenous forest and agricultural land, it is quiet and remote in feeling, and within walking distance to everything of interest.  You won't want to leave!
 
Below is a Gallery of pix of the Ecovillage and the area.
                                 WORKSHOP DESCRIPTION
 
This 7-day Rocket Stove workshop consists of learning & construction for 4 hours in the morning and 3 hours in the afternoon with theoretical instruction (lectures with graphics) after lunch/rest time to complement and support the hands-on experience.
Students arrive on Sunday between noon and 2pm and settle in. The workshop begins at 4pm with the Opening Circle followed by a Host Site Orientation and Introduction to the Project. Dinner is served at 6pm, and will be followed by an Introduction to the Workshop by Instructor  Paula Carneiro.
Following Breakfast from 7:30-8:15am, the morning learning/building session begins at 8:45 a and lasts until 1pm with a 20-minute snack pause at 11am. Lunch break is from 1pm to 2:30pm, which  includes a rest time before the 3-hour afternoon session begins, with a 60-minute lecture, followed by construction time.  After class in the afternoon there is a 90-minute break before dinner, in which students are encouraged to stretch, do some type of relaxation/movement practice, go swimming if possible, and just relax. There is sometimes a work trade student officially or informally leading yoga and movement practice in the mornings or afternoons (depending on student preference). There will also be one or more evenings for showing slides, videos and having Course-related discussions. Other evenings are free and sometimes students offer informal courses in their specialties and passions.
This 7-day workshop will be structured with lectures and hands-on building. 
The lectures will include:

-Hot air physics
-Rocket Stove design, structure, proportions, materials
-Use of Heat
-Thermal Insulation
-Multifunctionality
 
Hands-on work will include:
-foundation
-cob structure
-preparation of refractory mortar
-installation of refractory bricks
-thermal insulation layers
-installation of iron parts (plate, cookers, door)
-chimney and pipe installation
-earthen plaster
                      WEEK SCHEDULE & COURSE CONTENTS
 
Day 1
Foundation

Ash chamber construction

Construction of the first chamber (combustion)

Construction of stove walls
 
Day 2
Construction of the second chamber

Continuation of the walls

Filler for thermal insulation

Beginning of the third chamber
 
Day 3
Continuation of the walls

Construction of the fourth chamber (furnace)
 
Day 4
Installation of iron parts

Finishing the walls

Stove closure (slab)

Chimney installation
 
Day 5
Sculpting, Decoration, Mosaics
 
Day 6
Plaster & Finishes
 
                                        DAILY SCHEDULE
 
The Rocket Stove Workshop begins on a Sunday at 4pm and ends on a Sunday, one week later, after the morning Closing Circle & Brunch.
The daily schedule (subject to slight modifications due to climate/time of year) will be:
7:30-8:15 Breakfast

8:45-1:00 Class

1:00-2:30 Lunch

2:30-5:30 Class 

5:30-7:00 Rest/Yoga

7:00-8:00 Dinner

8:00-9:00 Slides/Videos/Discussion (once or twice)
Students are expected to be on time and participate in all sessions and required activities as the goal of building a full construction depends on the whole group working together!
 
                    REQUIREMENTS & IMPORTANT INFORMATION
 
Students will need to come prepared for physical work from Day 1.
This includes bringing:
Work clothes appropriate for the country and climate we are in

Work boots or other closed-toe shoes (for foundation and roof)

Flip-flops (for cobbing/plaster days)

Rubber dishwashing gloves (for lime mortar)

Work Gloves

4"-6" Diameter Round Plastic Container Lids (for plastering)

Good Moisturizer

Hat

Sunglasses

Safety Glasses

Water Bottle

Notebook/Pen/Camera
 
                                            INSTRUCTOR
Paula Carneiro (Moçabarro, Brazil)
I was born in Campo Grande, raised in Curitiba and Salvador, and now I live in the countryside in the mountains of Mantiqueira, Minas Gerais, Brasil, where I'm eco building my own house. I'm also a professional dancer, graduated from Bahia Federal University in 2012, and have worked with performing and visual arts, cinema and cultural centre management. Meeting Claudine and cob building in 2018 simply transformed my life. I started a natural building business after my first advanced cob workshop with CruzinCobGlobal in Guatapé, Colombia. I continued learning with a full build workshop in Colorado, later that year. In the beginning of 2019, I joined with Naiana Maximo and Priscila Bogéa to create the first female eco-building collective in Brazil called Moçabarro (Clay Gals is a translation we love!). We began teaching cob workshops and expanded to other natural building techniques and finishings. In our very first year of work we had the opportunity to build a full 100m2 house (@terra.333) using a variety of earthen building processes in this very successful project. Since then we have been working collectively on eco-refurbishing, rocket stoves, cob ovens, cob furnishings, tadelakt, plastering and other finishings. We have also taught short-length workshops at my building site as well as for other hosts in Brasil. Cob building is now a way I find to express gestures and print them on earth. Here is the link to our successful all-women cob business in Brazil: www.mocabarro.com.br
@mocabarro on Instagram and Facebook
 
                              MEALS & ACCOMMODATIONS
 
Students will have 3 delicious, hearty vegetarian meals a day.  There will also be a Welcome Dinner on the first Sunday night, a Celebration Dinner on the last Saturday night, and a Goodbye Brunch on Sunday morning after the Closing Circle.
All students will be camping onsite for this workshop.  Students who don't want to camp can find other local accommodations (ask Host for suggestions) but will need to be able to get to the site on time every weekday. 
 
                                     
                                         TRANSPORTATION
The arrival airport is PDL (Ponta Delgada) on the island of São Miguel, Azores, Portugal.  The airlines that fly there from the US are SATA/Azores Airlines, TAP, United and Delta.  From Europe take SATA, TAP or RyanAir.  There are no ferries to the Azores, but you are welcome to find a private boat sailing here! Just dont be late for Day 1!
Once you arrive at the airport, or will be in Ponta Delgada before the workshop starts, you can take a taxi (15-18€) to the Farm, or a bus into town and another one to the Farm.  More details will be sent in the Welcome Letter.

                                         REGISTRATION
Fee: 700€, includes tuition, camping and all vegetarian & vegan meals.
To register, please email claudinedesiree@gmail.com or send standard text or Whatsapp text to (831) 212-7225 with your email address to receive the two registration forms.  Payment can be made by Zelle, Venmo and Paypal using claudinedesiree@gmail.com. With Paypal, please check the "Send to Family and Friends" box or add 3% for the fee. If you are using a credit card with Venmo or Paypal please add 3% for the transaction fee. Venmo ID is @claudine-desiree.
Europeans and others who want to pay in Euros can make a bank transfer to a European account or use Wise to convert into Euros.
It is preferable that you pay in full when you pay however 50% deposit is required to hold your place with the rest due by August 17th at the latest.
We will offer two work trade discounts of 70€ each for an hour of work each class day.  There is one kitchen work trader who prepares breakfast from 6:30-7:30am and one work trader that does site prep from 6:30 to 7:30am.  If you want a work trade, please email or text Claudine (contact info above). These are first come first serve.  Full payment or 50% deposit to hold your spot with final balance due by August 17th. 
Anyone who is truly inspired and motivated and hungry to learn and needs additional financial support may be helped with additional work trade, but we do aim to empower our students to gather at least half of the funds and work with them to create fundraisers and other ideas to attract financial abundance!  Another life skill!
 
                                          CANCELLATION POLICY
 
Students who cancel before July 17th, 2023 will receive a full refund minus a 5% administration fee or a credit for another workshop within 2 years.
Students who cancel after July 17th, 2023 and before August 17th, 2023 will receive a full refund minus 10% admin fee or a credit for another workshop within 2 years.
Students who cancel after August 17th will not receive a refund or a credit unless they have proof of  an emergency situation beyond their control, in which case they will receive a credit to be used within 2 years, minus 10% fee.
*Work traders who cancel after July 17th will receive a full refund of what they have paid minus 70€.
 
                                    EXCITED TO COB WITH YOU IN 2023!!!