Date/Time
Date(s) - Sunday, July 10, 2022 - Sunday, August 14, 2022
8:30 am - 5:30 am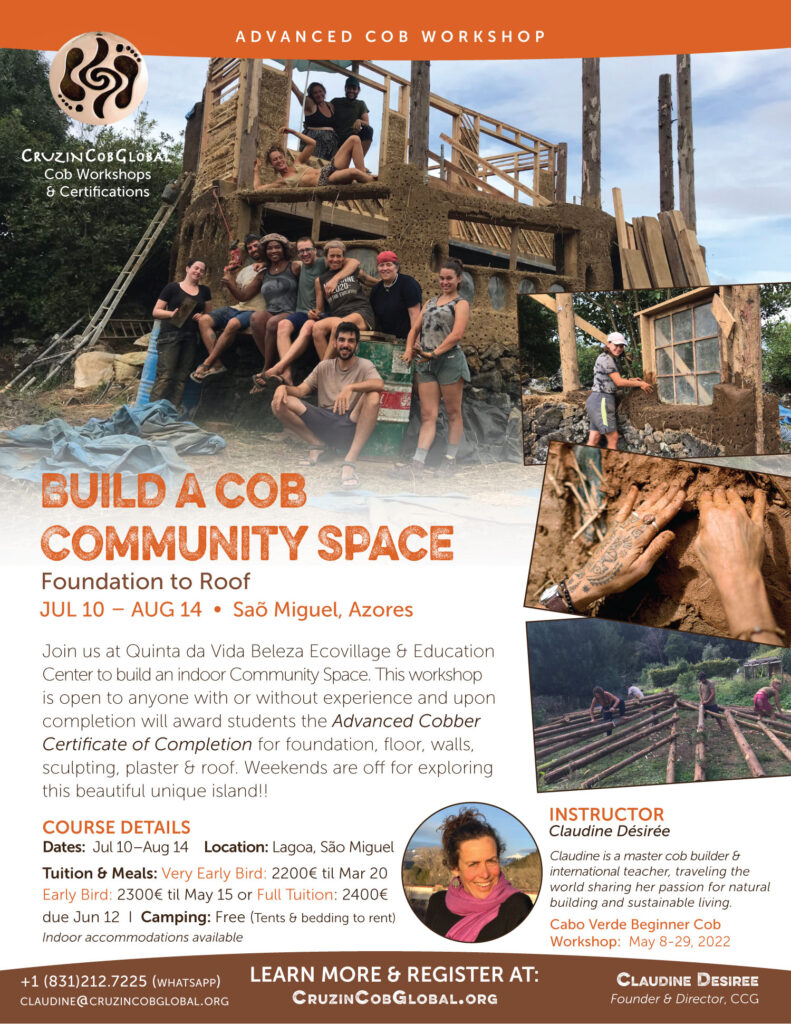 HOST & LOCATION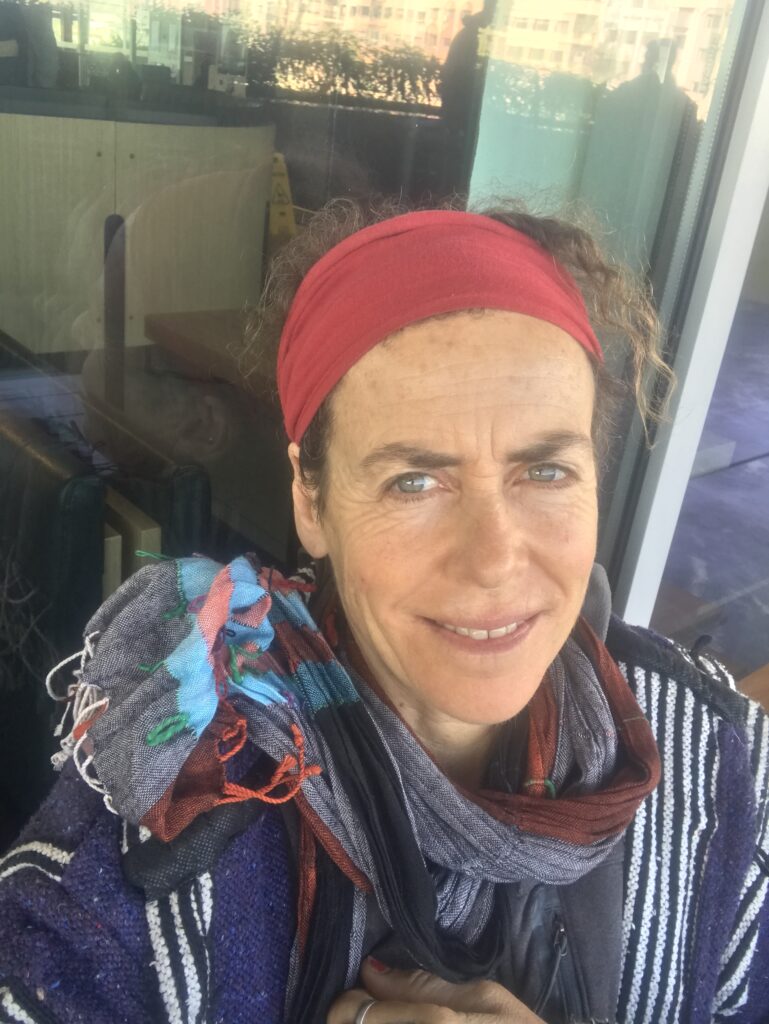 Our Host Claudine Désirée founded CruzinCobGlobal in 2015 when she began a 5-year GlobalBikeCobTrotter Tour through Europe, Africa, South America and the US. CruzinCobGlobal is the international version of CruzinCob, which was born in Santa Cruz in 2004.
This workshop will be held at Quinta da Vida Beleza in the Atalhada neighborhood of Lagoa. The Quinta or Farm was born in January 2020 when Claudine, our Host, acquired this 2-acre piece of land nestled in a quiet, agricultural zone just a 7-minute walk to the natural swimming pools and snorkeling waters of the Calhau, and a short bike ride to Lagoa and Ponta Delgada along the coast.
The land is brimming with bananas, guavas, kumquats, and granadilhas, vegetable gardens, a chicken family of 30 and 3 guardian cats: Viva, Joia and Xica. Over the last 2 years there have been 6 cob workshops that have built a sauna, 2 cottages, a 2-story house, an oven & benches and, most recently, a beautiful elegant rocket mass heater family-size couch. The land is now a unique Ecovillage and
The weather in this zone of Lagoa is warmer & drier than the other parts of the island. This and its proximity to the capital, the airport, the surfing beaches of the South & North Coast, the Hot Springs, and the nicest black sand beaches on the island make Lagoa a very coveted spot.
During the longer workshops, weekends are free for students to visit the island by bus, bike, rental car, hitchhiking or by foot. While São Miguel is large enough to keep you busy with a variety of hiking, hot springs, water sports and cultural adventures, students can also choose to fly or take a boat to the other islands for something different.
This home away from home will welcome you with comfort and conviviality as you live in community for the duration of the workshop, an integral transformative part of your experience.
THE PROJECT
The final build at Quinta da Vida Beleza Ecovillage & Education Center is an indoor Community Space for hanging out, classes, non-Cob workshops, small group activities, massage, yoga, dance and even a space for indoor camping. It will be a round building around 200 ft2 or 18m2.
Because the structure will be larger than the usual workshop size, we will build part of the foundation beforehand and part of the wall will be stone and also built beforehand. It will be a Rock'n' Cob wall! This will allow the students to ideally complete the structure in 5 weeks while learning all the phases, as usual.
INSTRUCTOR
Claudine Désirée
Claudine is the founder and director of CruzinCobGlobal and taught her first long-form full build workshop in 2015 in Andalucia, Spain.  Since then she has been leading 2-4 of these workshops a year, always trying to teach in new lands, new cultures, new languages to spread the Cob word far and wide.  Today she is grateful to finally be teaching on her own homestead born in January 2020, where she and her wonderful students have slowly colonized São Miguel with the beginning of many Cob Ecovillages to come. As a matter of fact, as we speak, she is teaming up with the local govmt entity and Kairos, an NGO, to begin training local unemployed youth to build their own Cob Community Space in Lagoa, on their organic farm. They will then train more locals and on the other islands.  Its just the beginning. Cob is the future. Glad you are part of it!
COB ASSISTANT
Josh Burg is student of CruzinCobGlobal who got his first taste of natural building at a CCG oven/bench workshop in 2017 followed by a full structure build the following year. Since then, Josh has pivoted to a full time career in building, joining a conventional construction crew in Portland OR, where he has been working since 2019. Building and designing has always been central to Josh's identity, whether it was building forts in the mountains of New Mexico as a child or starting a landscaping business in his high school year
s. Having developed and pushed his knowledge of building codes, carpentry, roofing, concrete for the last several years, Josh is ready to take this knowledge and return to building with natural materials. The constant exposure to toxic materials and massive waste generated by modern conventional construction is the motivation behind his move back to cob a and other healthy means of building homes. Josh is excited to join Claudine as her assistant on this upcoming build in the Azores!
WHAT YOU WILL LEARN
Students will learn every step of building a Cob structure from foundation to roof.
location and design decisions (sun, water, wind)
soil analysis
soil testing
foundation building
preparing foundation for Cob wall
making Cob
building with Cob
inserting door, windows, electricity, plumbing, hooks, etc
inserting roof connection
earthen floor (one coat)
earthen plaster (1 coat)
building a reciprocal framed roof structure
building a green roof
building a "legal" Cob house
starting a Cob business
working with CCG
Lectures will be 2-3 times a week and will be aligned with the practical building. There will be a few slideshows by Instructor and students who want to share.
Students who complete the whole workshop will receive a Certificate of Completion which will include all they have done, as well as the CruzinCobGlobal Handbook , which summarizes the workshop steps with graphics from the lectures. All the visual teaching materials as well as links, videos and other documents referred to in the lectures or slideshow night will be emailed to the students after the workshop.
WHAT TO BRING
Students need to come prepared for the build, for being outdoors all day, and for camping (unless you are staying indoors). The workshop will be held during the driest and warmest months of the year, but still, it sprinkles regularly.
closed-toe shoes (for foundation & roof weeks)
flip-flops
rubber or plastic gloves (for lime mortar)
work/gardening gloves (for working with rocks/wood)
good hat (July/August can get into he 80's and even 90's)
sunscreen/sunglasses
water bottle (with filter is useful)
notebook/pen
"The Hand-Sculpted House" by Ianto Evans (READ BEFORE!!!)
work clothes
ear plugs (for roosters & power tools/hammering)
measuring tape (cm)/wood saw/level/trowel (esp tape)
yoga/dance clothes
swimsuit, towel, snorkeling gear
lightweight rain jacket
photos/videos of your projects for sharing in slideshow night
your favorite music playlists for the build site
favorite personal healthy snacks that you can't get here!
WHAT TO EXPECT
VERY IMPORTANT!!!
This workshop is an INTENSIVE, DEMANDING experience for people who are ready to show up every day all day and work hard in Community to erect this beautiful masterpiece in record time! It cannot happen without EVERYONE's contribution each of the 25 days! Please expect to come every day and rest during your downtime and on weekends. Of course if you are ill or injured we will make the necessary adjustments but it does make the work harder on the rest of the group when people are not there.
This Advanced workshop is for serious student builders who really want to learn how to build a complete cob cottage and who plan to do so after the workshop, when they are ready. Everyone will be trained to be able to do so on their own. This is not a mellow exploration of cob. For that there are other workshops. So please please please make sure you qualify for this workshop.
That being said, you don't have to be a builder, an athlete, 25 years old or some compulsive workaholic (like me :)) to qualify for this workshop. We receive students of all ages, all backgrounds, all professions, all abilities. The only requirement is that you make an effort to do your personal best each day and show up for the group. Some of my best students have been in their 60's! So if you are willing, motivated, excited, ready and chomping at the bit…this is the workshop for you! If you have doubts or questions…please email me at claudinedesiree@gmail.com and we can talk.
DAILY SCHEDULE
6:30-7:30 Yoga/Movement Practice/Meditation (optional)
7:30-8:30 Breakfast
8:45-1:00 Morning Session
1:00-2:30 Lunch & Rest
2:30-5:30 Afternoon Session & Lectures
6:30-7:30 Dinner
MEALS & ACCOMMODATIONS
Students will receive three delicious vegetarian/vegan meals a day Monday through Friday, prepared by one or more local chefs, beginning with Dinner on Sunday, July 10, 2022 and ending with Lunch on Sunday, August 14th, 2022.  Weekends students will prepare their own meals and go exploring on the island trying the local fare!
There will be room for 7 campers. Tents can be rented for 2€ and 5€/day (see below). People who prefer to rent a private or shared room in a house will need to contact Claudine as soon as possible, so she can secure the house. There is a two-bedroom 2-story house a short walk from the Quinta that has one room with a queen-sized bed and one room with two double beds. These two rooms share a beautiful oceanview balcony on the second floor. There is wifi, a full kitchen, and a patio. Another person can choose to sleep in a walled off section of the living room on a bed as well. Rates depend on how many students will share the house.
There is also a wonderful local hotel called "Arcanjo Hotel" with oceanfront rooms also very close to the Quinta. And there are several Airbnb accommodations. There is also a nice hostel called Pés Verdes about 3km away near the nicest beaches in the area. The only issue is distance so if u can use a bike life will be easier. There are public bikes usually available.

Students staying off property will share meals on the Land, an important community time for the group.
TRANSPORT & LOGISTICS
Students need to fly into the PDL airport from Lisbon, London, Paris, Madrid, Barcelona, Frankfurt, Boston or New York. SATA/Azores Airlines, United, TAP and RyanAir fly directly into PDL. Right now  the JFK to PDL route is a new one for SATA and United and is going for $333 this summer one way so best to reserve asap!  You will need to have a Covid test done wihin 48 (Antigen) or 72 (PCR) hours before flying and fill out a SafeAzores questionnaire online with a QR code.
Once you arrive, there are cabs for 15€ (daytime) or 18€ (nighttime) that will take you to the Quinta. If several students arrive on the same flight or around the same time, I am happy to coordinate you so you can share a cab. And if I happen to be nearby I am happy to come get you. If you are adventurous and with a pack, you can also walk the spectacular 12 km (7.5 miles) to the land through Ponta Delgada along the coast.
Directions will be sent in Welcome Letter.
PAYMENT & REGISTRATION
Tuition & Meals for the 5-Week workshop is 2400€ (approximately USD$2700 but varies with current conversion rates). Camping is free if you bring your own tent. I have 2 smaller 1-2 person tents for 2€/day and 2 family-size 2-room tents that can sleep 4 people for 5€/day. They come with inflatable mattresses and, if needed, a pillow, sheets and a blanket. Or bring your own sleeping bags.

We have 2 early bird rates if fee is paid in full.
Very Early Bird Rate: 2200€, paid in full by March 20, 2022
Early Bird Rate: 2300€, paid in full by May 15, 2022
Standard Rate: 2400€, due by June 12th, 2022
Locals can choose to just come for the day and pay for lunch/snacks. Please inquire with Claudine.
Estudantes portugueses e residentes da ilha pagam preço reduzido e podem vir para o dia e só comer almoço. Contactar claudine@cruzincobglobal.org para o custo.
There are 2 work trade positions which will give the student 10€ off/day for working 75 minutes a day helping with breakfast or site preparations. Work traders who cancel less than a month from start date (after June 12th) will have to forfeit the value of their work trade discount (250€) because of the inconvenience and need to potentially pay a substitute.

To guarantee your spot, either pay in full or make a 50% deposit. Payments will be non-refundable after May 15th, 2022. Any cancellations before May 15th will be refunded or given a credit to be used within 2 years minus a 5% cancellation fee.  Any cancellations between May 15th and June 12th may be approved to be used as a credit for another workshop within 2 years, depending on the circumstances of the need to cancel (with proof) minus a 10% cancellation fee. After June 12th there is no refund or credit possible.
Payments can be made in USD at the current conversion rate with Venmo, Zelle or Paypal to claudinedesiree@gmail.com. Please be sure to add 3% if you use a credit card with Paypal or Venmo for their credit card fee and for Paypal please check "send to family and friends". Payments in Euros can be made using Transferwise or as regular European inter-bank transfers.
Students will be sent a Welcome Letter 2 weeks before the workshop with any additional information.
LOOKING FORWARD TO HAVING YOU HERE!!!!
Location: Quinta da Vida Beleza