Date/Time
Date(s) - Friday, September 1, 2023 - Sunday, September 10, 2023
9:00 am - 5:30 pm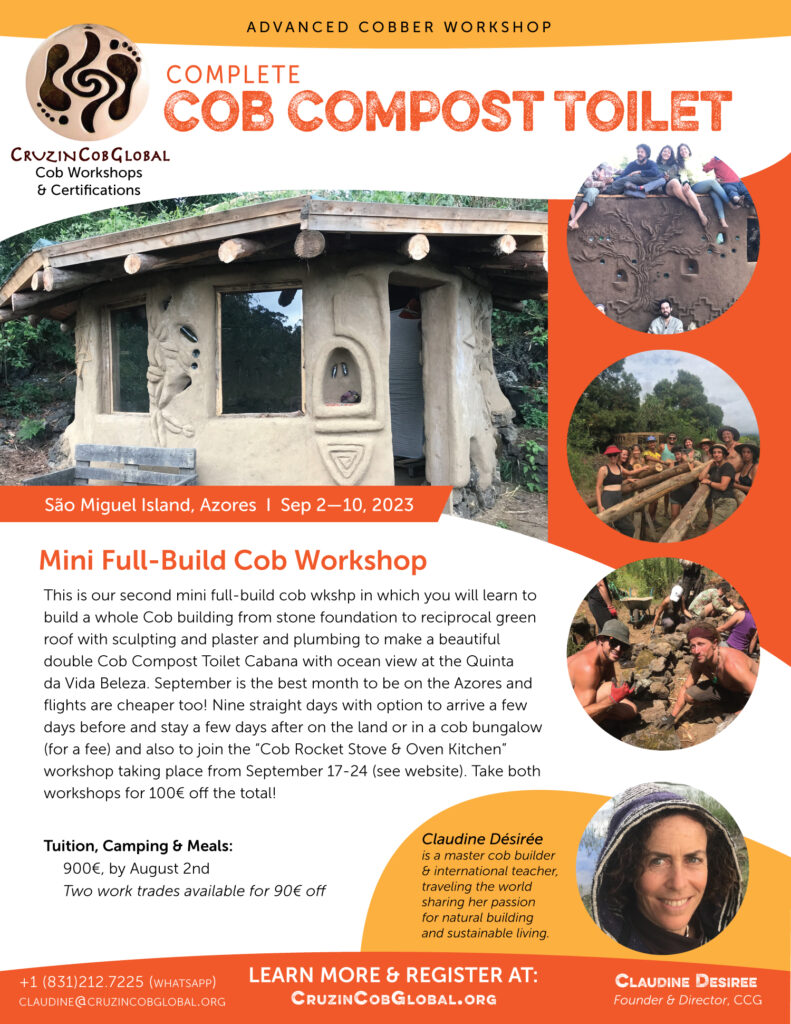 HOST & INSTRUCTOR
Claudine Désirée will be the host of this workshop, as well as the Leader/Instructor with an Assistant.  In 2020, Claudine began creating the Quinta da Vida Beleza (Beautiful Life Farm) Ecovillage on the island of São Miguel in the Azores, officially part of Portugal.  Her vision was and is a nature-dominant space to return to our roots of walking barefoot, being deeply connected to the elements, the climate, the plants, the animals and as much as possible living in harmony with and from the fruits of the land with minimal impact.  
Claudine grew up in NYC and lived for 20 years in Santa Cruz, California, raising her three sons now 26, 29, 31.  Her son Viva Hansen is also a natural builder and just launched his new artistic cob building business "Mudbloodbuilds".

She has always been nomadic at Heart and even spent long periods of time traveling and homeschooling her sons through Polynesia, Mexico and Cuba, some of their best memories.  She developed various businesses in California, one of them being CruzinCob, which then evolved into CruzinCobGlobal, on a 5-year GlobalCobTrotter tour.  She also taught and practiced Thai Yoga Massage for 5 years, taught languages and was a substitute teacher in every field in every school in Santa Cruz.  Her passion for everything green, natural, organic, simple, beautiful, healthy, real, and homemade has led her to create the perfect ecological lifestyle in the Azores. 
In 2020, the Azores was calling Claudine to be still for a while after 5 years of pedaling an old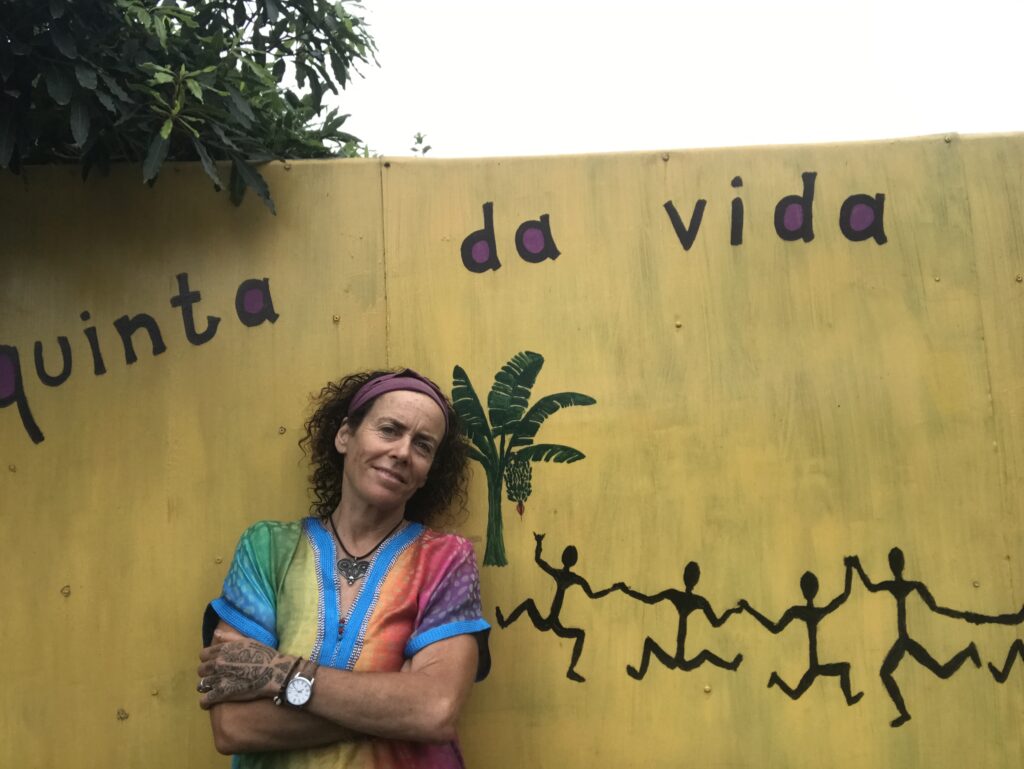 French touring bike through Europe, Africa, South America and the US teaching cob workshops everywhere.  She yearned for a home base to do some deep internal spiritual introspection for a while, which aligned with the beginning of the pandemic years and with the entry into her double Saturn return years.  Thus in the sweetness of the Azores she has been preparing for the next phase of her life, in which she would like to create a second homestead community with her sons and friends, in the US or real close (Puerto Rico?), similar to what was born in the Azores but with a multi-racial and multi-cultural base.

She is yearning for the cultural entourage that she grew up with, an African and Afro-Latin music and dance-based lifestyle partnered with the ecological base of clean living with the Earth, with others and with ourselves.  Her people.  Her families.  Quinta da Vida Beleza will continue to be a retreat and haven that will also be rented out to others for short and long-term experiences living sustainably on the land, eating bananas and guavas and loquats off the trees, collecting fresh chicken eggs for breakfast, and hopping down the street to refresh in the natural ocean swimming pools!
Along with co-creating a new homestead community closer to her "Heart Home", Claudine is feeling the strong call to support women and youth to learn a new way of being with themselves, honoring their bodies and souls, respecting themselves, listening to and being guided by the messages from within, learning how to express their needs clearly, truthfully and fearlessly, enjoying their own company, empowering themselves by learning how to use their hands to build a home, self-care, healthy sensuality and affection, and all in all having tools for being at peace with themselves as often as possible.  What Claudine will share with her students is what she herself has been learning throughout her 59 years.  A little healthy sustainable wisdom for the new generations.
 
                                                                                LOCATION
 
Quinta da Vida Beleza Cob Ecovillage is located in the the warmest and driest microclimate on São Miguel, and a short 5-minute walk to the natural ocean swimming pools of Lagoa, close to an earthquake and volcano museum, black sand beaches, the town of Lagoa, produce markets, cafes and restaurants and a 25-minute bike ride to the capital, Ponta Delgada.
The banana forest which supplies us with bananas and also eggs!
Students will have time to explore on the weekends. During the week after class there will also be ample time to hit the ocean and beaches close by before dinner.  The Azores are getting more and more popular and summer is the high season. The island is full of magic with hikes, surfing, scuba diving, kayaking, hot springs and even just staying on the land in a hammock and daydreaming.
 
With an always-evolving flock of 40-50 free-ranging chickens and 3 working cats, Xica, Joia and Viva, the farm is an abundant, lush and wild paradise as well as a peaceful yogic refuge.  Bounded by indigenous forest and agricultural land, it is quiet and remote in feeling, and within walking distance to everything of interest.  You won't want to leave!
 
Below is a Gallery of pix of the Ecovillage and the area.
                                                  THE PROJECT
Students will be building a 5m2 cob compost toilet with 2 chambers and oceanview! The structure will be built from foundation to reciprocal green roof including plumbing for bidets, sculpting and plaster, as well as instruction on inserting electrical outlets, switches and housing (the toilet will not have electricity). Students attending this Mini Full-Build will learn almost everything we teach in the 5-week Advanced Cobber Certification Training (minus the cob floor) on a small scale and without inserting electricity.  They will have all the skills to transfer to a larger build. However in order to assist a 5-week workshop they would need to take the longer workshop.  They will still be eligible to build on CCG building projects.
 
 
                               WORKSHOP DESCRIPTION
 
The 9-day Cob Building Workshop consists of 9 straight days of  learning & construction for 4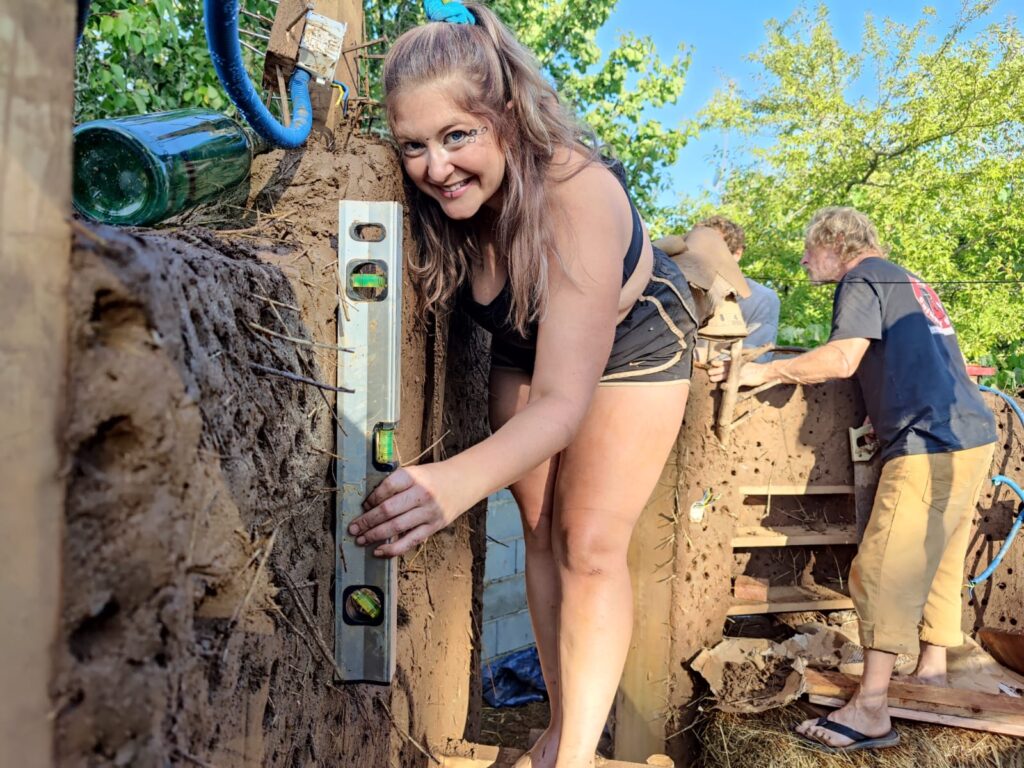 hours in the morning and 4 hours in the afternoon with one hour of theoretical instruction (lectures with graphics) after lunch/rest time every day to complement the hands-on experience.
Students arrive on Friday, September 1 between noon and 2pm and settle in. The workshop begins at 4pm with the Opening Circle followed by a Host Site Orientation and Introduction to the Project. Dinner is served at 6pm, and will be followed by an Introduction to the 9-Day Workshop by Instructor Claudine Desirée.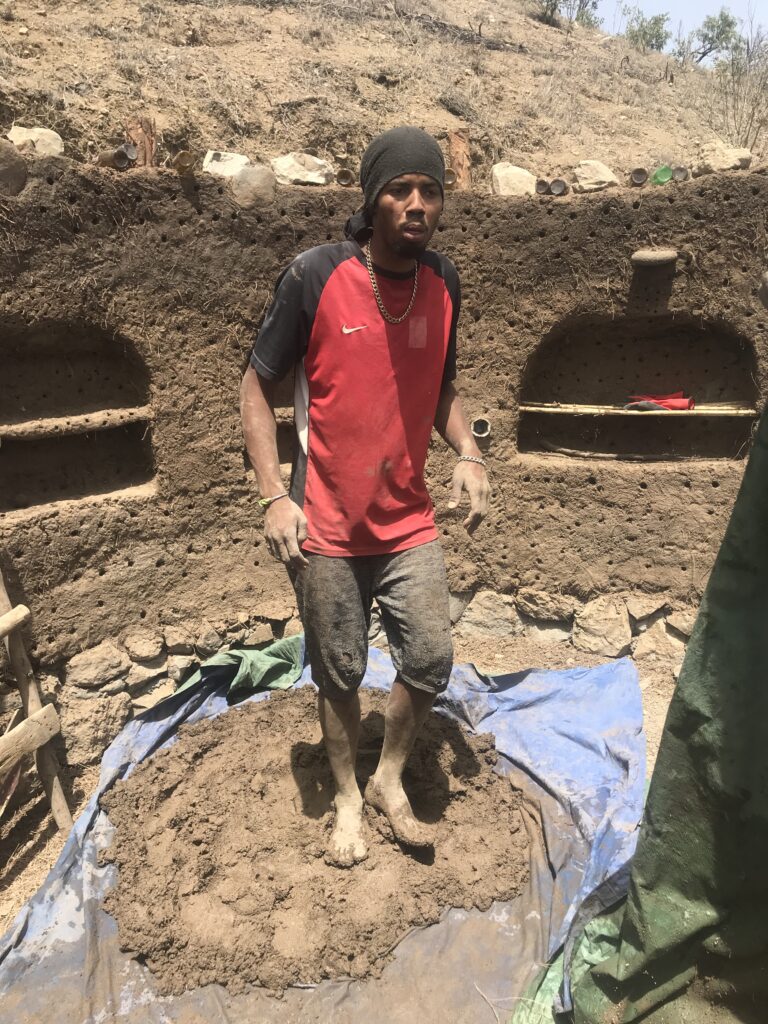 Saturday morning we begin digging the trench for our Cob Building!!!! Following Breakfast from 7:30-8:15am, the morning learning/building session begins at 8:45 am and lasts until 1pm with a 20-minute snack pause at 11am. Lunch break is from 1pm to 2pm, followed by lecture from 2pm to 3pm and the 3-hour afternoon building session. Class ends at 6pm.  After class in the afternoon students are encouraged to stretch, do some type of relaxation/movement practice, go swimming, watch the sunset and just relax. Dinner will be available starting at 6 and will be left out until 8, so people can go at their own rhythm in the afternoon.  There will also be 2 evenings after dinner for showing slides, videos and having Course-related discussions. Wednesday is reserved for a Council Circle. Other evenings are free and open for students to lead activities of their choice with optional participation.
The 9-day Course will offer practical learning by building a complete 5m2 curvilinear building from foundation to roof, as described in the "Project" section.  There will also be a lecture on "Compost Toilets".
                                     DAILY SCHEDULE
 
The Cob Building Workshop begins on Friday, September 1 at 4pm and ends on a Sunday, September 10, after the morning Closing Circle & Brunch. The daily schedule (subject to slight modifications due to climate/time of year) will be:
8:00-8:45 Breakfast

9:00-1:00 Class

1:00-2:00 Lunch

2:00-3:00 Lecture
3:00-6:00 Class
6:00-8:00 Rest/Yoga/Dinner

8:00-9:00 Slides/Videos/Discussion (2 nights)
Students are expected to be on time and participate in all sessions and required activities as the goal of building a full construction depends on the whole group working together!
 
                                    COURSE CONTENTS
 
Students will learn every phase of building a cob building from foundation through the reciprocal roof in hands-on building and lectures/theory. In addition to the lectures, slideshows and videos will be shown to support and enhance their understanding of cob materials, cob building, design, geography, budgeting, business options and legal issues.
Our hands-on practice will include:
digging foundation trench

pouring gravel and inserting drainage pipe (if applicable)

building foundation stemwall

analyzing soils and materials

making test bricks

deciding on correct mixture

deciding on best location

making cob w/ partner and solo 
building with cob

preparing and inserting 2 doors

preparing and inserting fixed and opening windows

preparing and inserting shelves

inserting bottle windows, glass and other objects

inserting plumbing pipe holder in wall
sculpting

preparing and applying earthen plasters (1 coat)
preparing wall for roof connection

building roof frame

putting on sheathing and other elements

building green roof
In addition to Cob Building practices, the Course material 
also includes:
legal cob construction practices & the international cob code
, cost analysis
, creating a cob business (building/teaching),
assisting, interning and teaching with CruzinCobGlobal
 
 
                 REQUIREMENTS & IMPORTANT INFORMATION
 
 
Students will need to come prepared for demanding physical work from Day 1.
This includes bringing:
Work clothes appropriate for the country and climate we are in

Work boots or other closed-toe shoes (for foundation and roof)

Flip-flops (for cobbing/plaster days)

Rubber dishwashing gloves (for lime mortar)

Work Gloves

Tape Measure

Ear Plugs (roof week)

4"-6" Diameter Round Plastic Container Lids (for plastering)

Good Moisturizer

Hat

Sunglasses

Safety Glasses

Water Bottle
Notebook/Pen/Camera

Sample of Your Soil (Optional)
 
***VERY IMPORTANT***
 
These workshops are designed for people that want to learn how to build a complete structure from start to finish in a professional manner and amount of time. They are very intensive and, while we make time for yoga, stretching, dancing, music, relaxing….all students are expected to be present and participating in all building/learning hours unless ill or have some other significant reason. This is because we design the size of the building and organize the structure of the workshop in accordance
with the number of students and when people are absent it impacts the whole group and the other students have to work harder. In addition Instructors try to set up building work according to students' preferences and learning needs.
 
Students are required to read "The Hand-Sculpted House" before the workshop begins and any other books they find, as well as watching our "International Cob Workshop" videos on Claudine's YouTube channel, and the ones posted on CruzinCobGlobal's website under Gallery, to get an idea of what is expected. Also it is a great idea to watch as many other videos on cob and reciprocal roofs as you can to come mentally prepared.  Please bring your book(s).
Students must tend to their own personal needs, drink alot of water, rest when needed and exert themselves at a steady pace. Students who cannot do the strenuous physical work should let us know when registering so we can make sure the workshop is a good fit.  If approved before the workshop begins, we can adjust appropriately.
Finally, please bring a watch or use your phone to be prompt and ready for each part of the Course, 
including meals. Please share your dietary restrictions/allergies with CCG as soon as you register.  Note that very demanding dietary needs will not be able to be met (vegan & non-gluten ok) and those students may be recommended not to participate unless they are willing to meet their special needs on their own, which may not include kitchen access on weekdays. Please discuss with Claudine at time of desire to register.  Also please bring your essential snacks and foods, pillow and whatever you NEED to be comfortable and happy. Feel free to also bring slides, videos, movies and books to share, as well as a sample of your soil to test.
We look forward to opening you to a whole new world of experience, skill, growth and transformation as you bond  with your new COB family for life!
 
                                                        MEALS & ACCOMMODATIONS
Students will have 3 delicious, hearty vegetarian meals a day.  There will also be a WelcomeDinner on the first Friday night, a Celebration Dinner on the last Saturday night, and a Goodbye Lunch on Sunday morning after the Closing Circle.  If needed the workshop may extend until 4pm for final cleanup.
All students will be camping onsite for this workshop.  Students who don't want to camp can rent one of the 3 cob bungalows available during the workshop.  Two bungalows have a queen bed and one has a queen and a single bed.  Students can also find other local accommodations like hostels or airbnb (ask Host for suggestions) but will need to be able to get to the site on time every weekday. 
 
 
                                    TRANSPORTATION
 
The arrival airport is PDL (Ponta Delgada) on the island of São Miguel, Azores, Portugal.  The airlines that fly there from the US are SATA/Azores Airlines, TAP, United and Delta.  From Europe take SATA, TAP or RyanAir.  There are no ferries to the Azores, but you are welcome to find a private boat sailing here! Just dont be late for Day 1!
Once you arrive at the airport, or will be in Ponta Delgada before the workshop starts, you can take a taxi (15-18€) to the Farm, or a bus into town and another one to the Farm.  More details will be sent in the Welcome Letter.

 
                                        REGISTRATION
 
Fee: 900€, includes tuition, camping and all vegetarian & vegan meals.
To register, please email claudinedesiree@gmail.com or send standard text or Whatsapp text to (831) 212-7225 with your email address to receive the two registration forms.  Payment can be made by Zelle, Venmo and Paypal using claudinedesiree@gmail.com. With Paypal, please check the "Send to Family and Friends" box or add 3% for the fee. If you are using a credit card with Venmo or Paypal please add 3% for the transaction fee. Venmo ID is @claudine-desiree.
Europeans and others who want to pay in Euros can make a bank transfer to a European account or use Wise to convert into Euros.
It is preferable that you pay in full when you pay however 50% deposit is required to hold your place with the rest due by August 1 at the latest.
We will offer two work trade discounts of 90€ each for an hour of work each class day.  There is one kitchen work trader who prepares breakfast from 6:30-7:30am and one work trader that does site prep from 6:30 to 7:30am.  If you want a work trade, please email or text Claudine (contact info above). These are first come first serve.  Full payment or 50% deposit to hold your spot with final balance due by August 1. 
Anyone who is truly inspired and motivated and hungry to learn and needs additional financial support may be helped with additional work trade, but we do aim to empower our students to gather at least half of the funds and work with them to create fundraisers and other ideas to attract financial abundance!  Another life skill!
 
                                 CANCELLATION POLICY
 
Students who cancel before July 1, 2023 will receive a full refund minus a 5% administration fee or a credit for another workshop within 2 years.
Students who cancel after July 1, 2023 and before August 1, 2023 will receive a full refund minus 10% admin fee or a credit for another workshop within 2 years.
Students who cancel after August 1 will not receive a refund or a credit unless they have proof of  an emergency situation beyond their control, in which case they will receive a credit to be used within 2 years, minus 10% fee.
*Work traders who cancel after July 1 will receive a full refund of what they have paid minus 90€.
 
                                    EXCITED TO COB WITH YOU IN 2023!!!