Date/Time
Date(s) - Saturday, July 15, 2023 - Sunday, July 23, 2023
8:30 am - 6:30 am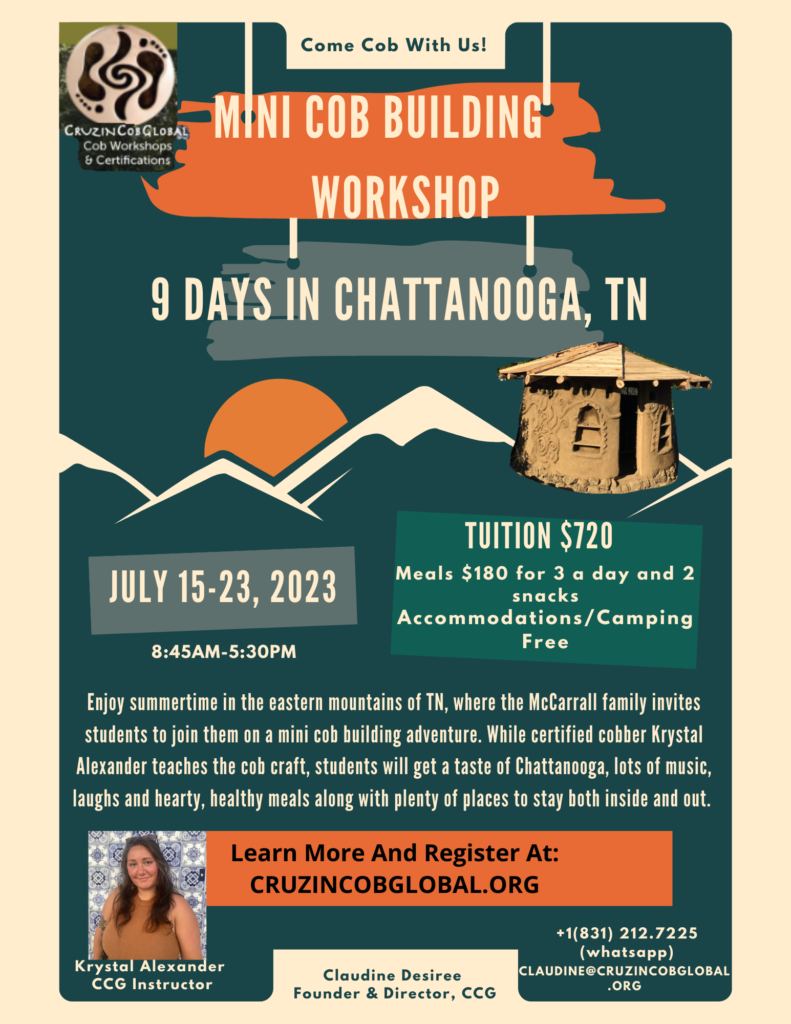 HOST & LOCATION
Hello everybody! I am Sean and Jamie (my wife), Lennox (3), Ellie (4 months) and Alfur (my niece who lives with us) are super excited to host our first cob building adventure. Learning about cob building interests us for multiple reasons. The first being we intend to provide affordable housing for friends, family, and travellers in the future. I've looked into traditional home building and even on a small scale it costs a small fortune to build. We hope to learn the process and be able to continue to construct small shelters with our family and friends. Second, I am interested in the eco-friendly nature of cob building seemingly made from more sustainable resources, requiring less upkeep, and lasting longer than traditional homes. And lastly the potential for lots of aesthetic appeal. Once we understand the fundamentals I feel as though it can be a truly artistic outlet to creating all different designs in buildings. Something I have not tapped into since I was a child. Having received the "Hand-Sculpted House" as a gift from Claudine who we hosted as she biked through Tennessee (how we met), we are now even greater cob aficionados and super excited to build with y'all!

 A little background on us, we love the outdoors and experiencing new things. In our free time we enjoy  traveling, meeting new people, cooking, biking, hiking and camping. My wife and I are geologists by trade and spent 10 years in west Texas living out of our motorhome working and saving up. Then we decided to prioritize building a family and moved to Chattanooga, TN to start that. We now have a VERY funny 2 year old son and an old soul little 6 month daughter who we want to experience some of the cob magic with us too.
We are nestled into a home by Raccoon Mtn and only 10 minutes from downtown Chattanooga. There is plenty of space for everyone whether you would like to stay indoors or out. My wife cooks most of our meals and enjoys changing up cuisine, while trying to stay healthy so there will always be something good to eat. We look forward to hosting and connecting with everyone and hope you are able to join us on our journey of learning this craft. Expect the weather to be hot (90's) but with plenty of shade and cool breezes. Bugs are not usually an issue.
THE PROJECT
This is the very first CruzinCobGlobal 9-day Complete Playhouse Build in which students will learn every step of building a cob building on a micro-scale.  From foundation to reciprocal frame roof, including cob floor and plaster, sculpting, electricity and plumbing, we will build a 30ft2 round playhouse for Lennie and Ellie.  The idea is to give you a taste of what it's like to build with cob and, if you are already a builder or super savvy, you will DEFINITELY be able to transfer this knowledge and experience to building a full-size cottage.  This workshop is ideal for those who are short on time and money for attending our traditional 35-day full build or who want a taster before committing to the extended workshop (we have one happening just 2 hours east in Pulaski, TN August 27th to October 1 with time to register…https://cruzincobglobal.org/events/complete-cob-bungalow-in-southern-tennessee-pulaski/).
This workshop will be easy on the energy as we will build right behind the family's home in their tree-studded Tennessee backyard, in the shade, and as everything will be small-scale, each step will be completed in about 1/3 of the time of a usual build, in which there are 25 working days.  The maximum group size will be 8 as opposed to 15 in the longer-term build.  Students will receive a Certificate for a Mini Complete Cob Building Workshop!  Even though this is a Playhouse, the workshop is strictly for teens and adults as it will still be an intensive training in order to reach our goal!

Please be prepared to work hard and have fun doing so, bring your favorite playlists and comfortable clothing!
WORKSHOP DESCRIPTION
The Mini Complete Cob Building Workshop consists of 9 days (Saturday 12pm through Sunday 4pm) of  learning & construction for 4 hours in the morning and 4 hours in the afternoon with theoretical instruction (lectures with graphics)  to complement the hands-on experience.
Students arrive on Saturday morning between 10am and noon to settle in (camping or indoors). The workshop begins with a delicious lunch by Chef Jamie at noon, followed by our traditional Opening Circle, a Host Site Orientation, and an Introduction to the Project by Instructor Krystal Alexander. We will open the hands-on learning by digging the trench and filling it up with the first elements of a foundation on Saturday afternoon.
A Breakfast buffet will be served from 7:15-8:15am and the morning learning/building session begins at 8:45 am and lasts until 1pm with a 20-minute snack pause at 11am. Lunch break is from 1pm to 2:30pm, which  includes a rest time before the 3-hour afternoon session begins.

There will be a lecture each day from 2:30-3:30, followed by more construction time.  After class in the afternoon there will be a 60-minute break before dinner at 7:30pm, in which students are encouraged to stretch, do some type of relaxation/movement practice, and/or just relax. There is sometimes a student informally leading yoga and movement practice in the mornings or afternoons (depending on student preference). There will also be one or more evenings after dinner for showing slides, videos and having Course-related discussions. Other evenings are free and sometimes students offer up informal courses in their specialties and passions just for fun. Fire circle, music, singing, dancing…are all part of our workshops!  The last night (Saturday) there will be a Council Circle, also a CruzinCobGlobal tradition.
DAILY SCHEDULE
The Mini Complete Cob Building Workshop begins on a Saturday at noon and ends on a Sunday at 4pm (a week later) with Lunch and a Closing Circle/Graduation.  If necessary due to long-distance travel, students may arrive on Friday afternoon to acclimate and settle in (please let us know) but will need to cover their own food needs unless a work trade is approved by Host.
The daily schedule (subject to slight modifications due to climate/time of year) will be:
7:15-8:15 Breakfast
8:45-1:00 Class
1:00-2:30 Lunch
2:30-6:30 Lecture/Class                                                                                                                                                      6:30-7:30 Rest/Yoga
7:30-8:30 Dinner
8:30-9:30 Slides/Videos/Discussion (once a week)
Students are expected to be on time and participate in all sessions and required activities as the goal of building a full construction depends on the whole group working together!
COURSE CONTENTS
Students will learn every phase of building a cob building from foundation through the reciprocal roof in hands-on building and lectures/theory. In addition to the lectures, slideshows and videos will be shown to support and enhance their understanding of cob materials, cob building, design, geography , and budgeting.
Our hands-on practice will include:
digging foundation trench
pouring gravel and inserting drainage pipe (if applicable)
building foundation stemwall
analyzing soils and materials
making test bricks
deciding on correct mixture
deciding on best location
making cob w/ partner and solo
building with cob
preparing and inserting the door
preparing and inserting fixed and opening windows
preparing and inserting shelves
inserting bottle windows, glass and other objects
inserting electrical wiring and plumbing in walls
sculpting
preparing and applying earthen plasters (1 coat)
pouring an earthen floor (1 coat)
preparing walls for roof connection
building roof frame
putting on sheathing and other elements
building green roof
In addition to Cob Building practices, the Course material
also includes:
legal cob construction practices & the international cob code
cost analysis
REQUIREMENTS & IMPORTANT INFORMATION
Students will need to come prepared for physical work from Day 1.
This includes bringing:
Work clothes appropriate for the country and climate we are in
Work boots or other closed-toe shoes (for foundation and roof)
Flip-flops (for cobbing/plaster days)
Rubber dishwashing gloves (for lime mortar)
Work Gloves
Tape Measure
Box Cutter
Carving Knife
Wood Hand Saw (cheap)
Hammer (if u can)
Rounded triangular trowel (5 inches long)
Level (2-foot)
Ear Plugs (roof week)
Wood Chisel (standard)
4"-6" Diameter Round Plastic Container Lids (for plastering)
Good Moisturizer
Hat
Sunglasses
Safety Glasses
Water Bottle
Notebook/Pen/Camera
Sample of Your Soil (Optional)
INSTRUCTOR
Krystal Alexander (Cob Instructor & Builder)
The desire to incorporate healthier practices into modern day living has led Krystal to a life of natural building. After years of growing her practice as a Massage and Sound Therapist she was ready to take the next step on her journey of creative and self-sufficient living. As an artist clay has always been her medium of choice, so once her feet hit the mud she was hooked. From that first workshop with CruzinCobGlobal in 2017, she has dedicated her time to traveling and learning with others (making lifelong friends around the globe). She has assisted, instructed and helped to build 6 earthen structures as well as 5 cob pizza ovens!

Krystal is fueled by the passion to spread awareness that living consciously and comfortably is an attainable (and sustainable) reality. She believes that through this hands-on work, we can unlock our creative potential to share our truth with the world around. When she is not cobbin' she is running her bodywork practice back home in St. Louis, MO. One day she plans on settling down with her little family on a plot of land and building earthen structures galore. Krystal is eager to share the healing and empowering benefits of cob and community with all!
MEALS & ACCOMMODATIONS
Students will have 3 delicious, hearty vegetarian/vegan meals every day.  Animal protein (meat or fish) may be added to some meals if there are non-vegetarians in the group.  Also vegan and gluten-free restrictions can be honored. There will be a Welcome Lunch on the first Saturday, and a Celebration Lunch on the last Sunday, followed by our Closing Circle.
All students can camp onsite or sleep indoors on various pull-out couches and on the floor. Students can also choose to stay in other local accommodations (ask Host for suggestions) but will need to be able to get to the site on time every day.  They can also carcamp.
TRANSPORTATION
Students driving in will receive directions to the workshop site in the Welcome Letter sent two weeks before the start date.  Nearest airports are Chattanooga and Nashville, and also Atlanta. More information will be sent regarding transportation from the airports to the site, unless students want to share rental cars.
REGISTRATION
The $900 Fee for the workshop includes tuition, camping and daily meals.
To register, please email claudine@cruzincobglobal.org or send standard text or Whatsapp text to (831) 212-7225 with your email address to receive the two registration forms.  Payment can be made by Zelle, Venmo and Paypal using claudinedesiree@gmail.com. With Paypal, please check the "Send to Family and Friends" box or add 3% for the fee. If you are using a credit card with Venmo or Paypal please add 3% for the transaction fee. Venmo ID is @claudine-desiree.
Europeans and others who want to pay internationally can use Wise to pay in USD. Pls ask Claudine for more info and an invite with a free first transfer.

It is preferable that you pay in full when you pay however 50% deposit is required to hold your place with the rest due by July 1st at the latest.
We will offer 2 work trade discounts of $90 each for an hour of work each class day, onsite or making breakfast from 6:30-7:30am. Full payment or 50% deposit to hold your spot with final balance due by July 1st. Please see work trader cancellation policy below.
CANCELLATION POLICY
Students who cancel before June 1st, 2023 will receive a full refund minus a 5% administration fee or a credit for another workshop within 2 years.
Students who cancel between June 1st, 2023 and June 15th, 2023 will receive a full refund minus 10% admin fee or a credit for another workshop within 2 years.
Students who cancel after June 15th will not receive a refund or a credit unless they have proof of  an emergency situation beyond their control, in which case they will receive a credit to be used within 2 years, minus 10% fee.
*Work traders who cancel after June 15th will receive a full refund of what they have paid minus $90.
EXCITED TO COB WITH YOU IN 2023!!!
Location: Casa Miguel